Sub Menu Toggle
UTRGV student engineering team designs device to help patients with Parkinson's disease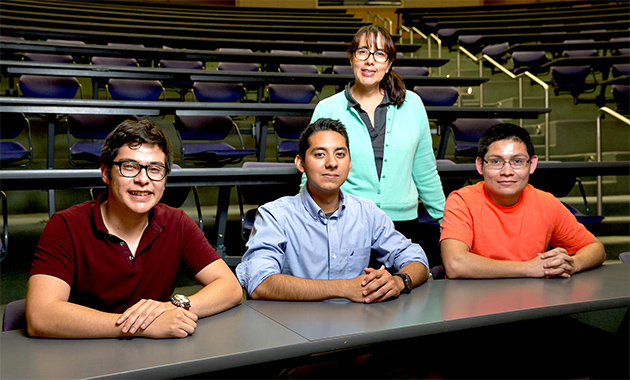 A team of four UTRGV mechanical engineering students have designed a prototype device that will help Parkinson's disease victims write legibly again. The development of their Self-Stabilization Holder, a yearlong endeavor which became their senior design project, was overseen by Dr. Karen Lozano, professor of mechanical engineering (standing). This spring the device placed second in the Rafael Munguia UTRGV Business Plan Competition overseen by the Robert C. Vackar College of Business & Entrepreneurship. The students (left to right) are Carlos Hernandez, Misael Martinez, and Rodolfo Becerra. Team member Arnoldo Ventura, currently participating in an out-of-state internship, is not pictured. (UTRGV Photo by Paul Chouy)
By Gail Fagan

RIO GRANDE VALLEY, TEXAS – JUNE 27, 2017 – Putting pen to paper – it's a motor skill most of us use every day. But what happens when hand tremors from Parkinson's disease strip us of that ability? Something as simple as signing your name becomes a challenge – or an impossibility.

To help find a solution, a team of UTRGV mechanical engineering students, guided by their professor, Dr. Karen Lozano, went to work on a design that could provide some relief. 

The project came in response to a plea from local writer/columnist Chris Ardis, who wrote to Lozano asking for help in combating her mother's deteriorating penmanship due to Parkinson's disease.

Lozano – a Julia Beecherl Endowed Professor in the UTRGV Department of Mechanical Engineering, and a Great Minds in STEM Engineer of the Year – and her students heeded the call.

"We are engineers – we use our scientific knowledge to develop technologies to benefit the community," Lozano said. "That is our job."

Lozano oversaw and mentored the team, made up of Rodolfo Becerra, Carlos Hernandez and Misael Martinez – all spring 2017 honors graduates who earned bachelor's degrees in mechanical engineering and now graduate students in the mechanical engineering master's program – and Arnoldo Ventura, an undergraduate mechanical engineering student.

All four are graduates of Valley View High School in Pharr, Texas.

THE SELF-STABILIZATION HOLDER

The team started working on a design in September 2016 as part of their senior design project – the capstone course in the engineering program.

The result was a device called the Self-Stabilization Holder, or SSH. Still a prototype, the SSH includes a pen with a base that provides an electrical countermovement to the direction of a tremor, thereby stabilizing the hand and addressing the micrographia – the abnormally small handwriting that results from the disease.

The device will incorporate other useful features, Lozano said. It is foldable, easy to carry, and includes a magnifying glass.

She praised the team's hard work and commitment to the project, which team members said was challenging because it required them to first learn all they could about Parkinson's disease.

"I would say I knew the basics – like, people that suffer from Parkinson's disease had tremors in their limbs – but I didn't know the frequency of hand tremors and that it affected at least one million people just in the United States," Hernandez said.

TEAMWORK

Although the students had worked together in various university classes, they said they struggled, at first, with each one wanting to do a bit of everything in the project.

"Once we each identified our strengths and weaknesses, we moved at a faster pace," Martinez said.
Becerra was in charge of computer coding, a new skill they all had to acquire.
Martinez took on the assembly process and electrical work.
Ventura, who was in an internship out of state in the project's later stages, was in charge of the senior design presentation and timelines.
And Hernandez handled the architectural and 3-D printing work.
In addition, the team learned the importance of balancing what a customer or client wants with what they really need, all within the engineering scope of efficiency and functionality, Martinez said.

The team earned an "A" on their senior design project, which included a presentation of their goals and objectives, market research, comparable products, first and final design details, product cost and analysis, software requirements, analysis of safety features and environmental issues, and data collection and analysis.

DOWN TO BUSINESS

During the year, the team entered their project into the Rafael Munguia UTRGV Business Plan Competition, organized by the Robert C. Vackar College of Business & Entrepreneurship. The contest provides a forum where students can develop skills in pitching their ventures to potential investors.

For the competition, Becerra said, the team had to focus more on the business side of the SSH project.

"We looked into the potential market size and distribution in the medical industry, and a marketing plan overview. We also covered projections of the final product cost and the money required for start-up," he said.

They placed second, and won $1,250 for their SSH product.

Linda Ufland, manager of the UTRGV Entrepreneurship and Commercialization Center who served as a competition judge, said she was impressed with the SSH prototype and the team's  knowledge of the competition in the marketplace.

And Munguia, who provided the competition prize money and also served as a judge, said their presentation was "fantastic."

"There are business opportunities for this type of product," said Munguia, owner of Caribella Homes/Construction. "There are some other products out there … but I told the guys it is a good thing that you are not necessarily the first to market, because sometimes when you are first to market, you don't necessarily have a proven model."

A patent has been filed for their design, and the team is anticipating participation in other design competitions, including the BizVenture Collegiate Entrepreneurship Competition, sponsored by the United States Hispanic Chamber of Commerce Foundation.

Before the device can actually be tested on humans, it will have to have the approval of UTRGV's Institutional Review Board, which reviews all research that meets the definition of "human subjects research" to make sure it follows the ethical principles of human subjects protection and that it adheres to university policies and federal regulations.  

Once tested, more advanced prototypes will be developed, Lozano said.

THE CATALYST

In a series of columns Ardis wrote about her request for help and the team's work, she described "wanting to clap and to cry" upon seeing the outcome. She is hopeful the SSH will make a difference beyond helping her own mother write a check or pen a note to a friend.

It was an emotional experience for the team members, as well.

Hernandez described helping a person suffering from a disease as "one of the most satisfying things in the world," while Becerra felt it "surreal" that a device they created could one day help others live a better life.

Martinez said it was heartwarming that his team created something that could benefit others.

"It was not just something for our class for a grade, but it was something that might be able to change the quality of life for many people," he said.

The development of the device created by Dr. Karen Lozano and her team of student researchers is detailed in writer/columnist Chris Ardis' four-part series.

MEDIA CONTACTS

Gail.Fagan@UTRGV.edu
Senior Writer / 956-665-7995
Marci.Caltabiano@UTRGV.edu
UTRGV Director of News and Internal Communications 956-665-2742