Sub Menu Toggle
Havidán Rodríguez Named President of University at Albany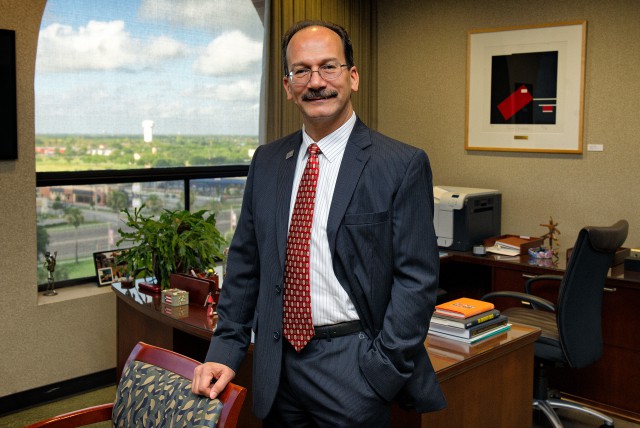 By Patrick Gonzales
The State University of New York (SUNY) Board of Trustees today announced the appointment of Dr. Havidán Rodríguez as the 20th president of the University at Albany. The appointment will take effect mid-September.
Rodríguez is the founding provost and executive vice president for Academic Affairs at The University of Texas Rio Grande Valley (UTRGV). He also served as president ad interim for The University of Texas-Pan American (UTPA) in its final year.
"I can't think of anyone more deserving of this opportunity than Dr. Rodríguez, and we should all be excited and proud for this next chapter in his career," said UTRGV President Guy Bailey. "He played a crucial role in the formation of UTRGV, and at one point, served as interim president at UTPA and provost of UTRGV at the same time. That is a testament to his leadership, and we all owe him a tremendous debt of gratitude for his great service."
The University at Albany was founded in 1844 and today is a major public research university that offers a world-class education to nearly 18,000 students at the graduate and undergraduate levels.
Rodríguez replaces Robert J. Jones, who resigned last year to become chancellor of the University of Illinois at Urbana-Champaign. James R. Stellar has served as interim president since September 24, 2016.
"Dr. Rodríguez comes to SUNY and to UAlbany with outstanding credentials, a proven record of academic as well as research excellence, and a portfolio that suits him to the job ideally," said SUNY Chancellor Nancy L. Zimpher. "I have every confidence that Dr. Rodriguez will foster an inclusive campus environment where students, faculty and staff are inspired to the highest levels of success."
Rodríguez arrived in the Rio Grande Valley in 2011 to serve as provost and vice president for Academic Affairs for UTPA. Prior to that he served as deputy provost, vice provost for Academic Affairs and International Programs, and professor at the University of Delaware. He was also a core faculty member and former director of the Disaster Research Center (DRC), the oldest and one of the leading social science disaster research centers in the world.
"This is a bittersweet moment because I'm excited for this new opportunity, but it will also be difficult to leave a great university and community that my family and I were honored to call home for six years," Rodríguez said. "I will miss UTRGV and the Rio Grande Valley, but I will also be watching from afar to keep up with all the great things the university will accomplish in the future."
Bailey said UTRGV will begin the search for an interim provost and executive vice president for Academic Affairs immediately. Once an interim is in place, a national search for a permanent replacement would begin.
MEDIA CONTACTS
Patrick.Gonzales@UTRGV.edu
AVP, University for Marketing and Communications / 956-665-3110
Marci.Caltabiano@UTRGV.edu
Director of News and Internal Communications / 956-665-2742