Sub Menu Toggle
1,000 future engineers participate in UTRGV Railway Safety summer camp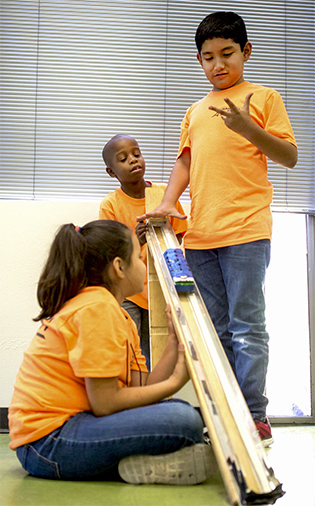 The university's UTCRS camp is the largest transportation-related summer camp in the nation
By J. Edward Moreno
EDINBURG, TEXAS – JUNE 14, 2017 – Alexis Rodriguez, 10, an aspiring engineer and fourth-grader at Rivas Elementary in Donna, has been working on a magnetic levitation kit this summer, along with campmates participating in the largest STEM camp offered at The University of Texas Rio Grande Valley.
"I love that I get to learn new stuff and spend time with my friends," Alexis said, as she learned about the forces of magnetism and applied it to her magnetic levitation train kit.
Asked about her career goals, Alexis' response was definite: "I want to be an engineer because I want to build all this cool stuff!"
The University Transportation Center for Railway Safety (UTCRS) this year is hosting its fourth annual summer camp for rising third- through 12th-graders. With more than 1,000 students enrolled, it is the largest transportation-related summer camp in the nation.
UTCRS Director Dr. Constantine Tarawneh, a UTRGV mechanical engineering professor, Bentsen Fellow at UTRGV, and associate dean for Research, the program offers a unique and invaluable curriculum that provides a basic understanding of engineering concepts with a focus in transportation technology – all while helping them meet TEKS (Texas Essential Knowledge and Skills) requirements.
"All of our lessons are lined up with the national and Texas standards of science and mathematics," Tarawneh said.
The program has been funded through the U.S. Department of Transportation's University Transportation Centers program, which awarded UTRGV $4.5 million over five years in 2013.
"With that money, we are working on projects that are related to railway safety," Tarawneh said. "What we're doing in the camps is part of the community outreach, but also workforce development, because we are training the teachers and the counselors to teach important STEM concepts."
For 17-year-old Nathaniel Bauer, a future petroleum engineer and rising senior at Harlingen High School, the program provides a chance to work on projects and activities he would not otherwise be able to access.
"In school, I was not classified as GT (gifted and talented), so I remember seeing all of those kids working on cool projects. Now I get the opportunity to work on them, as well," Nathaniel said.
The camp will continue until June 30 and concludes with an awards ceremony July 6 at the Performing Arts Complex on the UTRGV Edinburg Campus.
This Lego Mindstorms EV3 robot was built by Sharyland elementary school students during the UTCRS Railway Safety camp. UTRGV is hosting its fourth annual University Transportation Center for Railway Safety summer camp from June 5-30. This year, more than 1,000 students grades 3-12 are learning the fundamentals of science through hands-on activities. (UTRGV photo by Silver Salas)
MEDIA CONTACTS
J. Edward Moreno
UTRGV Staff Writer / 956-665-3639
Marci Caltabiano-Ponce
UTRGV Director of News and Internal Communications / 956-665-2742