Sub Menu Toggle
Congressman Vela, UTRGV President Bailey update community on the impact of federal investment in higher education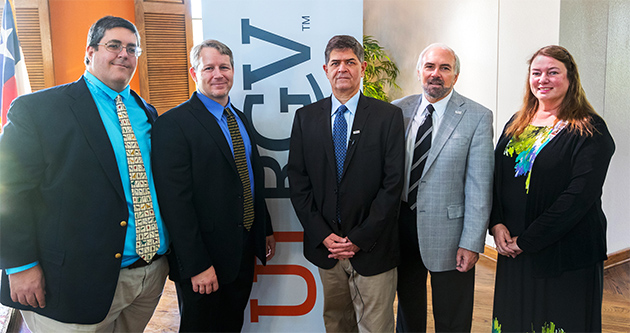 Congressman Filemón Vela (TX-34) (at center) and UTRGV President Guy Bailey (second from right) provided an update on the actions of the 85th Legislative Session and the impact of federal investments in higher education, Monday morning at the PlainsCapital Bank El Gran Salón on the UTRGV Brownsville Campus. Also shown here are (far left) Dr. Christopher Vitek and (second from left) Dr. John Thomas, leading UTRGV researchers on the Zika virus, and Dr. Sarah Williams-Blangero (at right), director of the UTRGV South Texas Diabetes and Obesity Institute and the H-E-B Distinguished Chair in Diabetes and Genomics. (UTRGV Photo by David Pike)
By Vicky Brito
BROWNSVILLE, TEXAS – JUNE 5, 2017 – Congressman Filemón Vela (TX-34) and UTRGV President Guy Bailey addressed a group of faculty and staff Monday morning at the PlainsCapital Bank El Gran Salón on the Brownsville Campus, to provide an update on the actions of the 85th Legislative Session and the impact of state investments in higher education.
In attendance along with UTRGV faculty and staff were Upward Bound students from Rio Hondo, who listened attentively to Vela's main topics – including internship programs and college preparation programs at UTRGV.
Two of the federally supported programs for UTRGV students are the Archer Fellowships, which place students in internships where they can study how government functions, and the Gilman Foundation Internships, which support study abroad.
"What the Archer Fellowship program does, it allows students within the UT System to go spend a semester in Washington, D.C., interning in a congressional office to work in one of our main federal agencies or with nonprofits," Vela said.
Bailey said the goal is to send three UTRGV students each semester to Washington, D.C., as Archer Fellows.
"We would provide them with a stipend, so they can work in the Congress," Bailey said. "Do you know how much you can learn about the government and all kinds of policy and issues and how things work? This would be the opportunity."
The Gilman Foundation Internships program, funded by the U.S. Department of State, provides similar opportunities, he said.
This year, 12 UTRGV students have been awarded Gilman scholarships which will enable them to participate in various study programs around the world. The scholarships help students of limited means to study or intern abroad so they can gain skills that will further the country's economic competitiveness and/or enhance national security. 
The update also addressed the impact of college access outreach programs, like Upward Bound, TRIO and Close Up, which receive federal support.
"We have many precollege programs throughout the Valley," said Dr. Sylvia Leal, associate vice president for student Educational Outreach. "And we are excited that we are going to have more that we will be launching in September."
In his update, the congressman also touted UTRGV's role in Zika research, and acknowledged the important collaborative work of Dr. Christopher Vitek and Dr. John Thomas on the disease, and the work of Dr. Sarah Williams-Blangero, director of the UTRGV South Texas Diabetes and Obesity Institute, and her team's work on one of the leading health problems in the Rio Grande Valley.
MEDIA CONTACTS
Victoria.Brito @UTRGV.edu
UTRGV Informational Writer / 956-882-4330
Marci.Caltabiano@UTRGV.edu
UTRGV Director of News and Internal Communications / 956-665-2742