Sub Menu Toggle
UTRGV professor seeking "snail busters" to fight spread of invasive Apple snail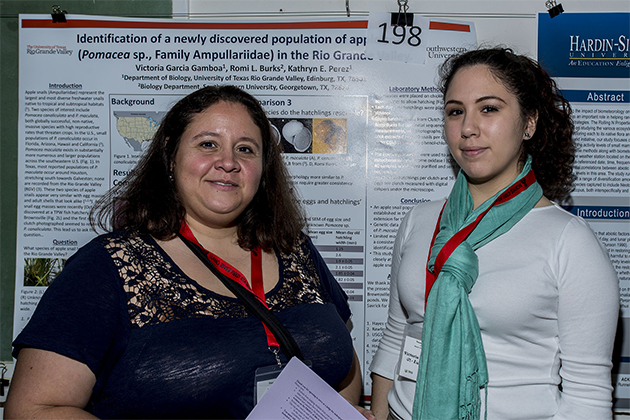 Recently published research by Dr. Kathryn Perez (at left), assistant professor of biology at UTRGV, and her student, Victoria Garcia Gamboa, who graduated in 2016, confirms the existence of an invasive species of freshwater snail – Pomacea maculate, or Apple snail– in the Rio Grande Valley. Because the snail can do extensive damage to citrus and other crops, Perez is seeking community support to help eradicate the snail's bright pink egg sacs that already have been found in a former fish hatchery in Brownsville, before they can spread to other bodies of water. Gamboa's poster presentation won the Best Poster Presentation award in the Systematics and Evolutionary Biology Section of the Texas Academy of Science, at its annual meeting in 2016. (Courtesy Photo)
By Gail Fagan
RIO GRANDE VALLEY, TEXAS – JULY 24, 2017 – Apple snails are invading the Rio Grande Valley, and that is as alarming as it sounds, says Dr. Kathryn Perez, assistant professor of biology at UTRGV and its resident "snail expert."
"This freshwater snail – Pomacea maculata – is invasive in many parts of the world, and where they invade, they damage agricultural crops, like rice and citrus. They can damage anything that is watered by flood irrigation," she said. "My goal is to keep them from spreading throughout the Valley."
The snail, native to Central and South America, was first seen locally in 2015 in the form of its bright, bubblegum pink egg sacs found hanging above the water within a resaca at a former fish hatchery in Brownsville. Each egg can grow into a snail the size of an apple, hence its name.
"The egg sacs can occur any place hanging over the water. They have been found on cattails, tall plants that stick out of the water, on concrete next to the water, and on Mexican fan palms leaning over the water," Perez said. 
The snail can produce 1,000 eggs or more with every egg clutch, which they can lay every couple of days throughout the breeding season.
"That's tens of thousands of offspring for every adult female throughout every breeding season. That's why they eat everything in sight, including agricultural crops and aquatic vegetation, and push out other species," Perez said. "They can really disrupt the whole ecosystem."
Perez took on the research to verify the proliferation of the invasive snail in the Valley along with her student, Victoria Garcia Gamboa, and in partnership with Dr. Romi L. Burks, professor of biology at Southwestern University in Georgetown, Texas, and her student, Caitlin Schneider.
Gamboa, who graduated last year, brought the eggs sacs to the lab, hatched them, took measurements of the hatchlings' shells and tested the DNA to verify the species. More egg masses and adult snails were found at the site in spring 2016 and were included in the data set.
Schneider, a GIS major at Southwestern, mapped all the Cameron County wetlands to determine how far the snails would need to travel to move to other nearby ponds and how far the water would have to rise to move the snail there, Perez said.
"Basically, the water would only need to rise about a meter just to get over the little barrier between one pond and the next, and then it could move throughout the Rio Grande Valley and all the wetlands," Perez said.
Their research confirming the presence of the invasive snail in the RGV and its possibilities of expansion here was published in June 2017 in "Checklist: Journal of species lists and distribution."   
"Now, our goal is to keep them from spreading throughout the Valley," Perez said. "There is a population of apple snails in Mobile, Alabama, that they have been trying to control for 10 years now and have spent millions of dollars to eradicate. But once it gets out of its first pond or two, it is really hard to control."
Perez is seeking local individuals and groups – from master naturalists to Boy or Girl Scout troops – to participate in an organized eradication effort primarily during the snail's breeding season from mid-spring to mid-fall.
"This would require them to go out every month or so and knock the egg masses into the water or to crush them," she said. "The eggs, which are toxic and have no natural predators here, do not survive if submerged."
"If you are concerned about the future health of the resacas, we need your help," Perez said.
To learn more or to volunteer, contact Perez at Kathryn.perez@utrgv.edu or (956) 665-7145 or Jason Ferguson, Lower Laguna Madre ecosystem leader, Texas Parks and Wildlife Coastal Fisheries Field Office, at Jason.ferguson@tpwd.texas.gov or (956) 350-4490/4491.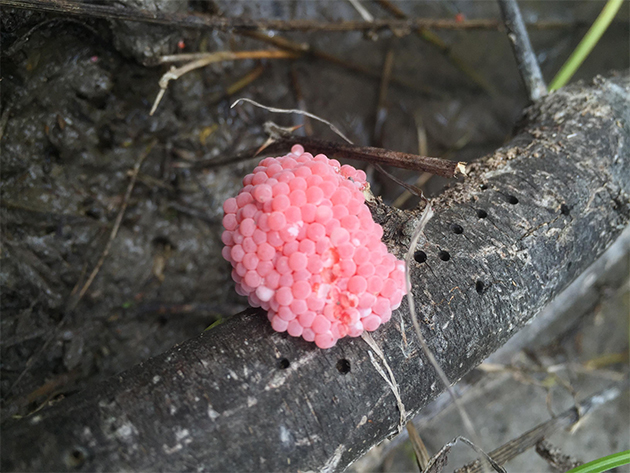 These bright pink egg sacs of the invasive freshwater Apple snail (Pomacea maculate) were found above the waterline at a former fish hatchery in Brownsville. The existence of the invasive snail's presence in the Valley was confirmed through research published in June 2017 by Dr. Kathryn Perez, UTRGV assistant professor of biology, and her student, Victoria Garcia Gamboa, who graduated in 2016. Because the snail can reproduce thousands of eggs several times during its breeding season and can cause extensive damage to citrus and other crops, Perez is seeking community support to help destroy the egg sacs to stop its spread to neighboring bodies of water.  (Courtesy Photo)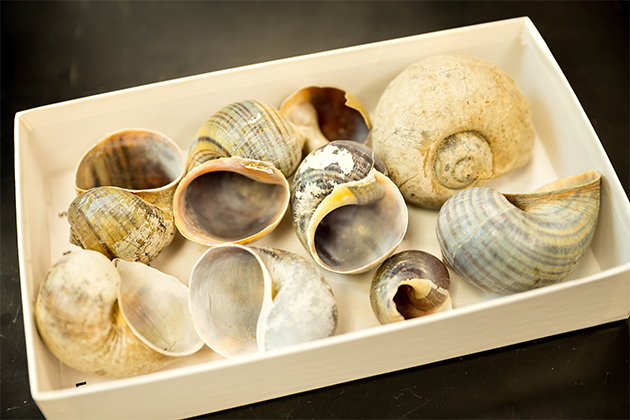 Dr. Kathryn Perez, assistant professor of biology at UTRGV, conducted research that confirmed the presence of these invasive freshwater Apple snails – Pomacea maculate – which can damage agricultural crops, including citrus. (UTRGV Photo by Paul Chouy) 
MEDIA CONTACTS
Gail.Fagan@UTRGV.edu
Senior Writer / 956-665-7995 
Marci.Caltabiano@UTRGV.edu
UTRGV Director of News and Internal Communications / 956-665-2742