Sub Menu Toggle
CHAPS Program lands international recognition for uncovering RGV history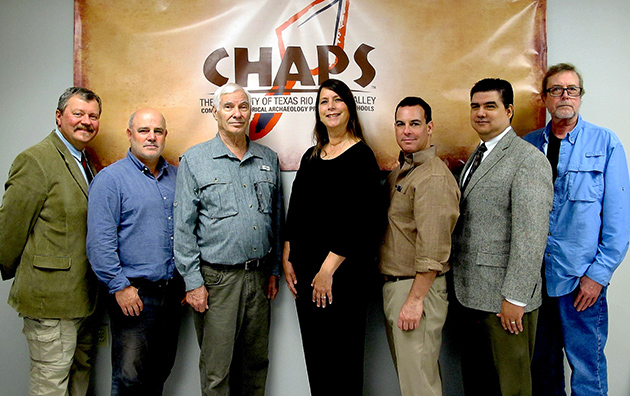 The UTRGV CHAPS program has been selected to receive the 2017 Daniel G. Roberts Award for Excellence in Public Historical Archaeology from the Society for Historical Archaeology (SHA). The award recognizes the program's accomplishments in public historical archaeology, including creation of the Rio Grande Valley Civil War Trail. The CHAPS team from UTRGV includes, from left, Dr. Russell Skowronek, professor of history and anthropology and CHAPS co-director; Dr. Juan Gonzalez, associate professor of geology and CHAPS co-director; Dr. Rod Summy, professor of biology (retired); Roseann Bacha-Garzas, CHAPS program manager; Dr. Nick Taylor, communication lecturer II; Dr. Rolando Avila, history lecturer I; and Dr. Christopher Miller, professor of history and CHAPS co-director. Not pictured is CHAPS team member Bobbie Lovett, anthropology lecturer and field archaeologist, who passed away early last year. The award was presented at the annual SHA conference on Jan. 6 in Fort Worth. (UTRGV PHOTO by Gail Fagan)
By Gail Fagan
RIO GRANDE VALLEY, TEXAS – JAN. 6, 2017 – The Society of Historical Archaeology (SHA) has selected the Community Historical Archaeology Project with Schools (CHAPS) Program at The University of Texas Rio Grande Valley to receive its 2017 Daniel G. Roberts Award for Excellence in Public Historical Archaeology.
"This is a huge honor, as it is recognition on a national and international level," said Dr. Russell Skowronek, CHAPS co-director and professor of history and anthropology at UTRGV. "When CHAPS began, we had ambitious goals but precious little monetary support for research, K-17 education and community engagement. With a dedicated team of anthropologists, biologists, geologists and historians, we made incremental progress – 'poco a poco, little by little,' as it is said."
Skowronek accepted the award Jan. 6 at the SHA's 50th annual conference in Fort Worth, Texas.
The award, first presented in 2012, honors Daniel G. Roberts, one of the pioneers in public historical archaeology. The award recognizes outstanding accomplishments in public archaeology by individuals, educational institutions, for-profit firms or organizations, museums, government agencies, private sponsors or projects.
Previous award winners include the City of Alexandria and Alexandria Archaeology (Virginia), The Hampshire and Wight Trust for Maritime Archaeology (Britain), Archéo-Québec (Canada), Florida Public Archaeology Network, and the Maryland Archaeological Conservation Laboratory.
Dr. Kim A. McBride, co-director of the Kentucky Archaeological Survey who nominated CHAPS for the award, described CHAPS as an incredibly innovative and successful program in public history, education and outreach.
"With the help of skilled and dedicated practitioners in public history and archaeology, such as those brought together in the CHAPS umbrella, a wide range of people, especially students, now have more ready access to this history, and most importantly, have encouragement and support that preserving and sharing their heritage is a worthy undertaking," McBride said. "CHAPS provides their appreciation and understanding of the past into efforts to forge a better present and future." 
MORE ABOUT CHAPS
CHAPS, initiated in 2009 at UTRGV legacy institution UT Pan American, promotes an interdisciplinary approach to exploring and creating awareness of local cultural and natural history.
Through CHAPS students have conducted extensive multidisciplinary research projects on prehistoric native peoples as well as pioneer Valley families, resulting in a number of published student-written reports.
CHAPS faculty have also developed innovative local archeology-related curriculum and teacher workshops, to help educate elementary to high school students throughout the region about their cultural and natural heritage. 
"It makes people aware that we have a history here that is part of the larger history of our country and region," Skowronek said. "It also can serve as the foundation for the development of heritage tourism."
In 2015, CHAPS, with the support of cultivated stakeholders from school districts, government and tourism entities, and community members and organizations, launched the Rio Grande Valley Civil War Trail to commemorate the sesquicentennial observation of the American Civil War.
The RGV Civil War Trail provides a bilingual trail guide, podcasts and webpage to discover the not-often told significance of the region in this conflict.
Fourteen new historical highway signs now mark the RGV Civil War Trail in Brownsville, thanks to a grant to CHAPS from the Brownsville Community Improvement Corporation. Two Civil War Trail-related books are forthcoming, as well as curriculum that has been developed for local students.
CHAPS also is seeking funding for an hour-long documentary about the Valley's Civil War heritage, Skowronek said. 
"We live in a corner of the United States that is often overlooked," Skowronek said. "We have found that if we don't tell our story no one else will, or if they do they do not recognize the nuances of that story."
Over the past two years, CHAPS has accumulated a number of other significant regional and statewide accolades:
UTRGV Provost and Executive Vice President for Academic Affairs Dr. Havidán Rodríguez said the CHAPS program epitomizes the university's lofty goals.
"CHAPS conducts research which impacts the Rio Grande Valley and will lead to economic development. The program engages the community and provides educational opportunities for students from K-17, which leads to student success. Through its provision of bi-lingual Civil War Trail resources, CHAPS supports UTRGV's goal to become a bi-lingual, bi-literate and bi-cultural campus," Rodríguez said. "CHAPS represents the outstanding work performed by faculty and staff at UTRGV. This award is an excellent recognition of the exceptional work that characterizes the CHAPS Program."
ABOUT THE SOCIETY OF HISTORICAL ARCHAEOLOGY
Formed in 1967, the Society for Historical Archaeology is the largest scholarly group worldwide concerned with the archaeology of the modern world (A.D. 1400-present). It focuses on historical archaeology and education for both terrestrial and underwater archaeology. 
MEDIA CONTACTS
Gail.Fagan@UTRGV.edu
Senior Writer / 956-665-7995 
Marci.Caltabiano@UTRGV.edu
UTRGV Director of News and Internal Communications / 956-665-2742