Sub Menu Toggle
UTRGV: Research - Students study indigenous Zapotec language, aid in its preservation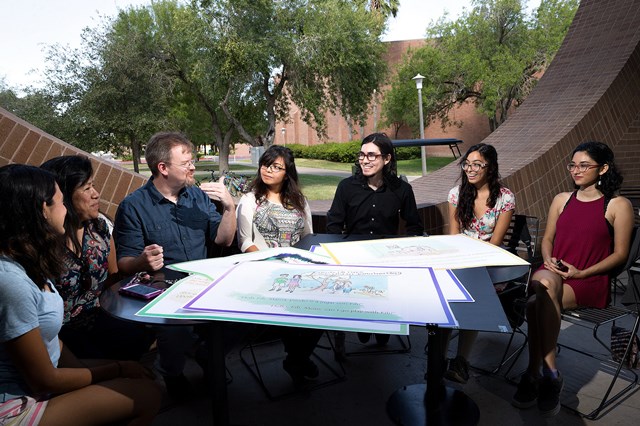 Dr. John Foreman, UTRGV assistant professor of applied linguistics, (third from left) and some of his students review layouts of a trilingual children's storybook they are working on, written in Macuiltianguis Zapotec, Spanish and English. Macuiltianguis Zapotec is the indigenous language of the town of San Pablo Macuiltianguis, in the state of Oaxaca, Mexico. (UTRGV Photo by Paul Chouy)
By Cheryl Taylor
RIO GRANDE VALLEY, TEXAS – FEB. 16, 2017 – A UTRGV student organization is working on a children's storybook that could help save a dying indigenous language.
Members of the Cross-Linguistics Undergraduate Board (CLUB) are nearing completion of a year-long, trilingual children's storybook written in Zapotec, Spanish and English.
The Zapotec in the book is Macuiltianguis Zapotec, an indigenous language from the town of San Pablo Macuiltianguis, a mountain village in the state of Oaxaca, Mexico.
Dr. John Foreman, assistant professor in the Department of Writing and Language Studies and CLUB's faculty advisor, has been guiding and mentoring members on research documenting and analyzing Macuiltianguis Zapotec.
"The language has well under 1,000 speakers, all of whom are 40 or older," Foreman said. "It has not been transmitted to younger generations, and as a result of this interruption in transmission, the language is highly endangered and will likely cease to be spoken in the next 50 years."
Against these odds, a growing effort has arisen to engage children of the community in learning their heritage language as a second language. A former teacher in the community, Raquel Cruz Manzano, started holding after-school classes for the children of the town's elementary school.
"Her efforts are all the more difficult because teaching materials in the native language are non-existent," Foreman said. "With this book, the UTRGV students hope to make a contribution to the town's language revitalization effort."
The study of Macuiltianguis Zapotec became a personal, as well as an academic endeavor for Foreman when he was a graduate student at the University of California at Los Angeles. While studying the linguistic structure of Zapotec and other indigenous languages, he met his wife, Paula Margarita, a native speaker of the language. An active member of CLUB, Paula Margarita is a Spanish major at UTRGV.
CLUB members Diane Zaragoza, Javier Piña and Ayla Galván worked with Paula Margarita and Foreman on analyzing the tone system of the language.
"Macuiltianguis is like Chinese, in that different pitches on the same sequence of sounds can produce different words," said Zaragoza, a senior English/Spanish major from Reynosa, Tamaulipas, Mexico.
UNDERGRADUATE RESEARCH BENEFITS
Foreman said involving undergraduate students in research gives them the opportunity to see the discipline come alive, allowing them to develop a deeper understanding of the field of study as they apply skills to real-world issues.
The students presented their tonal research at the Undergraduate Research Symposium at UT Pan American in fall 2014, and in spring 2016, made an initial presentation of the children's book at the UTRGV Engaged Scholar Symposium.
A big break occurred when the students' tonal work was accepted to the Second International Conference on Mesoamerican Languages held in Los Angeles in March 2015. An Undergraduate Research Initiative Award helped cover the costs for two of the students to attend and present at the conference.
Zaragoza said she never imagined she would one day travel to Los Angeles in a school-related capacity.
"I never had high hopes for myself, but being involved in the Zapotec Team and in CLUB has helped me see my potential," she said. "For me, the trip to L.A. was significant. It made me reflect on the possibilities for both my future and the future of our organization."
Javier Piña, a junior Spanish / psychology major from Valle Hermoso, Tamaulipas, Mexico, called the trip to Los Angeles " a stunning experience."
"We learned so much from the experts' lectures, and from the other researchers who presented their work," he said.
Aside from Dr. and Mrs. Foreman, Piña is the only CLUB student who has traveled to Oaxaca. He was one of 12 undergraduate students nationwide accepted to a National Science Foundation program hosted by the Linguistics Department of sister schools Swarthmore College and Haverford College. Piña received 10 days in Pennsylvania training in linguistic field methods, digital recording, data analysis and other field techniques, and then joined a local community language revitalization project in Oaxaca for three weeks.
"I was honored to be selected, and I know it was my experience with Macuiltianguis Zapotec that opened the door to this fantastic opportunity – meeting new people involved in this field, training with professionals, and hands-on experience," Piña said.
Over the past couple of semesters, CLUB has expanded and the group working on the book has grown to include Cristina Mendez, Pechis Martinez, Kiara Wing, Melissa Icaza, Cesar Cepeda, Brenda Gomez, Gabriela Vasquez, Sergio Sanchez, Adaiah Sanchez and Alejandra Tiburcio.
Most recently, seven members presented CLUB's project at the annual meeting of the Linguistic Association of the Southwest (LASSO). Hosted by the Center for Mexican American Studies at The University of Texas at Austin, LASSO '16 was held in September in the Glickman Conference Center on the UT campus.
"Our presentation was very well received," said Cristina Mendez, an English major from San Benito. "We were all so proud of showing our almost-finished book, and we can't wait to see it in printed form."
STUDENTS CONNECT TO HERITAGE
Studying a language such as Macuiltianguis Zapotec is "close to home," Foreman said.
"This academic effort connects UTRGV students with their Mexican heritage, since languages are the repository of cultural knowledge," he said. "Many aspects of Mexican culture originated in Oaxaca and Mesoamerica – these include corn domestication and the crop's related foodstuffs and implements, and Day of the Dead celebrations. The oldest Mesoamerican hieroglyphic writing is thought to be Zapotec."
Foreman has been the lone academic working on Macuiltianguis Zapotec for the past 15 years. But more recently, a graduate student from Georgetown University has started investigating the language, and he sees possible collaboration in the future.
"There is still a lot to do to document, analyze and preserve Macuiltianguis Zapotec," he said. "All the more reason, even beginning students can make significant, real contributions."
Foreman said languages currently are dying at an alarming rate, with half of the world's languages estimated to be gone within 100 years.
"That is not only a loss for those communities, but for all of humanity," he said. "Linguists try to understand how the human mind works by studying the structure of the languages we produce. Fewer data points will mean a harder time of figuring that out.
"With its widespread English-Spanish bilingualism, the Rio Grande Valley is rather unique in the United States, but has received relatively little study in linguistics research," Foreman said. "This area is important for research as the Hispanic population continues to grow throughout the state and the country."
STUDY ABROAD OAXACA
Through the UTRGV Office of Global Engagement's International Programs and Partnerships, Dr. Foreman will conduct Study Abroad Oaxaca ENGL 2315 Humans and Language, which satisfies the Social and Behavioral General Education Core Requirement. For more information, contact Foreman at (956) 665-3427 or john.foreman@utrgv.edu, or Alan Earhart, IPP Director, at (956) 665-2325 or alan.earhart@utrgv.edu.
MEDIA CONTACTS

Cheryl.Taylor@UTRGV.edu
UTRGV Senior Writer / 956-882-8787
Marci.Caltabiano@UTRGV.edu
UTRGV Director of News and Internal Communications / 956-665-2742