Sub Menu Toggle
UTRGV chemistry professor receives worldwide acclaim over avocado seed husk research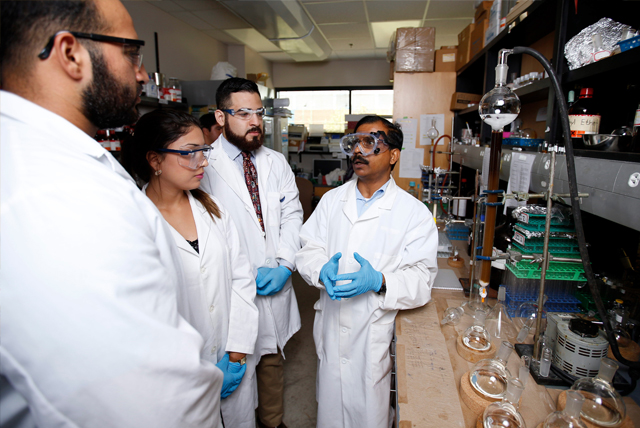 Dr. Debasish Bandyopadhyay (at right), a faculty member in the UTRGV Department of Chemistry in the College of Sciences, discusses with his team of students the research they are conducting on avocado husks. Bandyopadhyay and his students have found chemical compounds in the husks that may be able to help treat certain diseases such as cancer and heart disease. (UTRGV Photo by Paul Chouy)
By Jennifer L. Berghom 
RIO GRANDE VALLEY, TEXAS – DEC. 20, 2017 – The avocado long has been a staple in the Rio Grande Valley. In taquitos, caldo Tlalpeño, or the ubiquitous guacamole, its popularity these days is global.
But the husk of the lowly avocado pit is in the spotlight now: A UTRGV professor and his research team have discovered that the usually discarded husk has healing properties.
Dr. Debasish Bandyopadhyay, a faculty member in the UTRGV Department of Chemistry, and his team have found that the husk – the protective covering of the avocado seed – contains chemical compounds that may be able to help treat certain diseases such as cancer and heart disease.
Bandyopadhyay said he got the idea to research the husk while he was reviewing an article for an international journal on food waste.
"The husk, from what we understand, is like a natural protector because the seed is actually the ovary (of the avocado tree)," he said. "This ovary is protected by this husk."
This protective layer contains chemical compounds that keep the seed safe and nourished, while keeping at bay hungry insects and other things that might harm the seed, he said.
With the help of Thomas Eubanks, lab supervisor coordinator in the UTRGV Department of Chemistry, Bandyopadhyay and his team of students collected about 300 avocado seeds. They then removed the husks for chemical analysis, to determine whether they had chemical compounds that could be beneficial to humans.
Bandyopadhyay's team spent more than a year studying the papery husks, and recently presented the findings at the American Chemical Society's national meeting in Washington, D.C.
Since then, his work has received international attention, with more than 193 media outlets from around the world – including Popular Science, Forbes, The Guardian, Fox News and Yahoo News – reporting on his findings.
In addition, the World Avocado Organization invited Bandyopadhyay to speak about his research – "Treasures from Trash: Avocado Seed Husks as a Potential Source of Medicinal and Industrially Privileged Compounds" – at its mid-season meeting in October in New Orleans, and the Peruvian Avocado Association invited him to speak at its end-of-season meeting, also in New Orleans.
The team's research is ongoing, as they continue to isolate and study the chemical compounds found in the husks.
STUDENTS SAY LAB WORK HAS BIG IMPACT
Students who worked with Bandyopadhyay said they gladly gave up their free time and vacations to participate in this research because the knowledge and experience they gained was so valuable.
"It is humbling because we're making small steps that are going to have bigger impacts later on," said Muhammad Umair, a 21-year-old senior from Harlingen majoring in biology at UTRGV.
Daniel Villicana, a 22-year-old from Palm Springs, California, majoring in biology with a minor in chemistry, said he didn't realize the magnitude of the research he was participating in until it started receiving media attention.
"That's when I started to realize that what I'm doing has the potential to make a difference," he said.
Orlando Castillo, a 23-year-old UTRGV senior from McAllen who is studying chemistry, said he and fellow students spent many late nights running tests and conducting other work on the husk's chemical compounds.
"It's because we wanted to," he said.
Castillo said having the opportunity to work in Bandyopadhyay's lab enhanced his learning experience beyond the classroom.
"When I first came into the lab, I felt like I didn't know anything," he said. "There's a difference between learning in the teaching lab and learning in a research lab. For example, I didn't know how to clean glassware properly. I would recommend people to work in a lab."
Leanna Salinas, a 20-year-old junior from Mission studying biology at UTRGV, said the students work together and help each other in their research.
"This lab is like a family," she said.
Salinas, who plans to attend medical school after she graduates, said the lab experience at UTRGV will help her and fellow students who plan to pursue a graduate or professional education, since many programs prefer to see students who have some exposure to lab work.
"It allows you to expand your knowledge and experience before you get into graduate school. This lab allows you to get that exposure," she said.
Current and former students who have worked on the avocado husk research with Dr. Bandyopadhyay include:
Valerie Marie Cano, 23, from Harlingen. She graduated from UTRGV in 2016 with a degree in biology and now attends UT Health Science Center at San Antonio. She is studying dentistry.
Orlando Castillo, 23, from McAllen, majoring in chemistry.
Bo Garza, 24, from Mission. He graduated from UTRGV in 2016 with a degree in chemistry.
Jonathan Rock, 25, from McAllen. Rock graduated from UTRGV in 2015 with a degree in biology and has been working in Bandyopadhyay's lab while preparing to apply to medical school.
Leanna Salinas, 20, from Mission, majoring in biology.
Jacobo Strong, 22, from San Antonio, majoring in chemistry.
Muhammad Umair, 21, from Harlingen, majoring in biology.
Daniel Villicana, 22, from Palm Springs, California, majoring in biology.
Bandyopadhyay said support from Dr. Parwinder Grewal, dean of the UTRGV College of Sciences, and funding from UTRGV's Dr. Cristina Villalobos, through C-STEM (College of Sciences), has been important in continuing his research.
ABOUT UTRGV
The University of Texas Rio Grande Valley (UTRGV) was created by the Texas Legislature in 2013 as the first major public university of the 21st century in Texas. This transformative initiative provided the opportunity to expand educational opportunities in the Rio Grande Valley, including a new School of Medicine, and made it possible for residents of the region to benefit from the Permanent University Fund – a public endowment contributing support to the University of Texas System and other institutions.
UTRGV has campuses and off-campus research and teaching sites throughout the Rio Grande Valley including in Boca Chica Beach, Brownsville (formerly The University of Texas at Brownsville campus), Edinburg (formerly The University of Texas-Pan American campus), Harlingen, McAllen, Port Isabel, Rio Grande City, and South Padre Island. UTRGV, a comprehensive academic institution, enrolled its first class in the fall of 2015, and the School of Medicine welcomed its first class in the summer of 2016.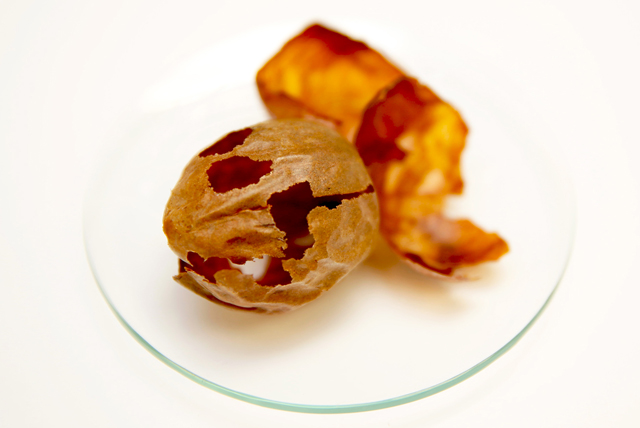 The dried husk of the avocado pit, shown here, is at the center of key research at UTRGV by Dr. Debasish Bandyopadhyay, in the UTRGV Department of Chemistry, and his team of students. The researchers have found chemical compounds in the husks that could provide many health benefits, including developing medicines to help treat diseases such as cancer and heart disease. (UTRGV Photo by Paul Chouy). 
MEDIA CONTACTS
Jennifer.Berghom@UTRGV.edu
UTRGV Senior Writer / 956-665-7192 
Marci.Caltabiano@UTRGV.edu
UTRGV Director of News and Internal Communications / 956-665-2742