Sub Menu Toggle
Move-in day for UTRGV students and families carries bittersweet emotions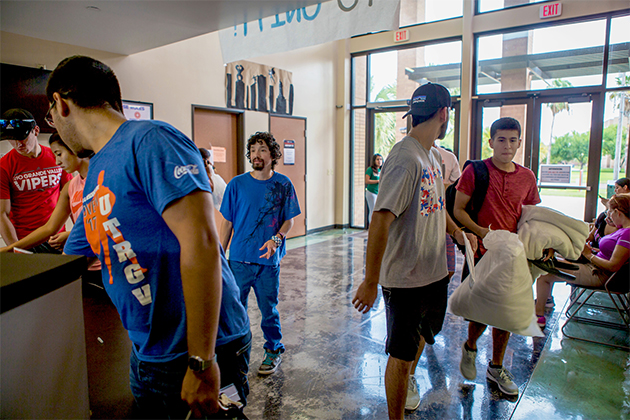 Students moved into Unity Hall on UTRGV's Edinburg Campus on Thursday, while students moving into Brownsville student housing were rescheduled for move-in from Friday to Sunday because of severe weather concerns. In total, about 900 students moved into UTRGV student housing before the first day of classes on Monday Aug 28, 2017. (UTRGV Photos by Silver Salas)
PHOTO GALLERY
Password: movein (case sensitive) 
By J. Edward Moreno
RIO GRANDE VALLEY, TEXAS – AUG. 28, 2017 – The University of Texas Rio Grande Valley this semester has welcomed about 900 students into student housing on both the Edinburg and Brownsville campuses.
Edinburg move-in was on Thursday, and Brownsville's was postponed to Sunday due to severe weather concerns.
Baptist Student Ministries, the basketball team and representatives from Greek Life helped the new Vaqueros move into their new homes.
Analyssa Gonzales, a resident assistant at Unity Hall in Edinburg, said about 650 students moved into the building. Living on campus can be an enriching experience, she said, especially for first-year students.
"I think dorm life is essential, especially for freshmen," she said. "Besides the fact that you're so close to all your classes, it also helps you get to know people and to network."
Daniel Valera, 18, a freshman and Port Lavaca native, said he was eager to begin his studies at UTRGV and was glad to see so much support from student organizations. He admitted he might need a tour of the campus.
"I still don't know my way around campus, so I'm going to have to figure that out," he said with a chuckle.
Parents who helped drop off their children admitted to having bittersweet reactions about their children living away from home.
Maria Isabel Bazán, a Harlingen resident, helped drop off her son, a biomedical sciences freshman, at the Edinburg dorms on Thursday afternoon.
"It's sad, because I'm going to miss him," she said. "But I'm also happy because I know he's going to accomplish great things," she said.
The first day of the fall semester is Aug. 28.
ABOUT UTRGV
The University of Texas Rio Grande Valley (UTRGV) was created by the Texas Legislature in 2013 as the first major public university of the 21st century in Texas. This transformative initiative provided the opportunity to expand educational opportunities in the Rio Grande Valley, including a new School of Medicine, and made it possible for residents of the region to benefit from the Permanent University Fund – a public endowment contributing support to the University of Texas System and other institutions.
UTRGV has campuses and off-campus research and teaching sites throughout the Rio Grande Valley including in Boca Chica Beach, Brownsville (formerly The University of Texas at Brownsville campus), Edinburg (formerly The University of Texas-Pan American campus), Harlingen, McAllen, Port Isabel, Rio Grande City, and South Padre Island. UTRGV, a comprehensive academic institution, enrolled its first class in the fall of 2015, and the School of Medicine welcomed its first class in the summer of 2016.
MEDIA CONTACTS
J. Edward Moreno
UTRGV Staff Writer / 956-665-3639 
Marci Caltabiano-Ponce
UTRGV Director of News and Internal Communications / 956-665-2742