Sub Menu Toggle
UTRGV swears in newest SGA officers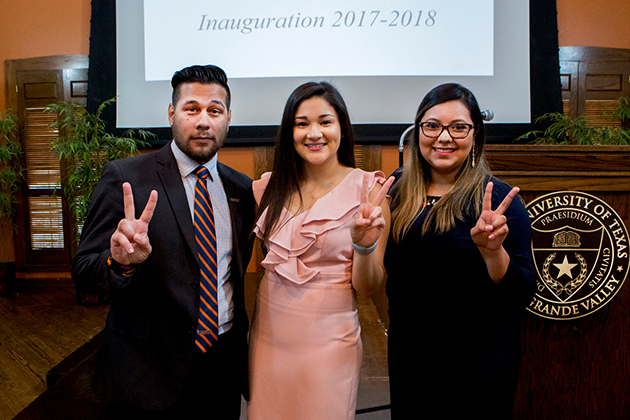 The newly sworn in executive officers of the UTRGV Student Government Association 2017-2018 are shown here at the inauguration ceremony, held at PlainsCapital Bank El Gran Salón on the Brownsville Campus. From left are Peter Averack, SGA vice president based in Edinburg; Alondra Lisset Galvan, president; and Gabriela Castorena, vice president based in Brownsville. (UTRGV Photo by Veronica Gaona)
By Vicky Brito

RIO GRANDE VALLEY, TEXAS – APRIL 28, 2017 – The UTRGV Office of Student Involvement swore in the newest officers of the UTRGV Student Government Association, Thursday, April 27, at the PlainsCapital Bank El Gran Salón on the Brownsville Campus.
The SGA serves as the official representation of the entire student body to address student concerns and petitions and participate in the overall policy and decision-making process of the university community.
The inaugurated members include:
Executive Officers
Alondra Lisset Galvan, President
Gabriela Castorena, Vice President, Brownsville Campus
Peter Averack, Vice President, Edinburg Campus
Senators at Large, Brownsville Campus
Ingrid de la Torre
Ernesto Farias
Senators at Large, Edinburg Campus
Louay Bachnak
Carlo Flores
Francisco Torres Diaz
Erik Webster
Senator for Business and Entrepreneurship
Alejandro Saldivar
Senator for Engineering and Computer Science
Lauryn Brough
Senator for Health Affairs
Cyana Arredondo
Samantha Garcia
Raul Ordonez
Senator for Liberal Arts
Nayla Paredes
Senator for Sciences
Joshua Balladares
Deyanira Verdeja Sosa
Dr. Kristen Croyle, vice president for student success, welcomed the dozens who attended the event to honor the newest officers.
"This is so important and so special," she said. "The SGA is a unified voice for the students – who aren't really voiceless, but each voice only has a certain amount of power to make a difference because there are so many voices."
Croyle said it is the duty of the SGA to represent each of those voices to spread the important messages that help make a difference.
The officers were sworn in by Marcelina Gutierrez, an SGA associate justice, and recited the oath of office.
PRESIDENT ALONDRA GALVAN
Galvan, 20, is a criminal justice major and has dreamed of becoming SGA president.
"I am super excited," she said. "I have been in SGA since my freshman year and it was a goal I gave myself – that my senior year, I would run for president."
Galvan currently represents UTRGV on the UT System Advisory Council.
"Being in that group has helped me realize what other institutions were facing, and it got me wondering what issues UTRGV might have. So I did learn a lot with that group, and what we can and can't do to help. I am hoping to bring that information here to UTRGV."
Galvan said that as the official representation of the student body at UTRGV, the newly sworn in officers must listen to the needs of the students to make the university a positive environment.
"When the university wants to implement a new rule or policy, they ask for student input and the officers give input on how we think the students will adapt," she said. "Our goal is to make our university better. Essentially, the duties of SGA are to be a bridge between university officials and the student body."
MEDIA CONTACTS

Victoria.Brito @UTRGV.edu
UTRGV Informational Writer / 956-882-4330
Marci.Caltabiano@UTRGV.edu
UTRGV Director of News and Internal Communications / 956-665-2742