Sub Menu Toggle
UTRGV student research in the spotlight at Engaged Scholar Symposium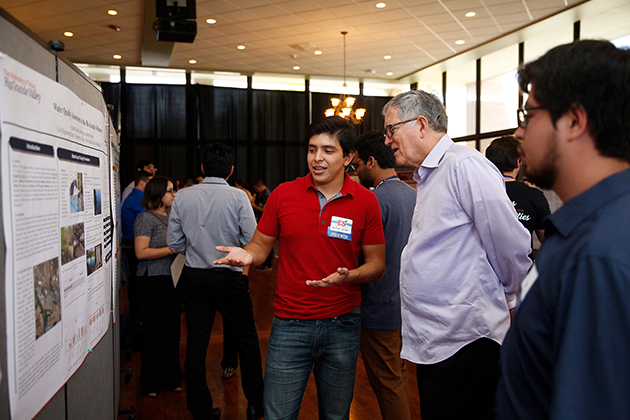 UTRGV student Rafael Salas presented his team's poster on research they conducted working with community partners to sample and monitor the Rio Grande tributary channel. He was among hundreds of students who gave oral and poster presentations on their research and service learning projects during the Engaged Scholar Symposium April 19 at the Edinburg Campus. (UTRGV Photo by Paul Chouy)

Edinburg Campus Engaged Scholar Symposium - Photo Gallery (password es2)

By Gail Fagan
RIO GRANDE VALLEY – APRIL 20, 2017 – Day two of the annual Engaged Scholar Symposium that showcases undergraduate student research and engagement projects in the community continued April 19 at The University of Texas Rio Grande Valley's Edinburg Campus.

The symposium, which kicked off April 18 at the Brownsville Campus, is sponsored by Engaged Scholarship and Learning in the Office of Student Academic Success, and allows students to share their research and creative works through oral and poster presentations and exhibits, which are judged by faculty and graduate students.

The day began with a keynote address in the Student Union's PlainsCapital Theater by Dr. Ming-Tsan Pierre Lu, assistant professor in the Department of Teaching and Learning.

Lu paired up students and led them in an active learning exercise using self-introspection to gain qualities that would bring about a happy and meaningful life. 

Through the use of celebrated research examples along with three Asian characters or words of wisdom – Tsan, Ming, and Lu – he encouraged active engagement by students, a positive outlook in facing challenges and applying the knowledge and wisdom they gain to improve the world.  

Lu's presentation made senior Virginia Villarreal, a communication and science disorders major, feel more confident as she headed into an oral presentation of her research in the Student Academic Center.  

Villarreal conducted her research on the awareness of transition to adult services for special education children in the Rio Grande Valley with fellow students Vanessa Rodriguez, Virginia Villarreal, Maria C. Fonseca-Carden, Alexes Galvan, Karen de Luna, Maria Fernanda Munoz, Luz Maria LaValle, Vanessa Medina, Vanessa Flores and Alyssa Vela. The students were mentored by Dr. Ruth Crutchfield, assistant professor in the Department of Communication Sciences and Disorders.

Villarreal said it was the first time she had conducted a yearlong survey that included visits to schools and the preparation of surveys for distribution to educators and parents. While the team was challenged by low response to the survey, they found a good connection between parents and educators although parents still had a high level of fear for their children's well-being as they transitioned to adulthood.

More than 250 presentations by over 800 students and faculty mentors took place over the two-day symposium.

The Edinburg Campus Ballroom was buzzing with colorful research posters stemming from all of UTRGV's seven colleges with titles that included: "Political Affiliation and Language Use in the Rio Grande Valley"; "Neuroticism is Associated with Poor Sleep Quality in College Students"; "Saline Droplet Evaporation in Solar-Thermal Driven Full Separation Desalination System"; and "Learning Computer Science with Programmable Robots", among many others.

In the Cenizo Room, senior Pechis Martinez, an English major with a concentration in linguistics, participated in an exhibit of creative works by displaying two talking dolls - Fili and Alicia - she created based on the main characters from a trilingual children's story book written in Zapotec, Spanish and English that students had created previously.

Her other research team members were Javier Pina, Cristina Mendez, Paula Foreman and Kiara Wing.
The storybook and dolls are aimed to help in the revitalization of Macuiltianguis Zapotec, an indigenous language still spoken in southwest Mexico that originated in the state of Oaxaca, Mexico.

"This language is part of the town's culture, the state's culture and if it dies, a lot of history and a part of our culture is going to die as well," said Martinez, who hopes to go to graduate school to pursue a linguistics degree and become an English as a Second Language teacher.

"This opportunity has opened my eyes to all the possibilities and resources available for students to pursue a passion project and having a platform to let other students know 'hey, this could be you, take advantage of it,'" Martinez added.

Her faculty mentor Dr. John Foreman, assistant professor of applied linguistics, said the symposium provides his students an opportunity to make scholarly presentations and also benefits the community by preserving an endangered language.

Dr. Amy Weimer, associate dean for Student Academic Development, said applying knowledge outside of the classroom promotes students' academic and professional development in many ways.

"It improves communication skills and promotes intellectual curiosity. Students not only gain a more comprehensive understanding of the knowledge they have learned from coursework, but they connect it in practice," she said. "Many times students learn to talk about what they are learning with broader audiences, for example, community members, students or researchers from other disciplines, which helps them later when they apply for graduate school or enter the job market."

Weimer was a mentor to a student research project titled "Cultural Factors on Career Confidence Among Latinx Music and Psychology Majors." The research team that also included students Renata Garcia Prieto Palacios Roji, Nadia Salazar, Chelsey Rodriguez, Daniel Salinas, and faculty mentor Dr. Virginia Davis focused on the influence of Hispanic students' culture on their career path choices within the psychology and music fields, through the measurement of their level of acculturation.

The goal was to determine how cultural background influences perception on self-efficacy and perceived ability to succeed in their community. Weimer and Davis hope to use knowledge gained from this research project in the implementation of a project this fall where elementary school students will be encouraged to remain attached to their families and support systems in order to be successful, particularly in music. 

Garcia Prieto, a senior psychology major, said the experience helped her realize that research is what she would like to do in her career and now wants to pursue a Ph.D. in social psychology.

"It's really different than just being in the classroom and learning theory," she said. "Research allows you to apply what you read and learn in class. It has been an amazing experience." 

The day ended with an Edinburg Campus awards ceremony for the Engaged Scholars Symposium winners.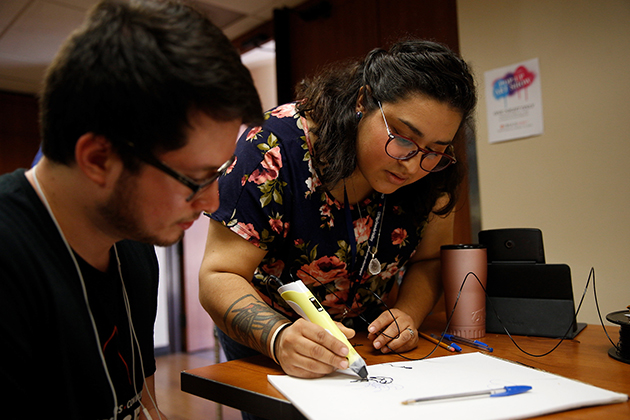 UTRGV studio art student Alexis Ramos demonstrates a 3d printing pen to civil engineering student Carlos Aguirre in the Creative Works exhibit during the Engaged Scholar Symposium on Wednesday, April 19, 2017 in Edinburg, Texas. Hundreds of students gave oral and poster presentations on their research and service learning projects at the two-day symposium held also on the day before at the Brownsville Campus. (UTRGV Photo by Paul Chouy)

Engaged Scholars Symposium Winners:

Oral Presentations

Education
Title: Anti-Writing Teaching Activity: Reevaluating Rhetorical Writing Style by Breaking Clarity Rules
Authors: Gisselle M. Ingan, Pechis Martinez, Stefan Peña, Sheila Bravo, Tarsis Garcia, Brenda Marines, Cristina Mendez, Priscilla Zamora, Israel Alvarado, Grecia Ramirez
Engineering/Computer Science
Title: Saline Droplet Evaporation in Solar-Thermal Driven Full Separation Desalination System
Authors: Thomas E. Rodriguez, Luis Escobar, Ricardo Carrillo
Fine Arts
Title: Crawling with Monsters Now
Authors: Maria Alvarado, Lucero Rodriguez, Karina Molina
Health
Title: University Student's Awareness of Child Tantrums Versus Meltdowns in Children with Autism
Authors: Karla Cecilia Nieto, Ana Lisa Moreno
Interdisciplinary/Business
Title: Ethical and Practical Considerations for DREAM Advocacy in the Rio Grande Valley
Author: Abraham Diaz Alonso
Liberal Arts (in no particular order)
Title: Female Experience of Intimate Relationship Abuse and Violence
Authors: Mildred A. Guerrero, Andres Ornelas
Title: Cellphone Addiction is Associated with Poorer Sleep, But Not with Lower GPA
Authors: Francisco Javier Torres
Sciences
Title: Chromatic Polynomials of Signed Graphs
Authors: Melissa Tupper, Jacob White
Poster Presentations
Business
Title: Do Blood Pressure Mobile Apps Work
Authors: Vanessa Huerta, Christopher Prado, Eddie Cantu
Engineering/Computer Science (in no particular order)
Title: Autonomous Wheel Barrow
Authors: Jose Ramirez, Vanessa Zepeda Dorado, Susana Ortega, Mayra Zepeda Dorado
Title: Vibration and Radio Frequency Energy Harvester System
Authors: Jaime Martinez Gonzalez, Alberto Linares Lopez, Alexis Berlanga, Luis Toscano
Liberal Arts (in no particular order)
Title: Fear, Surprise, Sadness, and Anger Among Latino College Students After the 2016 Presidential Election
Authors: Gabriela Mejia, Jason Popan, Gustavo Martinez, Ivan Avila, Hye Won Kang
Title: Psychological Predictors of Participation in the 2016 General Election Among Latino College Students
Authors: Gabriela Mejia, Jason Popan, Gustavo Martinez, Mauricio Yanez, Deanna Pollard
Health
Title: The Impact of Eating Habits on Health and Academic Performance of College Students
Authors: Dinorah Cecilia Moreno, Dr. Mirayda Torres Avila
Science (in no particular order)
Title: Blood-feeding Behavior Comparison Between Aedes Aegypti and Aedes albopictus
Authors: Briana Vargas, Dr. Robert Gilkerson, Dr. Christopher Vitek
Title: Status of Heavy Metals in UTRGV Edinburg Campus Water Fountains
Authors: Joseph Rabago
Community-based Social Research
Title: EPA RainWorks Campus Challenge
Authors: Andreas Guevara-Nadeau, Carolina Izaguirre, Carolina Olivares, Raul Barbosa, Jaafar (Jay) Mouhamad, Kevin Eastin
Community-based Science/Engineering Research
Title: Morphological Phenotypic Changes and NF-kB Signaling is Regulated by Glutathione Levels in Ethanol Exposed Microglia
Authors: Giovanina A. Hinojosa, Ileana Lozano, Shivani Maffi, Feroz Akhtar, Dr. Andrew Tsin
Service Learning
Title: Empowering Families and Children with Autistic Spectrum Disorder
Authors: Andy Torres
Exhibition
Title: Macuiltianguis Zapotec Toys: An Effort in Popularizing and Revitalizing an Endangered Language
Authors: Pechis M. Martinez, Javier Pina, Cristina Mendez, Paula Foreman, Kiara Wing
MEDIA CONTACTS
Gail.Fagan@UTRGV.edu
Senior Writer / 956-665-8926
Marci.Caltabiano@UTRGV.edu
UTRGV Director of News and Internal Communications / 956-665-2742