Sub Menu Toggle
UTRGV College of Education and P-16 Integration faculty focus on the future with data summit
UTRGV faculty from the College of Education and P-16 Integration, along with sciences, liberal arts, fine arts and business colleagues, participated in the Fall 2016 CEP Data Summit on Friday, Aug. 26, 2016, in Harlingen. Shown here, Dr. Patricia McHatton (with tape measure), dean of the College of Education and P-16 Integration, and faculty members participated in group team-building exercises, and heard keynote remarks from Dr. Maria del Carmen Salazar from the University of Denver. (UTRGV Photo by David Pike)
By Cheryl Taylor
RIO GRANDE VALLEY, TEXAS – SEPT. 2, 2016 – Faculty from the College of Education and P-16 Integration (CEP) at The University of Texas Rio Grande Valley – along with sciences, liberal arts, fine arts and business colleagues who prepare undergraduate students for careers in education – gathered for the Fall 2016 CEP Data Summit on Friday, Aug. 26.
Organized and led by the CEP Assessment Committee, the summit drew about 80 professors to the UTRGV Regional Academic Health Center in Harlingen, where they spent the day sharing ideas and discussing ways to better prepare students to become educators.
Dr. Paul Sale, interim chair of the Department of Teaching and Learning and professor in the Department of Human Development and School Services, said the summit was extremely productive.
"By bringing together meaningful ideas from faculty in all disciplines, we are focusing on ways we can best serve school-age children," Sale said.
The keynote speaker for the summit was Dr. Maria del Carmen Salazar, associate professor at the Morgridge College of Education at the University of Denver, where she holds the distinction of being the first Latina to receive tenure in the history of the college.
Sale said hearing Salazar's perspective and her approach toward reaching and valuing all students was enlightening.
"It was helpful for us all to fulfill our mission. That mission is to prepare our UTRGV graduates to engage in best practices – those that will lift up all children – once they step into the classroom," he said.
Dr. Patricia McHatton, dean of the College of Education and P-16 Integration, said CEP is committed to moving from a culture of compliance to a culture of inquiry focused on program improvement through data-based decision making.
"Over the past year, faculty have begun a review of curriculum to ensure programs are meeting student and stakeholder needs, including districts, children, families and communities," she said.
"An important aspect of this work is gaining feedback from stakeholders and engaging in collaborative analysis of outcome and performance data, which provides important information including areas of strengths and areas in need of improvement. The Data Summit provides the venue for that collaborative analysis and discussion."
Dr. John Jauregui, director of the CEP Office of Educator Preparation and Accountability, presented data for the past and upcoming academic years.
"I am pleased to present these positive figures," Jauregui said. "In academic year 2015-16, UTRGV is responsible for preparing 347 newly minted teachers. These are students who have successfully completed their practicum, achieved their bachelor's degrees, and have been awarded the honor of being an educator in Texas by passing the Texas Board for Education Certification examination."
Regarding students entering CEP for the academic year 2015–2016, Jauregui said the college has surpassed its admissions target.
"We have admitted 447 students as declared teacher preparation majors," he said. "These include 49 students studying early childhood education; 124 students in bilingual generalist early childhood through sixth grade; 27 students enrolled in special education; and 131 pursuing degrees in middle school and high school subjects, to be combined with teacher education classes."
THE KEYNOTE ADDRESS
In her guest remarks, Salazar spoke of her work with the Morgridge College team to develop a model teacher education program designed to prepare equitable and effective teachers who engage, plan, teach and lead, all to promote the growth and development of all learners.
This has been a personal task for me, to work toward a pedagogy to prepare humanizing teachers who support the academic, social, and cultural development of all students," she said.
Salazar said that, as the child of immigrants, she went to public schools in Denver and grew up ashamed of her family's language and her dark skin.
"I went to school with all my treasures, including my Spanish language, Mexican culture, mi familia and ways of knowing," she said. "I abandoned my treasures at the classroom door in exchange for English and the U.S. culture. Consequently, my assimilation into U.S. society was agonizing."
She spoke of the irreparable harm to culturally and linguistically diverse children who are submersed in "subtractive schooling," a term coined by Dr. Angela Valenzuela, professor of Curriculum and Instruction and the Center for Mexican American Studies at The University of Texas at Austin.
"To thrive in school, children from communities that have been historically marginalized must be brought from the margins into the middle," Salazar said. "Empirical research and promising practices in teacher recruitment, preparation and professional development can transform and humanize teacher preparation for diverse learners. We must develop and embrace humanizing pedagogies that engage Latino students and open up a pathway to higher education."
FACULTY REACTIONS
Dr. Jacqueline Koonce, assistant professor, Bilingual and Literacy Studies, said she likes the way Salazar humanizes curriculum by connecting data compliance with el corazón – heart.
"As faculty, we must be persistent in maintaining equity in mission and assessment," Koonce said. "I appreciated hearing Dr. Salazar's emphasis that students of color don't need to be changed, fixed, or saved; instead, educators are responsible for helping them find their wings and soar."
Harlingen native Dr. Javier Cavazos, assistant professor, Counseling and Guidance, said Salazar reinforced the need for him to remind his students to always value their own "cultural treasures" of language, ethnicity and gender because this will be an asset they pass along to their students, tomorrow's educators.
Dr. Hsuying Ward, assistant professor, Human Development and School Services, said Salazar's presentation highlighted to her and her colleagues that curriculum reform must be approached with the right intentions.
"To reform curriculum in a fair, moral and honest way, we need to come from the right place – keeping our hearts focused on improving and empowering teachers," Ward said. "We play an essential role, to guide and mentor our students as they grow to be just and empowering teachers."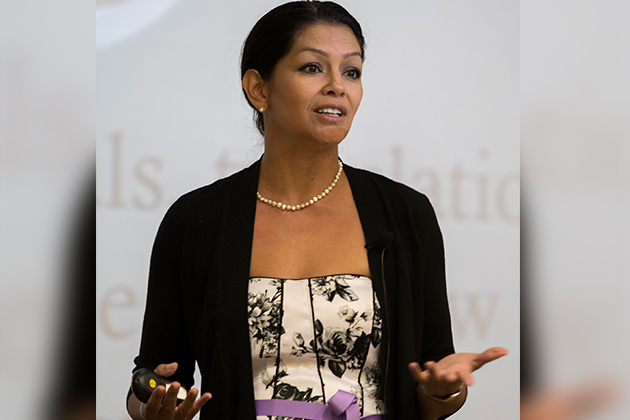 Dr. Maria del Carmen Salazar, associate professor at the Morgridge College of Education,  University of Denver, was keynote speaker at the UTRGV College of Education and P-16 Integration Fall 2016 CEP Data Summit, held Friday, Aug. 26, 2016, on the Harlingen Campus. (UTRGV Photo by David Pike)
PHOTO GALLERY: 2016 Data Summit – College of Education and P-16 Integration
MEDIA CONTACTS

Cheryl.Taylor@UTRGV.edu
UTRGV Senior Writer / 956-882-8787
Marci.Caltabiano@UTRGV.edu
UTRGV Director of News and Internal Communications / 956-665-2742