Sub Menu Toggle
Three UTRGV RISE students win awards at national biomedical research competition
By Jennifer L. Berghom
RIO GRANDE VALLEY, TEXAS – NOV. 18, 2016 – Three UTRGV students won awards and a total of $750 in cash prizes at a recent poster presentation contest, at the annual Biomedical Research Conference for Minority Students in Tampa, Florida.
The winners are:
Daniel Rodriguez De Anda, for his project, Developments of Poly(lactic-co-glycolic acid) Mircroparticles Loaded with the Chemotherapy Drug Temozolamide for the Treatment of Glioblastoma."
Kassandra Cervantes, for her project, "Effect of the Imminent Possibility of Smoking on Brain Responses to Cigarette-Related Cues."
Irving Salinas, for his project "Study of Endoplasmic Reticulum Calcium Concentration in Human Bronchial Smooth Muscle Cells."
Rodriguez, Cervantes and Salinas were three of the 1,800 participants in the competition. They each received an achievement award and a $250 cash prize.
The three are part of a group of 30 students enrolled in UTRGV's Research Initiative for Scientific Enhancement (RISE) undergraduate training program who attended the largest undergraduate biomedical research conference in the country Nov. 9-13.
In all, 14 UTRGV students participated in the competition, in which they presented their research projects in 12 scientific categories.
The Research Initiative for Scientific Enhancement (RISE) program is a comprehensive career development program funded by the National Institute of General Medical Science (NIGMS) / National Institutes of Health Minority Biomedical Research Support (MBRS). The program supports the training undergraduates on UTRGV's Brownsville and Edinburg campuses in conducting research, with the overall goal of preparing and placing them in research intensive biomedical / behavioral Ph.D. programs across the country.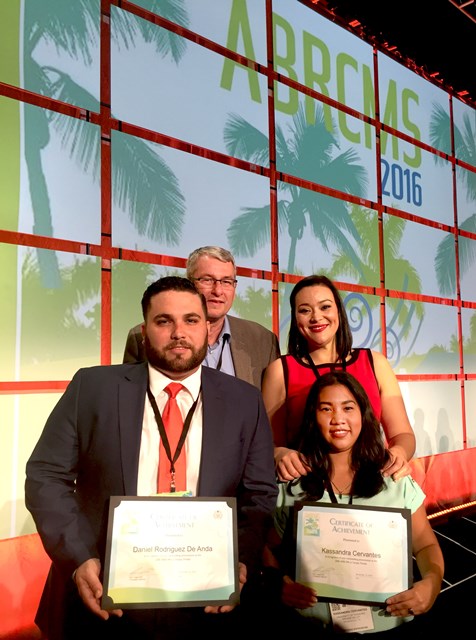 Three UTRGV students took home awards and a total of $750 in cash prizes from the recent Biomedical Research Conference for Minority Students, in Tampa, Florida. It is the largest undergraduate biomedical research conference in the country. Pictured clockwise from upper left are: Dr. Michael Lehker, dean of the UTRGV College of Health Affairs; Bianca Farrell, senior program coordinator for RISE; and UTRGV students Kassandra Cervantes and Daniel Rodriguez De Anda. (Not in the photo is the third winning student, Irving Salinas.) (Courtesy Photo)
MEDIA CONTACTS
Jennifer.Berghom@UTRGV.edu
UTRGV Senior Writer / 956-665-7192
Marci.Caltabiano@UTRGV.edu
UTRGV Director of News and Internal Communications / 956-665-2742