Sub Menu Toggle
Two UTRGV professors participate in panel on Zika virus prevention in South Texas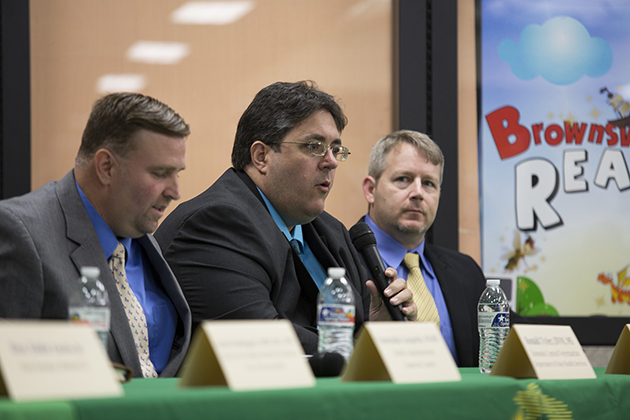 Two UTRGV professors, Dr. Christopher Vitek (center) and Dr. John Thomas (at right), participated in a special press conference at The City Plaza in Brownsville, on Tuesday, May 17, 2016, to bring awareness to the Zika virus. (UTRGV Photo by Veronica Gaona)
By Vicky Brito
BROWNSVILLE, TEXAS – MAY 17, 2016 – Dr. Christopher Vitek, UTRGV associate professor of biology, and Dr. John Thomas, UTRGV assistant professor of biology, participated May 17 in a panel discussion on prevention of the Zika virus, organized by Texas Rep. Eddie Lucio III and held at the Brownsville City Plaza.
Lucio III was unable to attend, so the event was moderated by his father, Texas Sen. Eddie Lucio Jr.
In February, the World Health Organization declared the Zika virus a Public Health International Emergency, after the number of cases skyrocketed. The mosquito-based infection can be fatal in pregnant women and their fetuses. 
The Zika virus is spread primarily through the bite of an infected Aedes species mosquito, which can be found in the southern parts of the United States.
Vitek specializes in medical entomology which is the study insects and their medical impact; Thomas specializes in virology, which is the study of viruses and virus-like agents.
They work together on initiatives between the university and the state to research data on approaches to prevent the spread of the virus.
In addition to Vitek and Thomas, the panel consisted of Brownsville Public Health Director Arturo Rodriguez, Cameron County Department of Health and Human Services Health Administrator Esmeralda Guajardo, Texas Department of State Health Services Regional Zoonosis Control Veterinarian Ronald Taylor.
Taylor said one of the easiest ways to protect yourself and your family from the Zika virus is to remove freestanding water from your homes and yards.
Vitek, too, stressed the importance of removing unnecessary water, including water dishes for pets, because the water attracts mosquitos that carry infectious diseases. He said he is working with the state, county and city to improve and enhance surveillance efforts, including enhancing vector controls.
"One of the questions that we're asking is, 'Where, specifically, is there an area where mosquitos are commonly found?' That is a question we don't have a lot of information about, so we're working on trying to get that information," Vitek said.
Thomas called the mosquito that transmits Zika an "aggressive biter."
"It's a mosquito that likes to live indoors, very close to its host," he said. "Very often, they will follow you inside and hide under your bed. When you lie down in your bed, the mosquito comes out and feeds and goes back into hiding. It then comes out again at the end of the day, and the cycle continues."
Thomas and Vitek look at past data on mosquito-borne disease in South Texas to try to predict what factors may contribute to the spread of Zika. They also look at how the virus replicates in humans and animals.
"We specifically look at different kinds of pregnant animal models and how the virus is able to get up out of the mother, if you will, through the placenta into the fetus itself," Thomas said. "That seems to be where a lot of the damaging effects of the virus replicating are occurring."
During a woman's pregnancy, Zika can cause a serious birth defect called microcephaly, a condition in which the baby's head does not develop properly.
In Brazil, some 300 to 400 cases of microcephaly were reported in 2015. There are now more than 4,000 cases.
"We're working with groups on the state level, and with other institutes like UT Medical Branch and UT El Paso that already have an advanced vector of research programs," Thomas said. "We have many initiatives that we have established here in South Texas to try to answer some of these questions, and our hope is that we're going to be able to develop more ways to identify how the virus is replicating."
Marci.Caltabiano@UTRGV.edu UTRGV Director of News and Internal Communications
956-665-2742

Jennifer.McGehee@UTRGV.edu UTRGV Director of Public Relations
956-882-5105