Sub Menu Toggle
Faculty celebrate completion of semester-long ADVANCE Leadership Initiative program
The first UTRGV ADVANCE Leadership Institute graduation was held recently in the PlainsCapital Bank El Gran Salón on the Brownsville Campus, with participants from the Edinburg Campus joining in via teleconference. Tony Cucolo, UT System associate vice chancellor for Leadership Development and Veterans Affairs, gave the keynote address. (UTRGV Photo by David Pike)
PHOTO GALLERY: ADVANCE Leadership Initiative graduation luncheon https://www.flickr.com/gp/utrgvnews/3ecp6S
By Cheryl Taylor 
RIO GRANDE VALLEY, TEXAS – MAY 13, 2016 – Eighteen faculty members at The University of Texas Rio Grande Valley celebrated their graduation recently from the ADVANCE Leadership Institute, at a luncheon held in the PlainsCapital Bank El Gran Salón on the UTRGV Brownsville Campus.
Made possible by a National Science Foundation grant, the ADVANCE Leadership Institute is designed to increase the representation and advancement of women faculty, especially Hispanics, in STEM fields at all levels.
"This is the continuation of a five-year institutional transformation project that began in 2012 under the leadership of UTRGV Provost and Executive Vice President for Academic Affairs Dr. Havidán Rodríguez," said Dr. Marie Mora, associate vice provost for faculty diversity and professor of economics. "We are celebrating completion of the fourth cohort of this leadership development program, but most of all, we are celebrating the start of new leadership opportunities at UTRGV for our group of 18 faculty graduates."
At the luncheon, Rodríguez joined UTRGV Founding President Guy Bailey and Dr. Ala Qubbaj, vice provost for Faculty Affairs and Diversity and lead co-PI on the ADVANCE grant, in welcoming the graduates, their mentors, the leadership team from the Division of Academic Affairs, and special guest Dr. Dana Britton, National Science Foundation ADVANCE program officer.
Consisting of eight workshops throughout the spring semester led by professional facilitators, the program covered subjects such as strategic planning in higher education, conflict management and resolution, and decision making and problem solving.
UT System Associate Vice Chancellor for Leadership Development and Veterans Affairs Tony Cucolo, who facilitated the negotiation and influence workshop in early March, was keynote speaker at the luncheon. The retired U.S. Army major general spoke about leaders facing "three fights within themselves."
"The best leaders I've ever seen have mastered these three fights within themselves … the fight to understand and accept the loneliness that comes with leading; the fight to guardrail against unchecked ambition and personal achievement in favor of being a selfless servant leader; and the fight to leave the comfort of who you are and modify your beliefs and patterns of behavior," Cucolo said.
Graduate Maria Leonard, a lecturer of management in the College of Business and Entrepreneurship, said each session provided valuable insight into the varied dimensions of leadership and the requisite hallmarks of a good leader.
"Every facilitator brought his or her own particular brand, and I really think Gen. Cucolo's presentation on negotiation and influence had a really big impact on me. Personally, it really helped me understand my own negotiation style and how I can improve as a leader," Leonard said.
Graduate Sheila Dooley, associate professor in the Department of Writing and Language Studies, applied to the Institute after having been asked to be associate chair of the department.
"I've never had such a big, responsible position before, so I thought I needed some more formal training to be a leader. This was a perfect opportunity for that," Dooley said. "Before, I had some instinctual feelings about what was going on. But now, I am consciously aware of the way I lead and what decisions I make, and this institute has definitely done that for me."
The spring 2016 ADVANCE Leadership Institute concluded year four of the five-year ADVANCE grant, bringing the total number of graduates to 79.
Graduates of the Institute will have an opportunity to participate in a subsequent year-long administrative fellowship to gain hands-on leadership experience working closely with a vice president, dean or other university administrative unit-head or director. Three faculty fellows who completed the 2015-2016 ADVANCE Administrative Fellows program were also recognized at the luncheon.
For more information on UTRGV's National Science Foundation ADVANCE grant, "Attracting and Nurturing Women Faculty at a Hispanic-Serving Institution," contact Claudia García at (956) 665-8997 or claudia.garcia@utrgv.edu.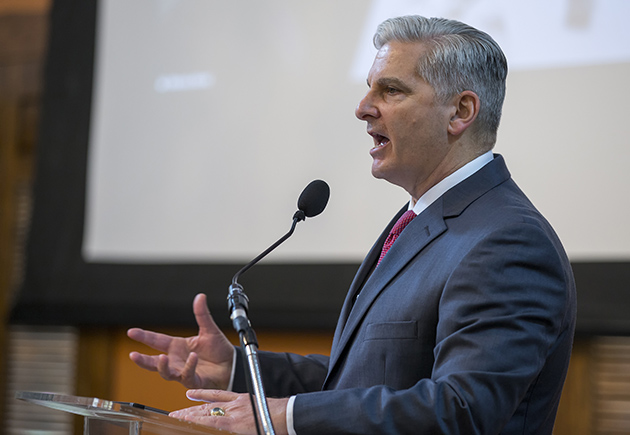 Tony Cucolo, UT System associate vice chancellor for Leadership Development and Veterans Affairs, gave the keynote address recently at the first graduation of the UTRGV ADVANCE Leadership Institute. The luncheon event was held in the PlainsCapital Bank El Gran Salón on the Brownsville Campus, with participants from the Edinburg Campus joining in via teleconference. (UTRGV Photo by David Pike)
MEDIA CONTACTS
Marci.Caltabiano@UTRGV.edu UTRGV Director of News and Internal Communications
956-665-2742

Jennifer.McGehee@UTRGV.edu UTRGV Director of Public Relations
956-882-5105