Sub Menu Toggle
Year-old UTRGV ranks third in UT System on Forbes Top Schools list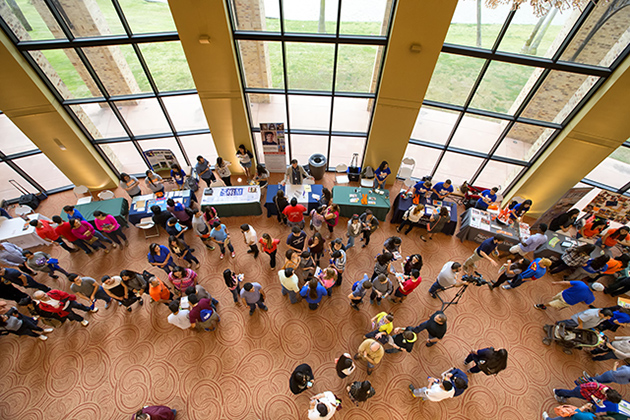 UTRGV, open a little more than a year, debuts third among the UT System schools listed in the Forbes Magazine 2016 list of America's Top Colleges. (UTRGV Photo by David Pike)
By Gail Fagan
RIO GRANDE VALLEY, TEXAS – JULY 8, 2016 –  The University of Texas Rio Grande Valley has made its debut appearance on the  Forbes Magazine 2016 "America's Top Colleges" list, ranking third among six of the eight academic institutions in The University of Texas System on this year's list.  
Forbes and its partner, the  Center for College Affordability and Productivity , a Washington, D.C.-based think tank focused on higher education costs and efficiency, on July 6 released the extensive list, which includes 660 public and private, nonprofit schools nationwide. 
Ranking first among the UT System schools was The University of Texas at Austin, followed by The University of Texas at Dallas, UTRGV, The University of Texas at El Paso, The University of Texas at Arlington, and The University of Texas at San Antonio.
UTRGV also ranked 15th among the 26 Texas higher education public and private institutions listed,  and 530 among the total 660 schools listed.
"This is a tremendous achievement for our university," said Founding President Guy Bailey. "What's more exciting is that this is just the beginning. As we continue to focus on fostering student success and expanding educational opportunities, UTRGV will have an even greater impact on the Rio Grande Valley, the country and the world."
In an introduction to this year's listings, Forbes notes its belief in recognizing "output" over "input," meaning placing a stronger emphasis on return on investment – what students are getting out of college – rather than on selectivity metrics – like class rank and SAT scores – to enter college.
Using statistics from the Department of Education, Payscale and the America's Leaders list, Forbes based its  methodology   on the following weighted categories:
Post graduate success (32.5%), which evaluated alumni pay and prominence.

Student satisfaction (25%), which includes freshman-to-sophomore retention rates and professor evaluations by students.

Four-year graduation rate (7.5%).

Academic success (10%), which rewards schools whose students win nationally prestigious scholarships and fellowships like the Rhodes, the National Science 

Foundation and the Fulbright.
Review the complete list of ranked schools at Forbes America's Top Colleges .

MEDIA CONTACTS
Gail.Fagan@UTRGV.edu
Senior Writer / 956-665-7995
Marci.Caltabiano@UTRGV.edu
UTRGV Director of News and Internal Communications  /  956-665-2742