Sub Menu Toggle
Distinguished Speaker Series brings on the 'awesome' with award-winning Neil Pasricha
Motivational speaker Neil Pasricha, the second guest in the UTRGV Distinguished Speakers Series sponsored by Student Involvement, was at the Brownsville Campus on Thursday, Jan. 28, 2016, to share his techniques for being happy and finding the "awesome" in life. (UTRGV Photo by David Pike)
By Vicky Brito
BROWNSVILLE, TEXAS – JAN. 29, 2016 – Motivational speaker Neil Pasricha, the first guest in the Distinguished Speaker Series (DSS) to come to the UTRGV Brownsville Campus, shared his recent breakthroughs in the study of happiness, and inspired members of the audience to seek their full potential. 
The Distinguished Speaker Series carries over to UTRGV from legacy institution The University of Texas Pan American, and provides the UTRGV community an opportunity to learn and engage in the ideas and experiences of notable individuals. 
The Texas Southmost College Arts Center on Thursday evening was filled with students, faculty, staff and the Brownsville community.
Pasricha shared his own "awesome" story about his life. His mother is originally from Kenya and his father is from India, and together, they went to Canada, where Pasricha and his sister were born.
Pasricha was married young, on what he described as a "bright day." Then, life got heavy.
He arrived home one day and his wife informed him she wasn't in love with him anymore and that she wanted a divorce. 
"As this was happening with my life, my best friend Chris was quietly battling mental illness," he said. "One in four Americans have been touched by mental illness."
Then that friend committed suicide. 
"It was a very dark time," Pasricha said.
Devastated, Pasricha needed a way to focus on something positive. That's when he started a blog, "1000 Awesome Things," sharing the small treasures he found in his daily life, things that struck him as awesome: a cashier opening a lane, wearing warm underwear straight from the dryer, and being the first table called to the buffet at a wedding. 
his blog quickly gained attention and success. In 2009, after the blog hit 10 million views, he won a Webby Award for Best Blog in the World.
"It all sounds like the perfect ending to a happy story, but while this was all happening, I was not happy at all," Pasricha said. 
The stress of a full schedule resulted in unhealthy habits that made him feel unhappy.
Then he met a woman, and remarried. During a flight to their honeymoon destination, she found out she was pregnant. When Pasricha found out he was going to be a father, he said, something in him changed. He wanted to find a way for his study on happiness to come to fruition for his child.
He spent the next nine months writing about the nine secrets to living a happy life, all in a 300-page document called "Dear Baby." 
From that, he produced The Three A's of Awesome: attitude, awareness and action. 
ATTITUDE 
Pasricha notes five simple, tactful acts that can contribute to daily happiness:
1. Three walks a week.
2. The 20-Minute replay of something awesome that happened in your day.
3. Five tiny random acts of kindness.
4. Daily meditation.
5. Giving gratitude to five things you are thankful for at the end of the week. 
He recommends devoting 20 minutes a day to those activities, which help with attitude. 
AWARENESS  
The best example of awareness is found in toddlers, Pasricha said.
"I love hanging out with 3-year-olds because I love how they see the world. They're seeing the world for the first time," he said. "A 3-year-old can spend hours of the afternoon picking dandelions from the back yard just to put them in water to make a centerpiece for dinner."
In an interactive activity to illustrate awareness, he asked the audience to write down one awesome thing about UTRGV. Then he had them trade their cards with someone they didn't know. Volunteers then read aloud the card they had received from the stranger. 
ACTION
Pasricha shared an embarrassing story about being an adult and not knowing how to swim. He said the key to learning to do something new is thinking you can do it, then wanting to do it – and then actually doing it.
"Once I did it and went to my first class, scared out of my mind, and it turned out that everyone sucked," he said. "Half an hour later, I thought, 'I can do this.' The next week, I wanted to do it."
The big take away from his swimming journey is that motivation does not cause action. Rather, action causes motivation.
"AWESOME" STUDENTS
Freshman nursing major Jaqueline Calvo said happiness is an ongoing battle, and was interested in Pasricha's insight into how to win that battle.
"I think it's really cool how he looks at everything that's positive," she said as she was standing in line to have him sign a copy of his book. "I have trouble sometimes with having happy thoughts. I struggle with that. So it was cool to see how he manages it.
"I am a Christian, and stuff that he said related to my beliefs and it was really cool how it all connected. It is a constant battle to be happy, is what he's saying. And that is what stuck with me."
Junior psychology major Orwell Maylor is an international student who lives on the Edinburg Campus, but he drove to Brownsville because he couldn't pass up the chance to see Pasricha live.
"I came here today because of his expertise. "He's an award-winning blogger, and I was hoping to get some insights on his path to awesomeness. It was worthwhile, well worth the trip," Maylor said.
Pasricha's new book, "The Happiness Equation," will be released in March. In it he takes on rethinking your time, career, relationships, family and happiness.
The next speakers in the Distinguished Speaker Series will be Ben Cohen and Jerry Greenfield, co-founders of Ben and Jerry's Ice Cream. The event will be 7:30 p.m. April 12, at the UTRGV Fieldhouse on the Edinburg Campus.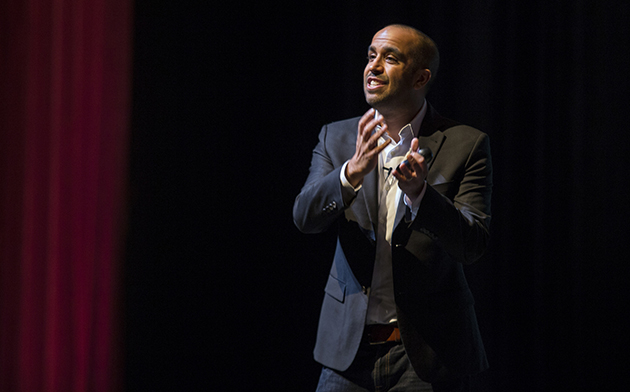 Motivational speaker Neil Pasricha, the second guest in the UTRGV Distinguished Speakers Series sponsored by Student Involvement, was on the Brownsville Campus Thursday evening to share techniques for being happy and finding the "awesome" in life. (UTRGV Photo by David Pike)
MEDIA CONTACTS

Marci.Caltabiano@UTRGV.edu UTRGV Director of News and Internal Communications
956-665-2742
Jennifer.McGehee@UTRGV.edu UTRGV Director of Public Relations
956-882-5105