Sub Menu Toggle
UTRGV announces $1M gift from PlainsCapital Bank for scholarships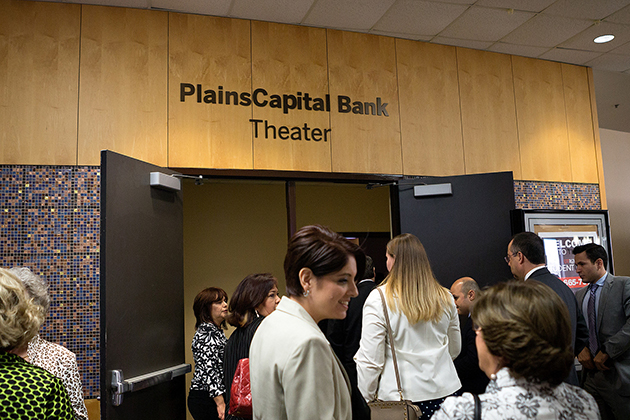 UTRGV on Thursday announced a $1 million gift from PlainsCapital Bank for scholarships. University and community leaders, along with a large contingent of PlainsCapital representatives, gathered at the newly named PlainsCapital Bank Theater in the Student Union for the announcement. New signs announced the naming of the theater in the Student Union as the PlainsCapital Bank Theater. (UTRGV photo by Paul Chouy)
By Gail Fagan
EDINBURG, TEXAS – FEB. 18, 2016 – The University of Texas Rio Grande Valley has announced a $1 million gift from PlainsCapital Bank that will support student scholarships. And to honor the generosity of the Texas-based financial institution, the Student Union Theater on the Edinburg Campus will be named the "PlainsCapital Bank Student Union Theater."
The gift will create endowed scholarships for qualified students in the College of Business and Entrepreneurship, the College of Sciences and the UTRGV School of Medicine. 
"The transformative power of PlainsCapital Bank's investment in UTRGV is boundless," said UTRGV President Guy Bailey. "This gift will positively impact future generations of our students by making their goal of seeking higher education and pursuing the career of their dreams a reality."
The nearly 500-seat theater is located inside the Student Union on the Edinburg Campus. It was chosen for the naming because of its high visibility and popularity as a venue for student and community events.
Since its founding 28 years ago by its current chairman, Alan B. White, PlainsCapital Bank has grown to be the sixth-largest Texas-headquartered bank in Texas, based on deposit market share. They employ more than 1,200 people and have more than 67 branches throughout the state, including: Austin, Corpus Christi, Dallas, El Paso, Fort Worth, Houston, Laredo, Lubbock, San Antonio and the Rio Grande Valley.
White praised President Bailey and UTRGV's leadership for the university's forward momentum, which he hoped the PlainsCapital gift would help continue.
"PlainsCapital Bank is very proud to be part of the region served so well by UTRGV," White said. "We believe this donation represents an important step in helping the university make a profound impact on the students, faculty and staff on its campuses, and on higher education in the Valley."
Robert C. Norman, PlainsCapital Bank's region chairman for the Rio Grande Valley, earned his BBA in finance from UTRGV's legacy institution UT Pan American. Norman, a lifelong resident of the Valley, said PlainsCapital is excited about the Valley's potential growth and wants to be part of the development of a well-educated Valley workforce and improved health care services for its residents. 
"This gift exemplifies PlainsCapital Bank's commitment to young people and to effecting positive changes in the places where we do business and where our customers live and work," Norman said.  "The more we can support this university, the more it will benefit everyone in the region."
Dr. Kelly Cronin, UTRGV vice president for Institutional Advancement, said the gift demonstrates PlainsCapital Bank's visionary leadership and commitment to improving the quality of life in the communities it serves.
"Endowments like this from valued partners like PlainsCapital Bank provide a steady stream of funding for scholarships to support students with outstanding potential while keeping their college education affordable," Cronin said. "The renaming of this enduring UTRGV facility celebrates the philanthropic impact PlainsCapital Bank's generosity will have for many generations to come." 
Also joining in the press conference activities was PlainsCapital Bank's iconic mascot – Mo the Buffalo – who was transported to the event from his home ranch in Weatherford, Texas. A majestic and powerful creature, the buffalo is the recognized symbol of PlainsCapital, and according to company officials, represents the bank's strength, stability, pride and momentum. Mo, which is short for Momentum, was on display at the south side of the Student Union Building, where passersby could enjoy a close up view of the massive animal.
Another renaming ceremony of facilities on the Brownsville Campus in honor of the PlainsCapital Bank gift will take place Feb. 19 in the Student Union Gran Salón. 
About PlainsCapital Bank
Dallas-based PlainsCapital Bank, the sixth-largest Texas-headquartered bank by deposit market share, operates more than 67 Texas branches and has more than 1,200 employees providing highly personalized relationship banking through a single point of contact. Offering commercial lending, treasury management, small business banking, private banking, and trust and wealth management services, PlainsCapital Bank empowers responsive, local decision making in each of its major markets: Austin, Corpus Christi, Dallas, El Paso, Fort Worth, Houston, Laredo, Lubbock, the Rio Grande Valley and San Antonio. PlainsCapital Bank is part of the PlainsCapital Corporation family of companies. PlainsCapital Corporation is a wholly owned subsidiary of Hilltop Holdings (NYSE:HTH). Find more information at PlainsCapital.com.
Source: June 2015 SNL Financial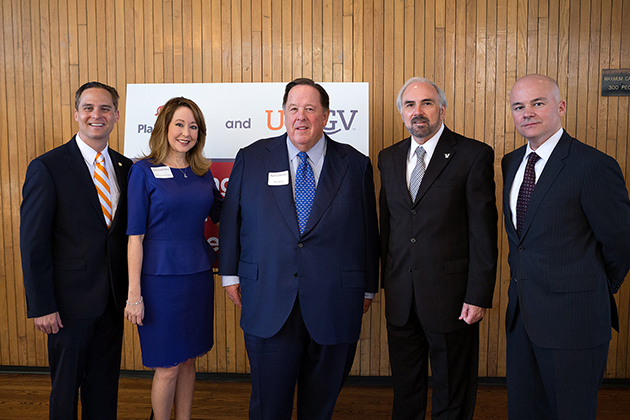 UTRGV on Thursday announced a $1 million gift from PlainsCapital Bank for scholarships. University and community leaders, along with a large contingent of PlainsCapital representatives, gathered at the newly named PlainsCapital Bank Theater in the Student Union for the announcement. Shown from left are PlainsCapital Bank Market President Michael Williamson; UTRGV Vice President for Advancement Dr. Kelly Cronin; PlainsCapital Bank Chairman Alan White; UTRGV President Guy Bailey; and PlainsCapital Bank Brownsville Market President Raul Villanueva. (UTRGV photo by Paul Chouy)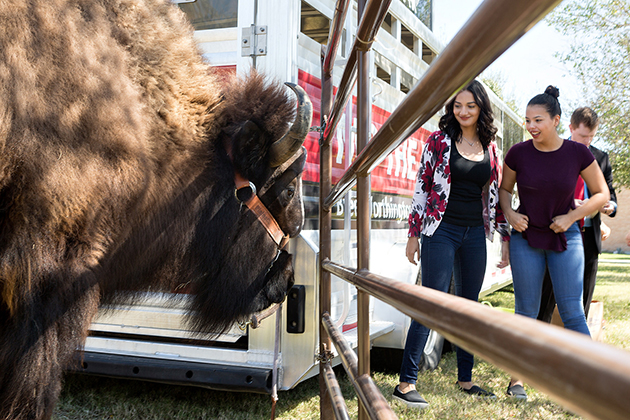 UTRGV students were able to meet and take photos with Mo the Buffalo on Thursday, Feb. 18, on the Edinburg Campus. Mo was on hand to help celebrate UTRGV's announcement of a gift of $1 million from PlainsCapital Bank for scholarships, and the naming of the PlainsCapital Bank Student Union Theater. (UTRGV photo by Paul Chouy)
MEDIA CONTACTS
Marci.Caltabiano@UTRGV.edu UTRGV Director of News and Internal Communications
956-665-2742
Jennifer.McGehee@UTRGV.edu UTRGV Director of Public Relations
956-882-5105