Sub Menu Toggle
UTRGV and STC partner on articulation agreements to smooth student transition between the institutions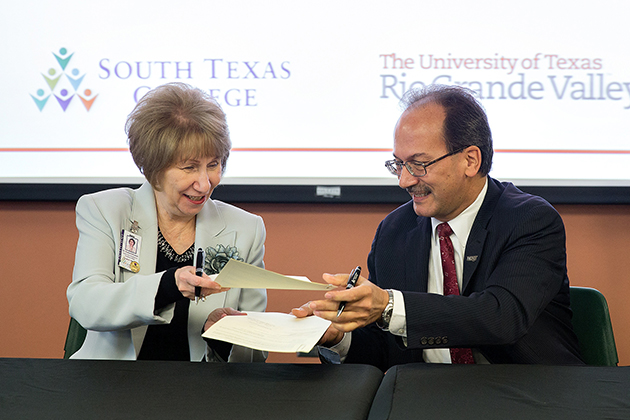 Dr. Anahid Petrosian, STC interim vice president for Academic Affairs, and Dr. Havidán Rodríguez, UTRGV provost and executive vice president for Academic Affairs, signed 26 articulation agreements at a ceremony held at STC on Monday, Dec. 12 that will provide a seamless pathway allowing STC students to move from an associate degree at STC to a bachelor's degree in those programs at UTRGV. (UTRGV Photo by Paul Chouy)
By Gail Fagan
McALLEN, TEXAS – DEC. 12, 2016 – Twenty-six articulation agreements signed Dec. 12 between The University of Texas Rio Grande Valley and South Texas College will ensure a seamless pathway for students to move from an associate's degree at STC to earning their bachelor's degree at UTRGV. 
The agreements, signed by the acting provosts and college deans at each institution during a ceremony at the STC Library's Rainbow Room, are at the course level and provide a 2+2 roadmap spelling out what courses students will take in their programs, saving time and money spent by students who might enroll in wrong or unnecessary courses and expediting their graduation.   
STC President Dr. Shirley Reed and UTRGV Provost and Executive Vice President of Academic Affairs Dr. Havidán Rodríguez both praised the long history the two institutions have had in working together to promote accessibility to and student success in higher education by South Texas students.
"This is a commitment of individuals who see as their primary goal student success," Rodríguez said. "At the end of the day that is why we are here. We want students in South Texas to be successful, obtain a degree and to become contributing global citizens who have significant impacts in the Rio Grande Valley and beyond."
Such agreements have been historically in force with UTRGV's legacy institutions for many years and with the formation of UTRGV, a new memorandum of understanding was signed August 2015 that led to the creation of the program level agreements signed at the ceremony.  
Reed praised the hard work and dedication by administrators and faculty at each institution to facilitate the latest agreements.
"These agreements are a testimony to the confidence both institutions have in each other," she said.  "We know we can count on them (UTRGV) to take our students on the next leg of their journey to graduation with a bachelor's degree. And I know that they have a great deal of confidence and respect regarding the preparation students have received while at South Texas College."
Dr. Kristen Croyle, UTRGV vice president for Student Success, said faculty at UTRGV and STC worked together over the past year to make sure the curriculum at both schools meshes together.
"After the faculty constructed the agreements, they also constructed roadmaps specifically for students to use and are on our websites, so the students at STC can say 'after I take these classes, I'll finish my associate's degree and then I can seamlessly go to UTRGV and take these listed classes and I'll finish my bachelor's degree,'" she said. "It will save them time, money, and headaches."
Two other agreements between UTRGV and STC will be signed in the near future said Dr. Anahid Petrosian, STC interim vice president for Academic Affairs, who spoke at the ceremony.
One will facilitate the transfer of honors students and nine honors credit hours at STC directly into the Honors College at UTRGV.
The other agreement will provide for a seamless transfer of students between STC and UTRGV in the New Mathways Project implemented by The University of Texas at Austin's Charles Dana Center with the Texas Association of Community Colleges, which represents all 50 independent community colleges in the state.
This agreement, the first in the nation, will ensure that the developmental math that students are required to take will align with the math and the program they plan to take at UTRGV, thus reducing the sequences of prerequisite courses students will take.  For example, if students are going to take a statistics class, they should be taking developmental math that is aligned toward statistics and the degree that they plan to pursue.
Articulation agreements signed at the Dec. 12 ceremony were in the following areas and programs:
Engineering, Math and Science

Civil Engineering
Electrical Engineering
Manufacturing Engineering
Mechanical Engineering
Computer Science
Biology
Chemistry
Mathematics

Liberal Arts and Social Sciences

Education
Music
Art
Theater
Communication
Criminal Justice
History
History (Certification)
Social Studies Composite
Social Studies Composite (Certification)
English
Philosophy
Psychology
Anthropology
Sociology
Social Work

Nursing and Allied Health
Business and Technology
PHOTO GALLERY: https://www.flickr.com/gp/utrgvnews/1uT7Ky
MEDIA CONTACTS
Gail.Fagan@UTRGV.edu
Senior Writer / 956-665-7995
Marci.Caltabiano@UTRGV.edu
UTRGV Director of News and Internal Communications / 956-665-2742