Sub Menu Toggle
Tuba Christmas blows away Valley audience with unique holiday experience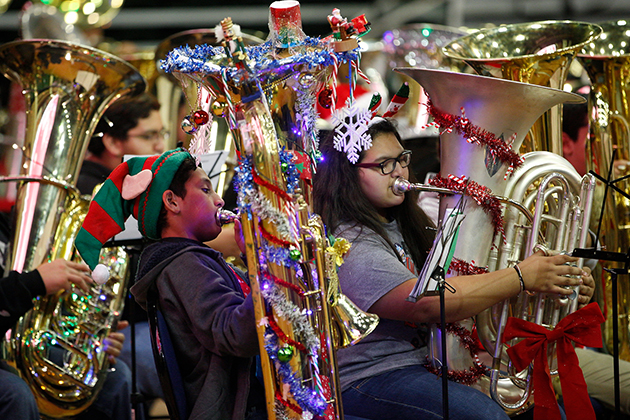 UTRGV hosted Tuba Christmas on Sunday, Dec. 04, 2016 at the Fieldhouse in Edinburg, Texas. An ensemble of more than 450 tuba and euphonium professionals and students from throughout the Rio Grande Valley performed Christmas carols and holiday tunes for 1,500 concertgoers.  UTRGV Photo by Paul Chouy.
By Gail Fagan
RIO GRANDE VALLEY, TEXAS – DEC. 5, 2016 – A record breaking number of nearly 475 tuba and euphonium players filled The University of Texas Rio Grande Valley's Fieldhouse in Edinburg with rich and deep brassy sounds of holiday music Dec. 4 during the 28th annual Tuba Christmas concert.
The more than 1,500 concertgoers, which included a large contingent of Winter Texans, area residents as well as many family members of the musicians, gave the performers a standing ovation at the end of the hour-long concert that has become a traditional kick off of the Christmas season. 
The musicians ranged in age from 11 to 70 and included hundreds of students hailing  from 14 different Valley school districts, South Texas College, UTRGV, and as far away as Texas A&M University-Kingsville.
"This is one of the largest Tuba Christmas events in the country," said Dr. Scott Roeder, professor of music at UTRGV and one of the event's organizers. "We set a record this year with the number of performers. Another thing that is unique with our concert is that most of the performers you see here are public school students."
Tuba Christmas was started in 1974 by Harvey Phillips, a distinguished American tuba player and music professor, as a tribute to his mentor and teacher William J. Bell who was born on Christmas day in 1902. The first Tuba Christmas was held at the Rockefeller Plaza ice skating rink in New York City but has expanded to become an international event with concerts held worldwide. 
Jim Egger, McAllen ISD Fine Arts/UIL director and a euphonium player, has helped organize the Valley event since its inception. He said Tuba Christmas began locally as passive music being played at the mall. After hooking up with the Valley Town Band, the players performed at a bank, then later it evolved into a concert at McAllen High School until it outgrew that space and moved to the Fieldhouse.
Egger described the RGV Tuba Christmas as unique and unlike any other concert because it highlights the tuba players, who are never featured but crucial to the success of a band.
"They are the foundation, the rhythm section of the band," he said. "I like to compare them to the offensive linemen of a football team, they don't get any love. But if they aren't there the quarterback can't be successful, and the running back can't be successful. This concert gives them a chance to be the stars and really shine."
Guest artist delights crowd, inspires students
As the concert morphed into an annual concert, the local organizers, have been able to secure some of the world's finest tuba and euphonium musicians to perform as Tuba Christmas guest artists.
This year the concert featured Andrew Hitz, an internally renowned soloist, clinician and speaker who has appeared in more than 40 states and 30 countries. His performance was made possible by a grant from Jupiter Band Instruments and Melhart Music Center.
Hitz is a former 14-year member of the Boston Brass and has appeared with the National Symphony Orchestra, Baltimore Symphony Orchestra, Alarm Will Sound and the Marine Band of Mexico.
He currently teaches tuba and euphonium at George Mason University and Gettysburg College. Hitz is also co-founder of Pedal Note Media, a digital media company which provides products and programs to educate and inspire musicians and students.
Hitz, who played two solos – one written for cello by Johann Sebastian Bach and the other a blues number – said he had heard about the RGV Tuba Christmas for years.
"This one is larger than they have in New York City and in Chicago. You should be very proud of that," said Hitz, to loud applause.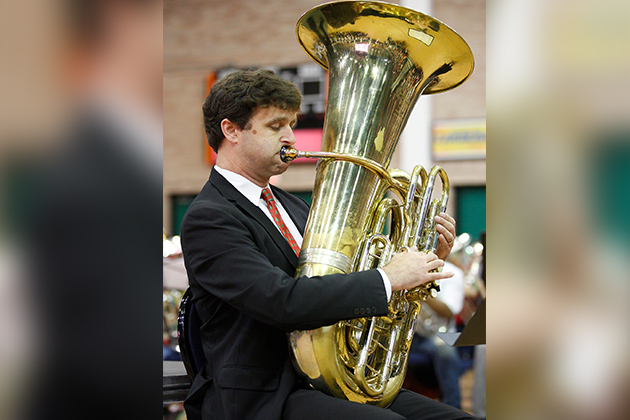 Guest artist Andrew Hitz, an internally renowned soloist, clinician and speaker, presented two solo performances at the UTRGV 2016 Tuba Christmas, held Sunday, Dec. 4 at the Edinburg Campus Fieldhouse. UTRGV Photo by Paul Chouy.
A gamut of musicians
Tuba Christmas musician Victor Aguirre, 15 and a freshman at PSJA High School, said he only switched from the trombone to a tuba in September, but loves playing the large instrument.
"Most people see it as a useless instrument in the band but it is actually one of the most important ones. It's the base of the low brass," said Aguirre, who decorated his instrument with a PSJA scarf and sun glasses, "just to chill," he noted.
PSJA High School student Steven Hernandez, 15, who has played the euphonium for five years, said it took him two hours to adorn his instrument with bright lights and tinsel. Hernandez has played in the concert the past four years.
"I enjoy it, and I like playing for the community," he said.
Hernandez was one of nine winners of a gift certificate provided by Melhart Music Center for the best holiday-themed decorated instrument.
Seventy-year old Byron Engle, a retired band director and McAllen Symphonic Band member, said he has played the tuba since the 7th grade and has served as a band director all over the state, with the last 20 years at La Feria.
Engle, who was seated by two other McAllen Symphonic Band members, said he enjoyed playing at the concert because he is a tuba player for life.
"We rule," he said, describing how much his students enjoyed playing Christmas carols on the tuba when he brought them to participate. "The parents were often flabbergasted at the sound. There is no sound like this in the world. When you hear it for the first time, you are amazed."
Judith Garcia, 27 and a senior music education major at UTRGV, began playing the euphonium in the sixth grade and wants to be a band director one day. Garcia called participating in the concert a "great experience." 
"This concert brings together the youngest and the oldest players together across the Valley. Together we are one and among the top five in the country in size," she said.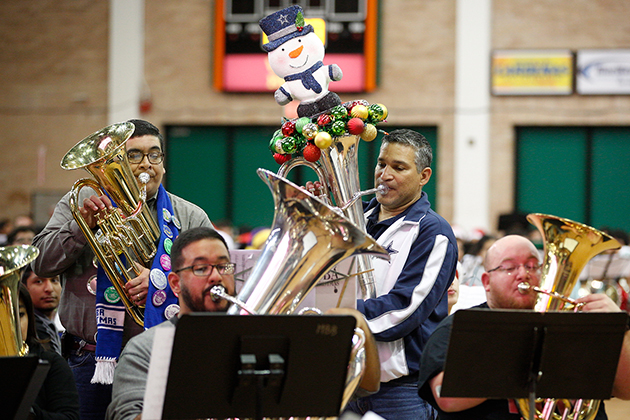 Valley public school band directors pictured here performed in a band directors ensemble as part of the UTRGV 2016 Tuba Christmas concert held Sunday, Dec. 4 at the Edinburg Campus Fieldhouse. UTRGV Photo by Paul Chouy.
Audience Appreciation
Retired elementary school teacher Douglas Bauer, 74 and a Winter Texan from Michigan, said he has been attending Tuba Christmas for the past 15 years. He was joined at the concert by wife Char and friend Dee Shafer, both also retired educators.
"I love watching the kids perform and seeing so many tubas in one place at one time," he said. "It's great to see the enthusiasm of the kids. I love supporting them and the schools."
Loren Nelson, 89 and a retired Postmaster from Wisconsin, and his wife Beulah, a retired teacher, haven't missed a Tuba Christmas since it first began 28 years ago.
"I played the tuba in high school and college," he said. "We've enjoyed the concerts and have seen it grow. They (the musicians) play and practice at home, so I marvel how they put it all together so well at this concert."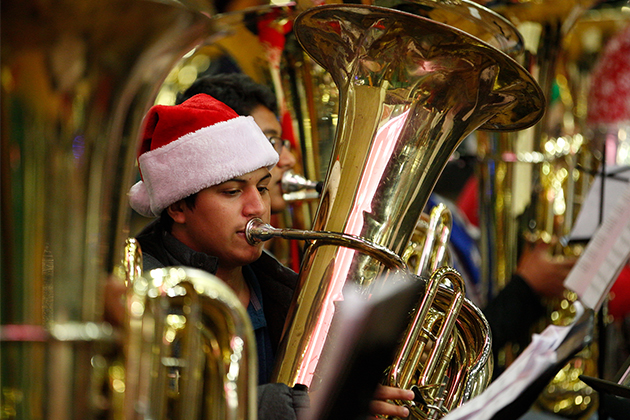 Tuba and euphonium students from 14 different RGV school districts were among the nearly 475 musicians who participated in the 28th annual Tuba Christmas, held Sunday, Dec. 4 at the Edinburg Campus Fieldhouse. UTRGV Photo by Paul Chouy.
Photo Gallery: https://www.flickr.com/gp/utrgvnews/HH0d47
MEDIA CONTACTS
Gail.Fagan@UTRGV.edu
Senior Writer / 956-665-7995
Marci.Caltabiano@UTRGV.edu
UTRGV Director of News and Internal Communications / 956-665-2742