Sub Menu Toggle
UTRGV student employees honored during Edinburg ceremony and luncheon
UTRGV Career Center on Thursday, April 14, 2016, hosted a UTRGV Career Center luncheon at the University Ballroom on the Edinburg Campus, to recognize student employees and their contributions to the university community. (UTRGV photo by Paul Chouy)
By Gail Fagan 
EDINBURG, TEXAS – APRIL 14, 2016 – The benefits of on-campus student employment, as well as the invaluable contributions student employees make to The University of Texas Rio Grande Valley, were showcased at an April 14 Student Employment Award Ceremony in the Ballroom on the Edinburg Campus.
The event, sponsored by the UTRGV Career Center, is one of a number of activities held during National Student Employment Week, April 10-16. The week's events, held on both the Edinburg and Brownsville campuses, included a résumé and mock interviews seminar, professional development workshops and a student employment job fair.
Ana Perez, assistant director for Student Employment, said that while student employees are a valuable source of labor that supports the university's efficient operation, the students themselves gain many benefits from working on campus.
"On-campus jobs provide students the opportunity to earn money, which assists them with the financing of their education," Perez said. "They save time and money by not having to travel off campus to their job. In addition, students gain valuable hands-on work experience and professional development that will be beneficial in the workforce after graduation."
From September 2015 to January 2016, there were 2,005 student employees working at UTRGV locations in Edinburg, Brownsville, McAllen, Harlingen and South Padre Island, Perez said.
At the event, awards were given for Student Employee of the Year and Supervisor of the Year, as well as to a Success Profile – someone who is now in a career but who worked as a student employee while in college.
The Student of the Year was Kassandra Marie Sanchez, a kinesiology major who is an intramural and sports club supervisor in the Department of Recreation. She was given a plaque and gift bag.
"I'm honored. All my hard work is paying off," said Sanchez, who will graduate in May and has been accepted into the UTRGV occupational therapy program.
Sanchez said she has appreciated not having to rely on her car to go from class to work. She also likes that the university was understanding about working around students' class schedules.
"If I had a major test or something I had to do for school, they let me take the time off so I could focus on school first," she said.
Her nominator, Intramural and Sports Club Coordinator Robert Silvers, describes Sanchez – who is also captain of UTRGV's volleyball team – as a great asset to his department.
"She goes above and beyond," Silvers said. "She has used her leadership skills to help us with our staff trainings, while also fulfilling a secondary internship within our program for her classes. She's a highly dedicated person who excels in the classroom and worked hard for us throughout her entire volleyball season."
Candidates nominated for the student award had to have been employed for one year and were rated on quality of work, reliability, initiative, professionalism and the uniqueness of their contribution to the department.
Selected as Supervisor of the Year was Special Programs Director Jaime Miranda, who oversees the UTRGV College Assistance Migrant Program (CAMP). His nominator, Nahiely Garcia, a junior criminal justice major, has worked as a CAMP peer mentor for three years.
"One of the things I admire about him most is his humbleness and willingness to make everyone feel special and part of the team," she said.
Miranda said he tries to set a good example for his student workers.
"I want them to know that students are our priority, and I try to be a good mentor to them," he said.
Honored as the 2016 Success Profile was Dr. Javier A. Kypuros, associate dean of Undergraduate Studies, Assessment and Accreditation and a faculty member in the College of Engineering and Computer Science. Kypuros also served as the luncheon's keynote speaker.
He said his first campus job as a freshman at Princeton University was washing dishes. Later, the San Antonio native was sent out to recruit students as a student employee in the admissions office, where he organized visits from students from South Texas to Princeton; one of those students is now a faculty colleague at UTRGV. And, while pursuing his master's degree at UT Austin, he worked as a research and teaching assistant.
In all his jobs, Kypuros said, he made valuable connections and learned which career path suited him the best: teaching engineering.
"I want you to know that you never know where these (employment) opportunities are going to lead," he said. "I see students coming out of this institution as game changers, as transformational, as people who are going to not only change the scope of this region, but also the scope of this country. So take the opportunities you have now to learn from your supervisors, from your co-workers, and from your fellow students."
Another UTRGV student employment award ceremony will be held April 15 in the PlainsCapital Bank El Gran Salon on the Brownsville Campus.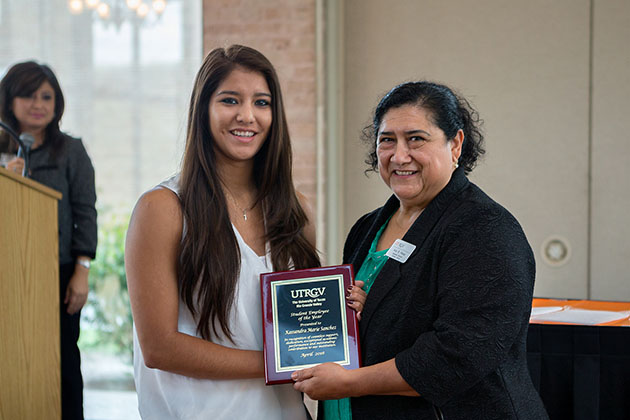 UTRGV student athlete Kassandra Sanchez accepts a plaque from Ana Perez, recognizing her as the UTRGV Student Employee of the Year, during a UTRGV Career Center luncheon on Thursday, April 14, at the University Ballroom on the Edinburg Campus. (UTRGV photo by Paul Chouy)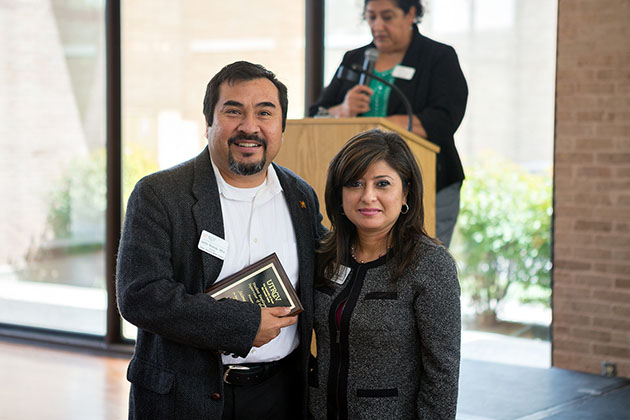 Jaime Miranda, who oversees the UTRGV College Assistance Migrant Program (CAMP), accepts a plaque from Sandra Mireles, after being named Student Employee Supervisor of the Year, during a UTRGV Career Center luncheon on Thursday, April 14, at the University Ballroom on the Edinburg Campus. (UTRGV photo by Paul Chouy)
MEDIA CONTACTS
Marci.Caltabiano@UTRGV.edu UTRGV Director of News and Internal Communications
956-665-2742
Jennifer.McGehee@UTRGV.edu UTRGV Director of Public Relations
956-882-5105