Sub Menu Toggle
UTRGV students celebrate third week of classes at The Stomp, Ropin' Rec Fest, in Brownsville
By Vicky Brito and Cheryl Taylor
BROWNSVILLE, TEXAS – SEPT. 16, 2015 – A cloudburst at the end of the evening Tuesday did not dampen the enthusiasm of the crowd gathered at the Student Union for The Stomp and Ropin' Rec Fest on the Brownsville campus of The University of Texas Rio Grande Valley.
Upstairs in El Gran Salón, the live music of Red Velvet filled the air, while students socialized, enjoyed hotdogs and pizza and checked out the many tables set up by student clubs, community organizations and area merchants. A popular spot was the T-shirt table, where everyone received a neon green T-shirt courtesy of Student Involvement.
Downstairs, more tables with information and free goodies filled the Veranda. And out on the lawn, huge inflatables offered chances for students to try their luck at navigating obstacle courses.
"I've done that one about five times -- it's easier -- and this one, much harder, about 10 times," said senior physics major Kathy Gomez.
Just then, a cloud opened up in a torrent, sending folks scrambling for shelter under the roof of the Veranda.
Proving that Vaqueros work together, University Recreation and Student Activities consolidated their Best Week Ever events – the Ropin' Rec Fest and The Stomp – to create a memorable night on the Brownsville Campus.
The original date for The Stomp was Aug. 31, to celebrate the first day of classes. However, safety concerns due to severe weather and area flooding prompted university officials to delay the event.
"I think we're at plan D," said Director of Student Activities Cindy Mata-Vasquez. "We were determined to get this event going. We didn't want the students to miss out.
"I hope the students are having fun and they see that this is a taste of what is to come this year. We want to make sure that student life is a big component of their collegiate experience," she said.
Student Government Association President Alberto Adame, who earlier in the day delivered the State of the Student Body address, said he was glad to be able to attend the Brownsville event.
Students lined up at the SGA table to get the popular gray "We Will" T-shirts and Vaquero bandanas, and to ssign up for the organization's newsletter.
Sisters Cindy and Amanda Cavazos, from Olmito, attended the event together. Cindy, a junior, is in the UTeach program and is working toward a bachelor's degree in mathematics. Freshman Amanda said she is enjoying college much more than high school and is looking forward to finishing early.
Isaac Lambarri and Bertha Cruz, sophomores studying engineering technology, said they enjoyed the evening, especially the music by Red Velvet.
"It's cool, and it's a good opportunity for people to learn about the different student organizations," Lopez said.
CUTLINES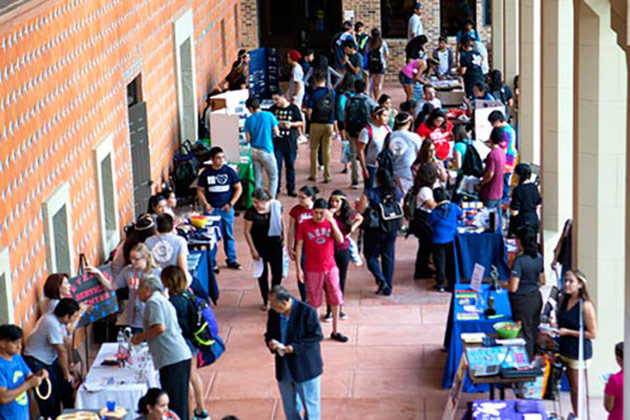 UTRGV students crowded the Veranda on the Brownsville Campus during The Stomp on Tuesday, Sept. 15, as a cloudburst sent them hurrying for shelter from activities out on the lawn. But there was plenty to do on the Veranda, too, where tables were set up to dispense information and free items. (UTRGV Photo by David Pike)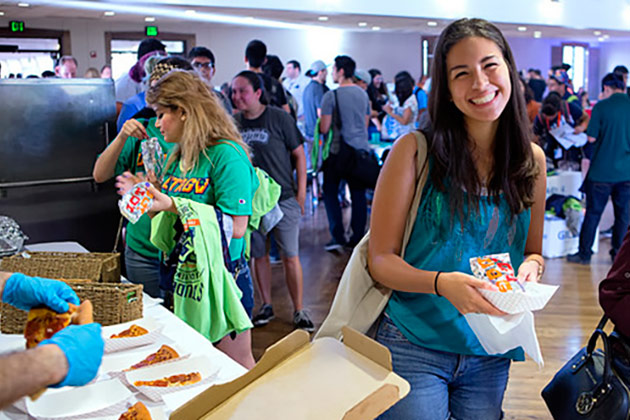 In the Gran Salón on the Brownsville Campus, UTRGV students attending The Stomp on Tuesday, Sept. 15, were able to grab pizza and other snacks, pick up free T-shirts and enjoy the music of Red Velvet. (UTRGV Photo by David Pike)
MEDIA CONTACTS

Marci.Caltabiano@UTRGV.edu UTRGV Director of News and Internal Communications
956-665-2742
Jennifer.McGehee@UTRGV.edu UTRGV Director of Public Relations
956-882-5105