Sub Menu Toggle
Gov. Abbott, astronaut Harris, encourage students during HESTEC's Student Leadership Day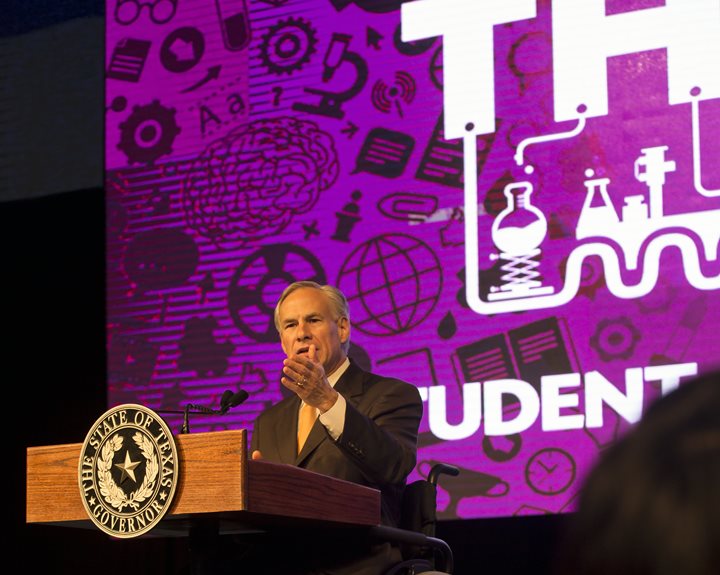 Texas Gov. Greg Abbott spoke at UTRGV during HESTEC's Student Leadership Day on Tuesday, Oct. 6, 2015. He urged students to meet challenges head on and determine their own destiny. (UTRGV Photo by David Pike)
By Jennifer L. Berghom
EDINBURG, TEXAS – OCT. 6, 2015 – The 1,200 high school students who attended HESTEC's Student Leadership Day expected to hear about the many opportunities that science, technology, engineering and math (STEM) careers could offer them.
But no one expected a spelling quiz.
Gov. Greg Abbott asked the teenagers how to spell the word "money." In unison, students at The University of Texas Rio Grande Valley's Fieldhouse shouted it out.
"M-O-N-E-Y!"
The governor, however, corrected them.
"The way you spell money," Abbott said, "is S-T-E-M. The reality is, your focus on STEM education and career is going to put you on the pathway to making more money when you graduate from college."
Even more important than making money, he said, is obtaining the skills and training that will allow them to change the world around them with their ideas and innovations. They all have the potential to create new technologies and inventions that will revolutionize the world they live in, but it will take hard work and they will face obstacles along the way.
"You will face many challenges, but those challenges don't determine your destiny. You do," he said. "So wherever your paths may lead, the reality is, it's not going to matter if you end up rich or poor or what you do for a living. What will matter is the unique fingerprint that you leave on this world."
Students also heard from UTRGV Founding President Guy Bailey and Region One GEAR UP Director Dr. Tina Atkins. Each encouraged the students to go to college, preferably UTRGV.
STUDENTS TALK OPPORTUNITY
Students said they enjoyed learning about the programs UTRGV has to offer, as well as the variety of jobs available at various organizations.
J.J. Castillo, a 17-year-old junior at Santa Rosa High School, said he was glad to hear about the range of job opportunities at NASA.
"People think it's just about astronauts, but there are many other fields you can go into," said Castillo, who is interested in studying business administration when he goes to college. "There's accounting, there's marketing, there's everything you can possibly do at NASA. It's just amazing; I didn't think you could do that many things."
Andrea Garcia, 16, a junior at Lyford High School, said it was the nurses who cared for her infant son two years ago who inspired her to pursue a career in nursing.
Her son, Michael, was diagnosed with Hirschsprung's disease, a condition which affects the large intestine and impedes bowel function. 
"I was there in the hospital, in and out of the hospital, until he was almost 1 year old, and I loved the nurses. It just inspired me … I want to help people like they helped my son," she said.
Garcia said she appreciated learning about all the different STEM-related careers and receiving advice on going to college.
"It's great what these people are doing to help us out today," she said.
After attending breakout sessions, where they learned about STEM-related career prospects, students heard from Elise Longpree, director of Community Investment Corporate Brand and Reputation for Time Warner, and from José Antonio Tijerino, president and CEO of the Hispanic Heritage Foundation.
ASTRONAUT: TAP INTO YOUR TALENTS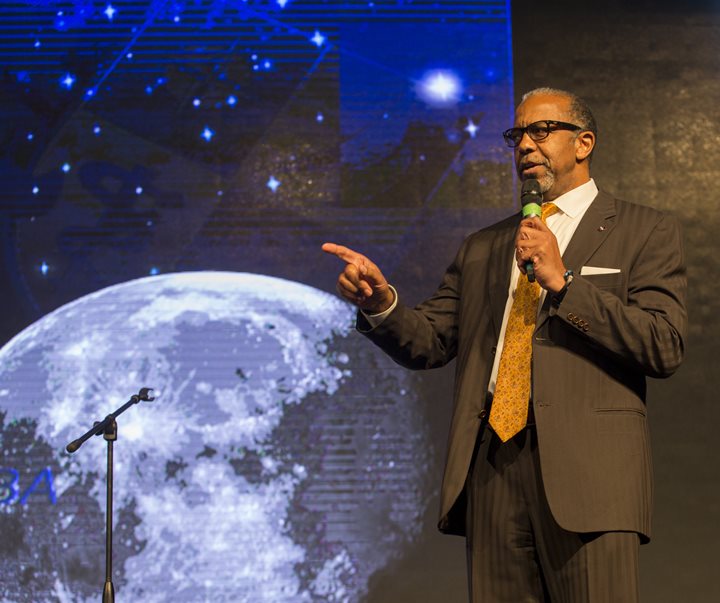 Dr. Bernard Harris, a former astronaut and founder of the Bernard Harris Foundation, delivered the keynote address during HESTEC's Student Leadership Day. He is the first African American to walk in space, and a medical doctor by trade. (UTRGV Photo by Kristela Garza)
Dr. Bernard Harris, former astronaut and founder of the Bernard Harris Foundation, delivered the afternoon keynote address.
Harris, the first African American to walk in space and a medical doctor by trade, started the ExxonMobil Bernard Harris Summer Science Camp, a two-week enrichment program for middle school students interested in the STEM fields. UTRGV's legacy institution, The University of Texas-Pan American, has been a host site for the camp since 2009.
Harris shared stories about his missions with NASA and the work that goes into preparing for space travel. He also talked about his love of science fiction, and how many technologies that were imagined in movies, television shows and other works of science fiction have now become realities.
"Start thinking about those technologies, those ideas, those solutions that haven't been invented yet," Harris said. "Some of you will be the next Steve Jobs or the next Bill Gates. Who knows what you can do? Only you know that."
Harris told the students they were born with great potential, and unique skills and talents, so they can do anything they want to do in life. They were also born for a reason, he said: to use their intelligence, talents and skills for the benefit of themselves and others.
"If you're doing it, you're not only doing it for yourself, you're doing it for the rest of us," he said. "If you don't accomplish that thing or those things that you were meant to do, then it won't only be a travesty to you, but you will miss out, the rest of us will miss out, on the gift that you had."
HESTEC continues Wednesday, Oct. 7, with Latina Day, when more than 1,000 teenage girls and their mothers are expected to visit the UTRGV Edinburg Campus to learn about opportunities available to them if they go to college and pursue STEM careers.
MEDIA CONTACTS
Marci.Caltabiano@UTRGV.edu UTRGV Director of News and Internal Communications
956-665-2742

Jennifer.McGehee@UTRGV.edu UTRGV Director of Public Relations
956-882-5105