Sub Menu Toggle
UTRGV, Valley high school musicians sweep competition at Mariachi Vargas Extravaganza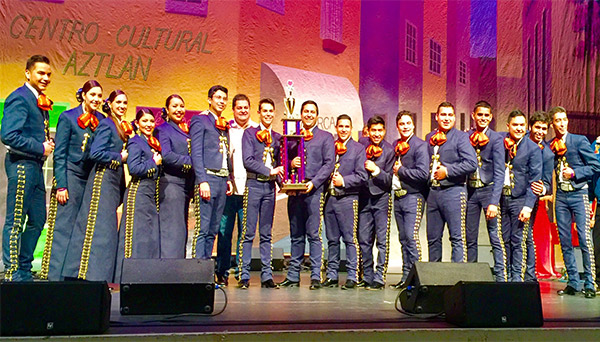 The Mariachi Juvenil Aztlán, UTRGV's newest mariachi troupe made up of 16 primarily freshman music students, took first place in the university-level group competition Mariachi Vargas Extravaganza, held earlier this month in San Antonio. (Courtesy Photo)
By Gail Fagan
RIO GRANDE VALLEY, TEXAS – NOV. 25, 2015 – University of Texas Rio Grande Valley mariachi musicians topped all university-level competitors at the national Mariachi Vargas Extravaganza, held Nov. 15-21 in San Antonio.
The Mariachi Juvenil Aztlán, UTRGV's newest mariachi troupe made up of 16 primarily freshman music students, took first place in the university-level group competition, defeating musicians from Texas State University (2nd), the Houston Community Colleges (3rd) and the University of North Texas.
Also, UTRGV freshman Clyde Guerra, a singer and violinist from Roma with award-winning senior troupe Mariachi Aztlán, landed first place in the university-level vocal competition, which included eight other vocalists.
"Not only did our students perform magnificently, but our mariachi musicians from across the Valley swept the competition," said Dr. Dahlia Guerra, interim dean of the College of Fine Arts and former dean of the College of Arts and Humanities at UT Pan American, a UTRGV legacy institution. "Across the nation, the Rio Grande Valley is getting the reputation of having the best mariachi programs at the collegiate, high school and junior high levels."
Among the more than 1,000 students competing from Texas and other states, Rio Grande City and Roma tied for first place in the high school division, and McAllen High School placed second. All those mariachi groups are led by graduates from the music program at UT Pan American.
Also, the grand champion high school vocal competition winners were from Roma High School and McAllen High School, who tied for first place, according to Dr. Guerra, who co-directs the UTRGV mariachi troupes along with Frank Loera, UTRGV music lecturer.
Founded in 1995, Mariachi Vargas Extravaganza is the largest and longest-running mariachi festival in Texas. The competitions offered at the elementary, middle school, high school and university levels are judged by the world-renowned Mariachi Vargas de Tecalitlán, along with other music professionals and educators.
During the extravaganza, the 16-member Mariachi Aztlán, which has performed at the Kennedy Center, at the White House for President Barack Obama, and with opera companies in Houston and Chicago, shared their experience by assisting in workshops for younger students, and accompanied all the solo competition winners.
Mariachi Aztlán also took time while there to rehearse with legendary singer Vikki Carr, who will present a concert accompanied exclusively by the Mariachi Aztlán on Feb. 20, 2016, at the Tobin Center for the Performing Arts in San Antonio.
The Mariachi Vargas Extravaganza group competition, at all levels, is based on a 10-minute performance that includes a variety of styles, Dr. Guerra said.
"The performance usually starts with a romantic piece, and later features a really flashy and technically challenging piece," she said. "This is the first competition for the Mariachi Juvenil Aztlán, and students have worked many long hours since September to prepare, rehearsing twice a week for two or more hours.
"We are very excited, because this group represents entering freshmen from across the Valley. It provides great experience for them, and is a wonderful recruitment tool for UTRGV's music programs," she said.
Clyde Guerra (no relation to Dahlia Guerra) performed "Y Volveré" ("I Will Return") in the solo competition.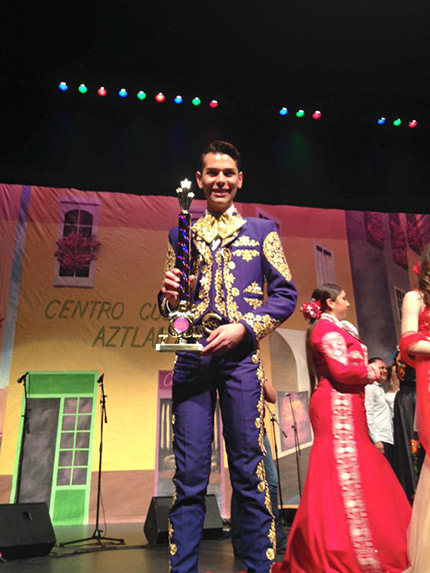 UTRGV freshman Clyde Guerra, a singer and violinist from Roma who performs with both of UTRGV's mariachi troupes, landed first place in the university-level vocal competition at the Mariachi Vargas Extravaganza, held earlier this month in San Antonio. (Courtesy Photo)
The music education major first sang in elementary school and began performing mariachi in the sixth grade at Ramiro Barrera Middle School in Roma. His win at the Extravaganza was not his first, however. He won the high school level solo competition in his freshmen, junior and senior years at Roma High School.
"I was excited. Winning first place in my first year in the university category was a great reward and reassurance that hard work pays off," the 18-year-old said.
Clyde said he chose to attend UTRGV because of its nationally recognized program. Proud to represent the new university at the competition for the first time, he said he even chose the navy blue UTRGV color for his performance suit.
"It is one of the best, if not the best, of the collegiate mariachi programs. When I chose a college, I wanted to take my passion for mariachi with me, pursue it in college and be able to grow as a musician within that genre. They are helping me to grow as a singer and a performer," said Clyde, who sings and plays violin in both UTRGV mariachi ensembles,as well as in the university symphony orchestra.
Dr. Guerra said that in the spring, UTRGV will be inviting interested students from the Brownsville area who might want to join a mariachi program on the Brownsville Campus.
The public is invited to hear UTRGV's mariachi ensembles, as well as award-winning high school mariachis, at three upcoming Mariachi Winter Showcase Concerts:
7:30 p.m., Dec. 1, TSC Arts Center, UTRGV Brownsville campus
7:30 p.m., Dec. 4, Performing Arts Complex, Edinburg Campus
3 p.m., Dec. 5, Performing Arts Complex, Edinburg Campus.
General admission for each concert is $10 per person. Tickets will be available one hour before the show. Admission is free to UTRGV Patron of the Arts members.
For more information on the concerts, call (956) 882-7025 in Brownsville and (956) 665-3581 in Edinburg.
MEDIA CONTACTS
Marci.Caltabiano@UTRGV.edu UTRGV Director of News and Internal Communications
956-665-2742
Jennifer.McGehee@UTRGV.edu UTRGV Director of Public Relations
956-882-5105