Sub Menu Toggle
Ring in the holiday season at the RGV TubaChristmas concert Dec. 13 at UTRGV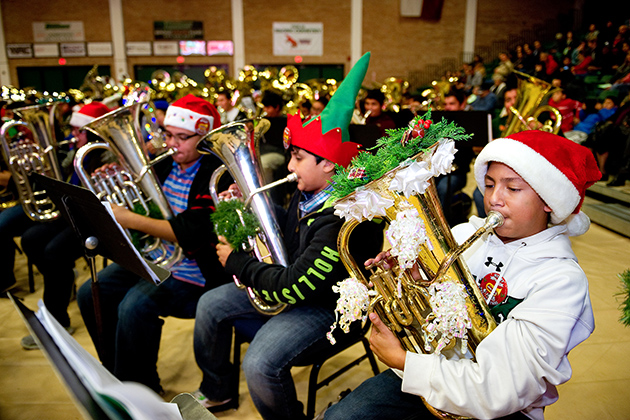 (UTRGV Archive Photo)
By Karen Perez 
RIO GRANDE VALLEY, TEXAS – NOV. 23, 2015 – Tuba players from across the Rio Grande Valley will join forces to continue a 26-year-old tradition – bringing holiday cheer at the annual RGV TubaChristmas concert.
The public is invited to attend the free holiday event, 2 p.m. Sunday, Dec. 13, at The University of Texas Rio Grande Valley's Edinburg Fieldhouse.
Concert goers of all ages will be able to hear holiday classics like "Silent Night," along with more contemporary favorites like "Feliz Navidad."
Musicians ages 8 to 80 will play instruments in the tuba family, including the sousaphone, baritones and euphoniums. And, all instruments will be "decked out" for this special occasion. Any musician can participate in the RGV TubaChristmas concert, as long as he or she plays an instrument in the tuba family.
The RGV TubaChristmas is the largest concert of its kind in Texas and ranks as one of the largest in the country, among similar events in New York City and Anaheim, California.
The national TubaChristmas is credited to the late Harvey G. Phillips, a legendary tubist who founded it in 1974. Phillips wanted to honor his tuba teacher and mentor, William J. Bell, who was born on Christmas Day. More than 300 musicians participated in the inaugural concert at New York City's Rockefeller Plaza Ice Rink.
RGV TubaCHRISTMAS
In the Valley, the first-ever TubaChristmas was held in 1989 at La Plaza Mall, with about 60 participants. The concert was directed by Patricia Templin, an assistant band director for Mercedes Middle School and former student of Phillips at Indiana University.
The concert later was relocated to the McAllen High School auditorium, under the leadership of Jim Egger, former head band director and now the Fine Arts director for McAllen ISD.
In 2012 The University of Texas-Pan American (a UTRGV legacy institution) began hosting the concert. Since then, the event has drawn crowds of more than 1,300 people eager to get into the holiday spirit.
"TubaChristmas is such a unique experience … it becomes a tradition in our communities, and people look forward to it," said Dr. Scott Roeder, a UTRGV associate professor of music who co-coordinates the event with Egger.
This year's special guest artist is Lance LaDuke, an artist lecturer in euphonium and music business at the Carnegie Mellon School of Music. LaDuke serves as principal solo euphonium with the River City Brass Band, the only full-time professional brass band in the country.
Up to 400 high school and junior high school students and educators from public school districts throughout the Valley are expected to perform at this year's concert.
They will be joined by the 15 tuba and euphonium majors from the UTRGV Edinburg Campus.
Continuing the tradition is Abel Ocañas, assistant band director at Nikki Rowe High School and UTPA alum, who graduated in spring 2012 with a bachelor's degree in music education. A euphonium player, he began performing at TubaChristmas in 7th grade. He will conduct the directors' ensemble for the second consecutive year.
"It's really exciting to go back to my roots where I started my music career," Ocañas said. "It's exciting to know that the facilities and programs at UTRGV are growing, and that I'm able to give back."
Ocañas encourages families to bring their children to experience the joyous holiday event.
"It's special that we are able to have the concert for our kids, so they can see that we're a big family and that we are able to enjoy and play Christmas music together," he said.
For more information or special accommodations, call (956) 665-3471. 
MEDIA CONTACTS
Marci.Caltabiano@UTRGV.edu UTRGV Director of News and Internal Communications
956-665-2742
Jennifer.McGehee@UTRGV.edu UTRGV Director of Public Relations
956-882-5105