Sub Menu Toggle
School district recruiters visit UTRGV job fair to woo bilingual teachers graduating in December

The Fall Teachers Job Expo brought in recruiters from 29 school districts to meet and interview School of Education December graduates for school openings starting in January. (UTRGV Photo by David Pike)
By Cheryl Taylor
RIO GRANDE VALLEY, TEXAS – NOV. 12, 2015 – Jessica Hernandez and Roxanne Quintero, seniors at The University of Texas Rio Grande Valley, spent Thursday morning job hunting, during the first day of the Fall Teachers Job Expo.
The expo was hosted by the UTRGV Career Center, in El Gran Salón of the Student Union on the Brownsville Campus.
Hernandez and Quintero are poised to graduate in December with a Bachelor of Education in Early Childhood – 6th Grade Bilingual Generalist degree. They were among many who caught the attention of the 31 recruiting teams, including four representatives from Pflugerville Independent School District.
"We love coming to Brownsville and Edinburg, where we always meet such wonderful prospective teachers who are energetic and eager to join a professional team and put all they have learned into practice," said Jesusita Avalos, principal of Pflugerville's Dessau Elementary.
Recruiters included two out-of-state teams from Arizona – Cartwright Elementary School District #83 in Phoenix, and Littleton Elementary School District #65 in Avondale.
Numerous others came from independent school districts across the state, including Lubbock, Laredo, Dallas, Austin, Corsicana, Bryan and Houston.
Donna Adams, director of Certified and Professional Personnel for the Corpus Christi Independent School District Office of Human Resources, said her team was pleased to have signed contracts with three UTRGV students.
"We are interested primarily in elementary bilingual certified graduates, and to save time, three elementary principals have come with me to interview on the spot," Adams said.
Spring Independent School District recruiters said they had about a dozen students showing strong interest by 10 a.m., with three hours remaining in the event.
"We are checking their resumes and will call for interviews within the month," said Sara Pariseau, Spring ISD human resources coordinator. "At Spring ISD, we believe in our teachers and we do all we can to help them be successful, including districtwide professional development opportunities, district and campus coaches to offer in-class support, and a districtwide discipline management system to ensure that all of our students, teachers and staff are able to focus on the most important thing – educating our students."
Pariseau noted the "great talent" in the Valley. "Our bilingual teachers who come from here are so important to us," she said.
Juan Andres Rodriguez-Nieto, director of the UTRGV Career Center, said he was pleased with the turnout at the Brownsville Campus event on Thursday, and was looking forward to an equally good crowd of future educators at the Edinburg Campus on Friday, Nov. 13.
"We know our education graduates are sought after throughout Texas and beyond," Rodriguez-Nieto said. "They are well prepared through the rigorous academic standards of our College of Education. And, unlike many schools, we require education students to achieve their state certification before graduation. When they receive their diplomas at Commencement on Dec. 19, they will be ready to start teaching immediately."
The Fall Teachers Job Expo continues on the Edinburg Campus from 9 a.m. to noon today, Friday, Nov. 13, at the Fieldhouse.
For more information, contact the UTRGV Career Center at (956) 665-2243.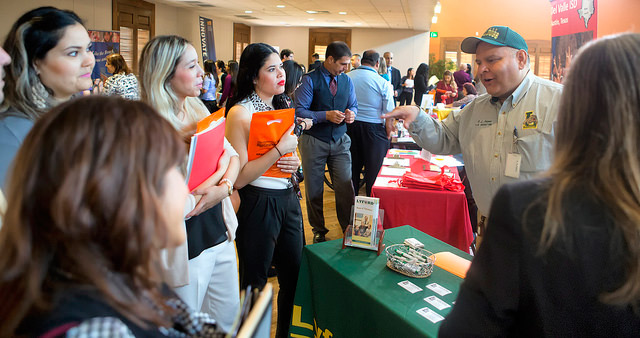 Human Resources Director Rolando Flores from Lyford CISD in Willacy County talks to several potential teachers about the advantages of teaching in Lyford. (UTRGV Photo by David Pike)
MEDIA CONTACTS
Marci.Caltabiano@UTRGV.edu UTRGV Director of News and Internal Communications
956-665-2742
Jennifer.McGehee@UTRGV.edu UTRGV Director of Public Relations
956-882-5105