Sub Menu Toggle
Professor guides students into developing photographers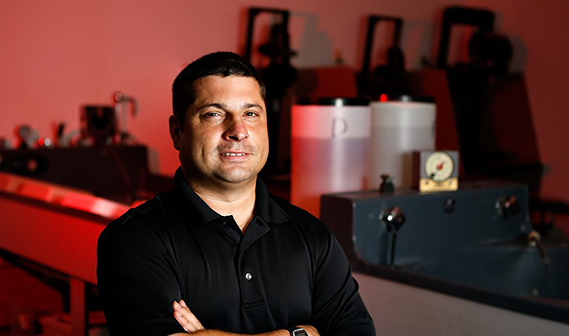 BROWNSVILLE, TEXAS – JULY 28, 2015 – Patrick Fatica, photography instructor in the School of Art at The University of Texas Rio Grande Valley, was in second grade when he took his first picture on a family trip to Arizona.
"My dad had a camera, and I was kind of mesmerized by the whole thing," he said. "Just looking through the lens was very fascinating to me. I thought, 'I have to get a camera!'"
When his family returned home to Ohio, Fatica bought his first camera – an inexpensive point-and-shoot Kodak – a purchase that ultimately would lead to a lifelong career in photography. By his sophomore year in high school, Fatica had become photo editor of the yearbook and school newspaper.
"I've always loved photography," Fatica said. "What I realized is that I like the process of photography, and it's even better that I can do what I love for a living."
Fatica received his bachelor's degree at the California Institute of the Arts, and then pursued an MFA at Ohio University while working as the university photographer. In that capacity, he was responsible for capturing diverse images for news releases, the alumni magazine, and school promotional materials like brochures and catalogues.
After 16 years at Ohio University, Fatica said goodbye to shoveling snow and headed south to a commercial photography job in Key West, Florida. His plan was to learn about the area and eventually open his own business.
"Key West is one of the top two wedding destinations in the country, along with Las Vegas; but Key West is more of a romantic thing – a lot of wedding ceremonies on the beach. Weddings, along with my work for bridal design companies and many other vendors – I kept busy."
During the four and a half years he was building a successful business in Key West, Fatica felt there was something else he could be doing with his talent. When he saw a teaching position open up at The University of Texas at Brownsville/Texas Southmost College, he applied, hoping he would get the chance to share his love of photography with the next generation.
"I knew nothing about Brownsville, or even Texas, for that matter," he said.
Fatica was selected as UTB/TSC's first full-time photography professor; he began teaching in August 2014.
"What stood out about Rick, first of all, was that the quality of his work as a photographer is really one of the best ones that I have seen," said Carlos Gomez, professor in the School of Art. "He does a lot of magic with the camera, and that is very hard to do."
Along with photography, Fatica teaches art appreciation, and beginning and advanced computer imaging. In addition, he took on the role as the first director of the UTB/TSC Art Academy, offering summer workshops in a variety of art media, including photography, for all ages.
He said he looks forward to continuing teaching and expanding the art academy with The University of Texas Rio Grande Valley.
"For me, teaching is about giving back, and sharing my experience with other students," Fatica said. "I also find that working with students is very inspirational. They teach me a lot, and I can help them too."
Fatica has no regrets about taking a chance and moving to the Rio Grande Valley. He is from a bilingual Italian-American family in southern Ohio, he said, and the move to a bilingual environment in South Texas makes him feel completely at home.
"I love it here, it's beautiful," he said. "I like small towns with a family focus, and there is a lot of talent down here. This is really me."
For more information about the Bachelor of Fine Arts (BFA) degree at UTRGV, call 888-882-4026 or 956-882-8983 or email admissions@utrgv.edu.
MEDIA CONTACTS
Marci Caltabiano Ponce, UTRGV Director of News and Internal Communications
956-665-2742