Sub Menu Toggle
UTRGV graduate in first Biomedical Sciences cohort already accepted to four medical schools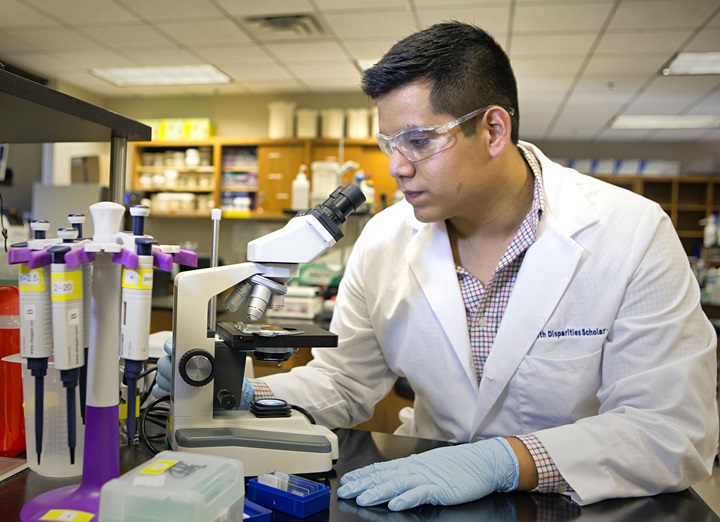 When José Mario Rodríguez graduates from The University of Texas Rio Grande Valley on Dec. 19 as part of the first Biomedical Sciences cohort, he already knows he has been accepted to four medical schools in Texas. (UTRGV Photo by David Pike)
By Vicky Brito
BROWNSVILLE, TEXAS – DEC. 17, 2015 – When José Mario Rodríguez graduates on Dec. 19 from The University of Texas Rio Grande Valley with a BS in Biomedical Science, he can rest secure in the knowledge that he already has been accepted to four medical schools in Texas.
The 2011 St. Joseph Academy graduate started college hoping for a degree in biology. Then, in fall 2012, UT Brownsville/Texas Southmost College started a new degree program in Biomedical Sciences.
The program offered an opportunity to conduct research, and that drew him to be a part of the first BioMed cohort.
"I changed major my freshman year to biomedicine," Rodríguez said. "I had done research prior to that, but the department wasn't open yet. I became really passionate about science and decided this was for me."
One of the most important skills he has learned in his undergraduate career is how to apply what he has learned in the classroom to medicine.
"This has allowed me to keep the information, to not lose it as you might in other courses where, if you don't apply it, you lose the knowledge," he said.
In looking ahead to a career in healthcare, Rodríguez applied to eight medical schools in Texas. He already has been accepted into four: UT Health Science Center McGovern Medical School in Houston; Texas A&M Health Science Center in College Station; UT Medical Branch in Galveston; and Texas Tech University Paul L. Foster School of Medicine in El Paso.
He is still waiting to hear from UT Southwestern Medical School in Dallas; Texas Tech Health Science Center in Lubbock; UT Health Science Center in San Antonio; and his hometown medical school, the UTRGV School of Medicine, which opens in fall 2016.
"It is still very early in the process. I am supposed to make my decision by Jan. 15, so I am still waiting to review all my options," he said.
Rodríguez is looking for a school with caring and compassionate faculty, just like the faculty he was fortunate to have in his undergraduate courses.
"The BioMed faculty here was very involved in how they taught the classes," he said. "They were always making sure that no student fell behind. So I am looking for that in medical school, too. And for classmates who are like my classmates here, so we can build upon each other and have some form of collegiality."
Rodríguez has a growing interest in genetics.
"I like a lot of fields, but right now, I'm liking medical genetics," he said. "It's a little bit of research, but I want to tie that with pediatrics. And, I'm hoping to come back to the Valley to look into genetic diseases that affect the population here. And, I'd like to work with children who have diabetes."
Rodríguez is part of the first Biomedical Sciences cohort to graduate with this new degree.
"We formed a group of students who came together, helped each other, and I'm going to miss my friends and classmates. They've always been there to help me," he said.
Rodríguez credits his support group – family, classmates and professors – for helping through the challenging years. And he advises anyone looking to get into the medical field to have a similar support system.
"You're going to have to balance a lot of different activities – extracurricular or school activities, or just your regular life," Rodríguez said. "Make sure you're capable of balancing it all. And if you can't, be sure to have support."
Biomedical Assistant Professor Sue Ann Chew said Rodríguez is an extremely motivated student.
"He is very dedicated to the responsibilities and assignments given to him and always makes sure he completes them the best he can," Chew said. "He is a self-starter who takes the initiative to get things done and to make things better. I know he will be a very successful physician, one who will be very passionate and compassionate for his patients and his community."
MEDIA CONTACTS

Marci.Caltabiano@UTRGV.edu UTRGV Director of News and Internal Communications
956-665-2742
Jennifer.McGehee@UTRGV.edu UTRGV Director of Public Relations
956-882-5105