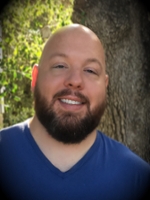 JESSE DUROVEY is a veteran of the U.S. Army and is currently pursuing a master's degree in English Literature from St. Mary's University. In 2008, he deployed to Afghanistan as a Signals Intelligence Analyst. His writing has appeared or is forthcoming in Pecan Grove Review, Brilliant Flash Fiction, and One Hundred Voices. He lives in San Antonio, Texas with his wife and two children.
Afghan Ghosts (Creative Nonfiction)
The Navy psychologist's pompadour stood at least four inches into the air. Something about it reminded me of a cartoon I used to watch when I was in junior high—I'm pretty sure it was called Johnny Bravo. Still, he held the rank of Commander, so I tried to keep my focus from drifting to the crest of his blond hair as he peppered me with questions. We sat in his small office—more like a broom closet, really—on a secure facility on Bagram Air Base, Afghanistan.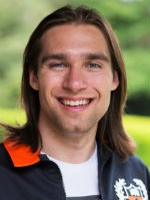 THOMAS RAY GARCIA is a writer and poet from Pharr, Texas. Since graduating from Princeton University, he has revitalized three creative projects--a fantasy novel, a short story collection, and a poetry book--while balancing teaching and activism work. He has published short stories and poetry in figments Magazine and BorderSenses. He plans to pursue a PhD in American Literature and to continue to write every day.
The boys and I used to run all over the Rio Grande Valley like Road Kings until the "easy twelve" at the Santa Ana Wildlife Refuge taught me what it meant to roam. There we were, half-naked and sweating even before the sun rose above the flatland horizon, sneaking under tollbooth gates and over chained fences until we reached the Malachite Trail. Although it was an hour until opening, who would kick out six cross-country runners cutting across trails and roads and brushlands? And if we were caught, that middle-aged, mafia-hat-wearing.