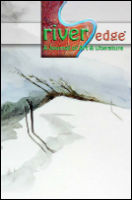 To say that we're proud of Volume 29 is an understatement. We're ecstatic, elated, enthralled--you get the picture.
Volume 29 features:
poetry, prose, and art from the 2016 Contest Winners--Jesse Durovey, Rachel Reynolds, Thomas Ray Garcia, and Teodoro Estrada
poems by Sarah Cortez, Jeffrey Tucker, and Rob Cook
fiction by Rene S. Perez II, Jerry Craven, and Brandon French
and so much more!
The latest issue of riverSedge will be available for purchase on October 1. 
Click HERE to read David Bowles' review of Volume 29 in The Monitor, the premiere newspaper of the Rio Grande Valley!
Purchase a copy