Group Exercise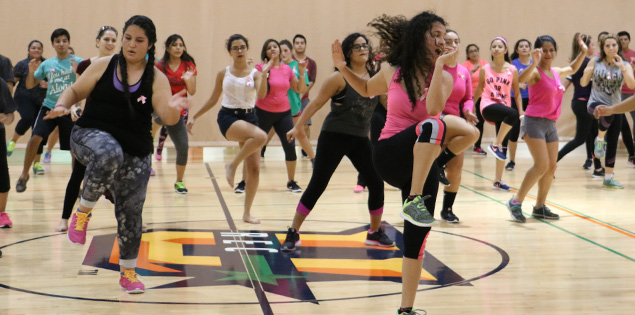 Get movin'! Group fitness classes are a great way to complement any fitness program. By participating in a group fitness class you will learn new training techniques, have access to the latest group fitness equipment and programs, stay motivated through a variety of offerings, and meet amazing people!
Group exercise is a great way to meet your fitness goals, develop friendships, and learn a new skill. Our fitness instructors are committed to catering to all fitness levels and abilities by providing modifications for beginners as well as progressions for more advanced exercisers.
Over 30 classes are offered weekly ranging from the indoor cycle, yoga, and a variety of strength and dance options. If you are looking to improve your cardiovascular endurance try our Spinning, Zumba, or Step classes. If you would like to improve your muscular physique try any of our "sculpting" classes such as Muscle Sculpt, and many more. To relax, rejuvenate and refresh your body to help reduce stress and improve flexibility consider trying our mind/body classes such as Yoga. Check out current class offerings and class descriptions below!
Class Descriptions
Belly Dance

Full body workout through core based rhythms.

Dance Tone

A dance class geared towards increasing coordination and full body toning. 

Dance Fitness

Dance fitness incorporates a variety of different rhythms into a fun and easy to follow cardio class. Very similar to other trade mark dance fitness classes.

Leg Blast

Want to firm it up?  Get in here!  Exercises for gluteus maximus are the primary goal plus additional work for muscle groups connected to these areas.

Muscle Sculpt

Tone, sculpt, and chisel your total body to feel energized and strong! This class will utilize equipment such as bands, body bars, dumbbells, and even your own body weight to transform your body into a new you.

Spinning

The instructor picks the type of ride for each class. Examples of possible classes include:

Fat Burner – Exercising at lower heart rates helps to build an aerobic base and burn fat. Expect to work at low to moderate intensity levels. Exercise intensity: 65-75% maximum heart rate.
Interval – Expect hills, humps, runs, flats, and climbs with varying intensity levels. This class is ideal for burning calories and pushing yourself to the next level! Exercise intensity: 50-92% maximum heart rate.
Strength – Steady, consistent pedaling with heavy resistances to develop the lower body muscles and challenges the cardiovascular system to promote power. This class is ideal or becoming a stronger rider. Exercise intensity: 75-85% maximum heart rate.

Step

A choreographed class based on step exercise to increase coordination through fun combinations.

Yoga

The art of yoga links breath and movement through heat building sequence of postures to stretch the body and provide stress reduction.

Yoga Core

Perform traditional yoga movements to strengthen and tone your core area.

Zumba

ZUMBA is a fusion of Latin and International music and dance themes that create a dynamic, exciting, effective, fitness class. The routines feature aerobic/fitness interval training with a combination of fast and slow rhythms that tone and sculpt the body.

Zumba Toning

Zumba Toning combines targeted body-sculpting exercises and high-energy cardio work with Latin-infused Zumba® moves to create a calorie-torching, strength-training dance fitness party. Using light weight dumbbells, you'll work every muscle group while you groove. Along with light-weight upper body resistance, you'll work against gravity or the floor to define your leg and ab muscles.