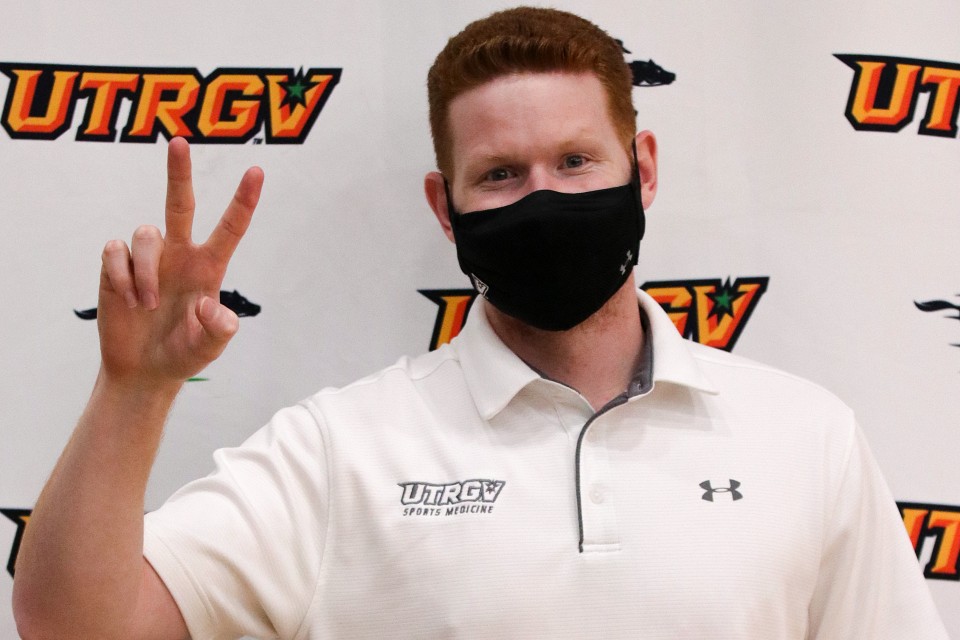 Meet Bryan Wynn, a UTRGV Unsung Hero
Text by Amanda A. Taylor

Bryan Wynn, assistant athletic trainer for UTRGV Athletics, hasn't been with UTRGV for very long, but his reputation precedes him: He's known as a go-to individual for all sports-based medical questions, and can refer athletes to medical professionals as needed.
Taking careful precautions for his team's safety and the safety of the athletes, he continuously sanitizes anything an athlete has touched during a session and puts the safety of the UTRGV community at the forefront of his work.  
Wynn says he's looking forward to creating long-lasting memories at UTRGV, as he continues his work for the athletics department.  
NAME: Bryan Wynn
JOB TITLE:  UTRGV Assistant Athletic Trainer
CAMPUS: Edinburg
DEPARTMENT: Sports Medicine 


WHAT IS YOUR ROLE AT UTRGV?
Assistant athletic trainer for the baseball and volleyball teams.
HOW LONG HAVE YOU WORKED HERE?
Just about a year.
GIVEN THE SOCIAL CHANGES DUE TO COVID-19, DESCRIBE YOUR AVERAGE DAY IN THESE TIMES
The main difference is the decreased amount of people I can do treatments on at one time. Also, making sure everyone has filled out their Sway (energy self-testing), making sure there are no obvious flags from such, and occasionally testing symptomatic individuals during the day.
WHAT IS YOUR BIGGEST CHALLENGE MAINTAINING YOUR ROLE UNDER COVID-19?
This job is very hands on. By far the biggest challenge is providing quality treatment and rehab while maintaining safe distances. PPE does help, but the possibility of exposure is never zero percent.
IN WHAT WAYS ARE YOU HELPING YOUR DEPARTMENT MITIGATE THE SPREAD OF THE VIRUS?
Giving the volleyball players little spritzes of sanitizer before practice, wearing an N95 mask anytime I am near athletes, using touchless water spigots at practices, and cleaning everything that the athletes come into contact with after each use.
DO YOU HAVE A FAVORITE MEMORY, OR STORY, ABOUT YOUR TIME HERE?
I can't say if I have a favorite just yet, because I'm still creating new ones every day.
TELL US SOMETHING MOST PEOPLE DON'T KNOW ABOUT YOU
I have had the privilege of being an athlete in many sports myself, such as snowboarding, wakeboarding, skateboarding, lacrosse and karate. 
WHAT IS YOUR RELATIONSHIP WITH THE UTRGV COMMUNITY?
At this point, it is very much in its infancy. But I would say I'm relatively known to many coaches, players and administration as being someone who can answer medical-related sports questions if needed.
WHAT ARE SOME ENCOURAGING WORDS YOU COULD SHARE WITH YOUR PEERS ABOUT COVID-19?
Anything that is worth it in life never comes easy. Trust me when I say I completely understand that wearing a mask all the time isn't fun, but if we continue to work through all this, we will be better and stronger because of it.