Dr. Michael A. Ridge Jr.
---
About Dr. Michael A. Ridge Jr.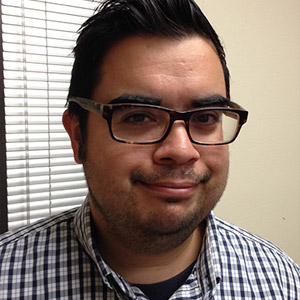 Dr. Ridge graduated from the University of Iowa with a Ph.D. in History and moved to the Rio Grande Valley in the fall of 2012. He started teaching at UTPA in 2013 and then was hired at UTRGV when the new university began. He teaches introductory courses in American History and in Mexican American History, both in-person and online.

Project
As part of his involvement with the Affordable Textbook Adoption Grant program, he redesigned his American History I course for the Fall 2022 semester. This mostly involved changing the assigned readings in the syllabus for the semester. In his redesign, he assigned The American Yawp, which is an Open Educational Resource textbook. He also assigned The American Yawp Reader: A Documentary Companion to the American Yawp, which consists of primary sources from American history. Traditionally Dr. Ridge gives several assignments throughout the semester linked to specific sources in an assigned reader. In order to achieve this his redesign also consisted of the creation of several new assignments to align with the newly assigned reading materials.

Course Redesign Experience
While Dr. Ridge was previously aware of the concept of Open Educational Resources, he had not investigated them until he participated in the Open Textbook Review Workshop in the Fall of 2021. Through this program, he reviewed The American Yawp: A Massively Collaborative Open U.S. History Textbook which is one of the leading free textbooks available in his field. He was impressed with the quality of the book and the companion reader so he selected them when it came time to redesign his course with OER materials.

Since The American Yawp uses a traditional timeline and structure throughout the textbook, redesigning the course went smoothly and was not time consuming. The most challenging part was creating the assignments later in the semester, but since The American Yawp Reader had an excellent variety of sources, this was not a problem.

Student Feedback
In several of his courses, Dr. Ridge elicited student feedback about the use of the free books and received positive feedback. Several students mentioned they were happy not to have to buy more books and that this had lessened their financial burden for the semester. Since the books he assigned were easily available online and could be easily downloaded as pdfs, several students mentioned that this was convenient and made the beginning of the semester less stressful.


Dr. Ridge Contact Information