International Center for Sustainability Across Curriculum
---
AASHE's Centers for Sustainability Across the Curriculum
To ensure that all students have the knowledge, skills, and motivation to be leaders for sustainability requires a significant increase in the number of courses that incorporate sustainability themes. Recognizing that over the last decade, AASHE developed Sustainability Across the Curriculum Workshops that have trained have trained over 500 faculty leaders at institutions around the country to catalyze curriculum change on their campuses. Based on the pioneering success of the Ponderosa Project at Northern Arizona University and the Piedmont Project at Emory University, this model has now been implemented successfully at dozens of institutions around the country. Indeed, some institutions have organized sustainability across the curriculum workshops for many years and have developed significant expertise in how to organize such workshops.
The Centers for Sustainability Across the Curriculum program aims to build on the expertise of these institutions by supporting them in organizing workshops that are open to faculty from other institutions in the region. The overall goal of this program is to significantly accelerate the infusion of sustainability content into the curriculum.
UTRGV's International Center for Sustainability Across Curriculum
In December of 2016, UTRGV became one of thirteen centers nationally to be chosen to participate in the program. From 40 applicants, the Centers were selected through a competitive application process held earlier in the year.  UTRGV's successful application was grounded by its successful Project Sin Fronteras - Project without Borders (PSF) program in operation since 2014.
PSF is a transformational platform that infuses sustainability concepts and practices into the UTRGV curriculum and systems. Since its inception, 55 faculty from eight colleges have provided over 300 sustainability courses influencing more than 5,100 UTRGV students. The Office for Sustainability (OFS) has managed this initiative in coordination with the Office of the Provost for Academic Affairs.
Through this exciting collaboration, UTRGV will extend invitations to participate in the program here in south Texas to our global partners, our peer Texas institutions, and neighbors on both sides of the Border.  UTRGV Faculty will continue to be encouraged to also participate to infuse sustainable development in existing programs or to develop a new curriculum using sustainable development concepts.  OFS will continue to recruit nationally recognized trainers and utilize our local faculty talent in providing coaching to participants. 
UTRGV Sustainability Learning Outcomes
UTRGV's commitment to sustainable development is reflected in its mission statement, its core priorities, and the institutional values that surround integration in academics, campus engagement, operational logistics, planning and administration, and innovation in research and programs. The sustainability learning outcomes for the predominant student population are as follows:
Engagement of transdisciplinary efforts between students and faculty to broaden the scope of sustainability in projects, research, departments, and degree fields.

Critical reflection on culturally diverse and inclusive experiences of self and others, and how this impacts our worldviews and celebrates diverse perspectives from underrepresented cultural group(s).

Promotion of culture in a healthy, safe, and environmentally sustainable campus that enhances individual health, community well-being, and positive teaching/learning experience.

Utilization of future thinking and design thinking as a foundation for sustainable development practices and planning.

Comprehension of knowledge related to sustaining societal protections and equity, environmental stewardship, and economic growth.

Integration of core competencies related to sustainable development systems in individual and campus behavior changes thus leading to improved quality of life.

Championing as a change agent in leadership and advocacy while promoting sustainability in lifestyles, program design, and multi-disciplinary research.
View the ICSAC 2019 Conference Report.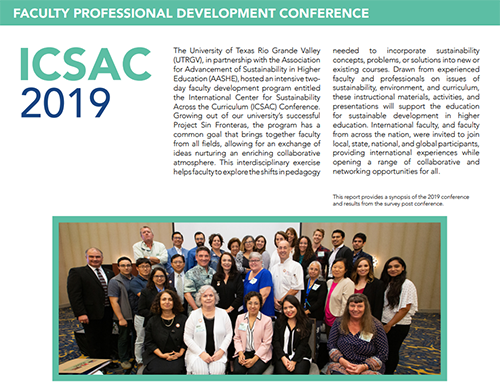 For more information about AASHE's program, please contact Dr. Daita Serghi, Education Programs Manager, Association for the Advancement of Sustainability in Higher Education, at daita.serghi@aashe.org or (888)347-9997 ext. 124.   For more information or questions about the program at UTRGV, please contact the Office for Sustainability at 956-665-3030 or sustainability@utrgv.edu.