Student Wellness and Support
The university is committed to promoting good physical and emotional health and well-being. The Dean of Students Office and various campus partners lead initiatives to ensure well-being is part of the student experience. Departments across campus build capacity for health-promoting activities by coordinating strategic approaches and programming that align with the university's mission and the principle of promoting health and well-being.
Dimensions of Wellness
The Dean of Students Office focuses on the Wellness Wheel, a diagram showing wellness composed of eight dimensions.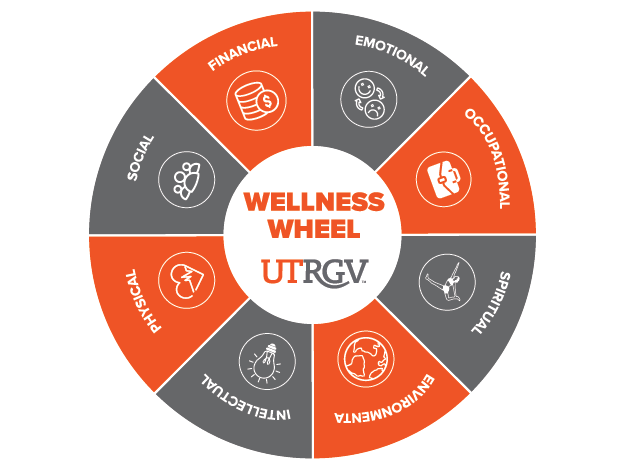 Eight Dimensions of Wellness. The first column lists and describes the dimension. The second column lists a list of student resources.
Dimension of Wellness
Resources

Emotional

Coping effectively with life and creating satisfying relationships. Regularly checking in with yourself.

On-Campus Off-Campus

Online

Occupational

Finding fulfilling work and financial stability.

On-Campus

Online

Spiritual

Understanding your beliefs, values, and ethics to help guide your life.

On-Campus

V Link: Find Spiritual Clubs and Organizations
Prayer and Meditation Room

Brownsville: Student Union 1.20A
Edinburg: University Center 306A

Environmental

Taking care of your surroundings and the global environment.

On-Campus

Intellectual

Expanding your knowledge and skills. Staying curious and engaged in learning new things.

On-Campus

Physical

Recognizing the need for physical activity, diet, sleep, and nutrition.

On-Campus

Social

Developing a sense of connection, belonging, and a well-developed support system.

On-Campus

Financial

Taking steps to live within your financial means and planning for future financial health.

On-Campus
Programs and Events
The following is a calendar of Student Wellness Events. Visit V Link for location and dates.
Student Wellness Programming Calendar

| Program | Month | Wellness Dimension | Description |
| --- | --- | --- | --- |
| Happiness Happens Month | August | Emotional | Tabling at The Stomp. |
| National Suicide Prevention Awareness Month | September | Emotional | Tabling at the CSI Involvement Fair. |
| Nutritional Impact on Mental Health | September | Physical | The impact of nutrition on mental health is often overlooked. Hear from a registered dietitian to learn more about nutritional deficiencies and how they may impact symptoms of anxiety, depression, and obsessive type thinking around food and eating. |
| Yoga and Mindfulness Activities | October | Spiritual | Join this creative session of yoga, meditation, and decorating your journal. |
| Bystander Intervention 101 | November | Environmental | Participants will learn about the bystander effect and how to overcome barriers to intervening in situations that might be dangerous, risky, or unsafe for another person. |
| Do Something Awesome! | January | Social | Have you ever wanted to get involved on campus but not sure how? Join this interactive session to see how you can get involved with the different student organizations on campus and how it can help build your resume. |
| Networking 101 | February | Occupational | Learn how to craft your elevator pitch, maximize your LinkedIn profile, and conduct successful interviews. |
| Learning Resources to Feed Your Creative Curiosities | March | Intellectual | Are you looking to feed your curiosities? In this workshop, you will learn about specialized library resources, services, and tools that support your well-being and personal interests- including fiction and cookbooks, streaming video collections, and online tools for learning new skills. |
| Paychecks and Possibilities | April | Financial | Come and learn helpful information and tips about your money! Topics include banking basics, budgeting, and financial goal setting, including W2 and tax education. |
Prayer and Meditation Room
This serene space provides students with a peaceful haven for prayer, meditation, and self-reflection. Whether seeking stress relief, a boost in self-esteem, or a moment of tranquility, our room is designed to meet your needs. We strive to make it the perfect environment for mindfulness and introspection. Dive into our carefully curated selection of meditation guides, soothing music playlists, and inspiring literature to support your well-being journey. Step inside to experience the rejuvenating power of this sacred space, just one of the many resources available to enhance your student wellness.
List of prayer and meditation-related items and their description.

| Item | Description |
| --- | --- |
| Comfy Lounge Chairs and Bean Bags | Get comfortable and let your body and body relax. |
| Fidget Toys | Fidget toys can provide an outlet for anxiety, restlessness, or calm nerves. They can help calm one down by serving as a distraction. Feel free to take a fidget toy with you or use it while you are enjoying the space. |
| Singing Bowls | Feel free to use the singing bowls while in the space. The singing bowls are used to deepen meditation and promote relaxation. Strike the bowl gently with the mallet and run the mallet along the outside of the bowl. Once you are done, please put the mallets back. |
| Crystals | Some believe crystals may have specific healing properties that benefit the mind, body, and soul. Feel free to hold the crystals while meditating or engage in the space. Please put them back when you are done for others to enjoy. |
| Brain Teasers | Brain teasers help to increase cognitive function, boost critical thinking, and improve learning and memory. Feel free to enjoy the brain teasers while utilizing the space. |
| Knitting | Knitting can help reduce stress, stimulate the brain, and increase mindfulness. |
| Affirmation Cards | Affirming oneself can help reduce stress, improve self-esteem, and break negative thoughts. Feel free to take an affirmation card. |