Cheer Tryout Information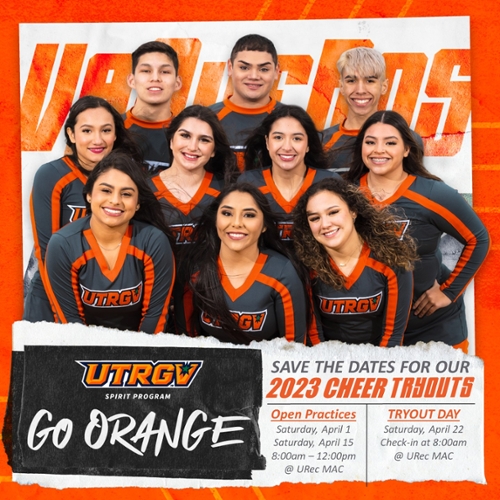 Important: Cheer Team candidates must complete the 2023-2024 UTRGV Cheer Tryout Form before the date of the tryouts.
This includes the following:
Candidate information
Experience/ Accolades
Professional headshot
Cheer resume (optional)
Fight song video submission
Up-to-date physical
Acceptance Letter (new students)
Transcripts (transfer students)
URec (University Recreation) Facility Waiver
Tryout Application Documents 
Tryout Dates

Participants must have an active UTRGV Student ID and email. Tryouts are held at the MAC Court located inside the University Recreation Building on the Edinburg Campus.
Open Practices
Saturday, April 1, 2023 - 8:00 a.m.-12:00 p.m.

Saturday, April 15, 2023 - 8:00 a.m.-12:00 p.m.

Tryout Day
Saturday, April 22, 2023

Check-in at 8:00 a.m.

Judging begins at 10:00 a.m.
For accommodations or further information on tryouts, email the Spirit Program at spirit@utrgv.edu.