Sarah Williams-Blangero, Ph.D.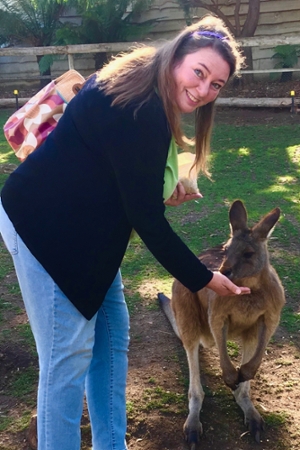 HEB Distinguished Chair in Diabetes and Genomics
Director South Texas Diabetes and Obesity Institute
Chair, Department of Human Genetics
School of Medicine
Brownsville Campus Office
BBRHB 2.230
1 West University Blvd.
Brownsville, TX 78520
Phone: (956) 882-7501
Edinburg Campus Office
ERBL 1.200.4
1214 W. Schunior Street
Edinburg, TX 78541
Phone: (956) 665-6426
McAllen Biomedical Research Building
MBMRF 2.220
5300 N. L St
McAllen, TX 78504
Phone: (956) 665-6426
Email: sarah.williams-blangero@utrgv.edu
Education
1987 Ph.D. Biological Anthropology,Case Western Reserve University, Cleveland, Ohio
1984 M.A. Biological Anthropology, Case Western Reserve University, Cleveland, Ohio
1984 B.A. Anthropology, Case Western Reserve University, Cleveland, Ohio
Research Focus
Dr. Williams-Blangero's research program focuses on the genetic epidemiology of complex diseases in minority populations. She has led the development of a number of major human population cohorts for long-term genetic research. In Nepal, she has worked with a single pedigree that includes over 2,600 members of a small ethnic group, the Jirel population. This population has been the center of collaborative research projects on parasitic disease, childhood growth and development, osteoporosis and bone-related traits, dental traits, psychiatric disease, and ocular health and disease. Dr. Williams-Blangero also works with a study population of approximately 2000 residents from a rural area of Brazil that has very high rates of Trypanosoma cruzi infection. T. cruzi is the parasitic cause of Chagas disease, which is associated with progressive cardiomyopathy. Chagas disease is found throughout Latin America and is a border health issue relevant for the Rio Grande Valley. As the Director of the South Texas Diabetes and Obesity Institute, Dr. Williams-Blangero expanded her research on the genetic determinants of risk for diabetes, obesity, and related disorders in the Jirel population and in the population of Posse, Brazil. She also established the Rio Grande Valley Family Study with support from the Knapp Community Care Foundation. With a recruitment goal of 1,000 participants, this study now includes over 550 Mexican Americans belonging to large families from the mid-Valley who are being genetically characterized for risk for diabetes and related diseases.
Intramural Appointments
Member, UTRGV Tenure and Promotion Committee

Chair, Council of Chairs, UTRGV School of Medicine

Member, UTRGV Council of Chairs

Member, UTRGV Faculty Senate Executive Committee

Member, Faculty Assembly Executive Committee, UTRGV SOM
Extramural Appointments
Chair, Geographic Diversity Committee, CPRIT
Highlighted Publications
Kumar S, Curran JE, Kumar K, DeLeon E, Leandro AC, Peralta J, Williams-Blangero S, Blangero J. Disease modeling and disease gene discovery in cardiomyopathies: A molecular study of induced pluripotent stem cell generated cardiomyocytes. Int J Mol Sci. 2021 Mar 24;22(7):3311. doi: 10.3390/ijms22073311.

Johnson MP, Keyho R, Blackburn NB, Laston S, Kumar S, Peralta J, Thapa SS, Towne B, Subedi J, Blangero J, Williams-Blangero S. Glycated serum protein genetics and pleiotropy with cardiometabolic risk factors. J Diabetes Res. 2019 Apr 4;2019:2310235. doi: 10.1155/2019/2310235. eCollection 2019.

Kent JW Jr, Göring HH, Charlesworth JC, Drigalenko E, Diego VP, Curran JE, Johnson MP, Dyer TD, Cole SA, Jowett JB, Mahaney MC, Comuzzie AG, Almasy L, Moses EK, Blangero J, Williams-Blangero S. Genotype age interaction in human transcriptional ageing. Mech Ageing Dev. 2012 Sep-Oct;133(9-10):581-90. doi: 10.1016/j.mad.2012.07.005. Epub 2012 Jul 31.
Recent Publications
Hardin AM, Knigge RP, Duren DL, Williams-Blangero S, Subedi J, Mahaney MC, Sherwood RJ.  Genetic influences on dentognathic morphology in the Jirel population of Nepal.  Anat Rec (Hoboken). 2022 Jan 3. doi: 10.1002/ar.24857. Online ahead of print.  PMID: 34981668

Kumar S, Curran JE, Kumar K, DeLeon E, Leandro AC, Peralta J, Williams-Blangero S, Blangero J. Disease modeling and disease gene discovery in cardiomyopathies: A molecular study of induced pluripotent stem cell generated cardiomyocytes. Int J Mol Sci. 2021 Mar 24;22(7):3311. doi: 10.3390/ijms22073311.

Kumar S, Curran JE, Williams-Blangero S, Blangero J. Efficient Generation of Functional Hepatocytes from Human Induced Pluripotent Stem Cells for Disease Modeling and Disease Gene Discovery. Methods Mol Biol. 2021 Mar 27. doi: 10.1007/7651_2021_375. Epub ahead of print

Blackburn NB, Meikle PJ, Peralta JM, Kumar S, Leandro AC, Bellinger MA, Giles C, Huynh K, Mahaney MC, Göring HHH, VandeBerg JL, Williams-Blangero S, Glahn DC, Duggirala R, Blangero J, Michael LF, Curran JE. Identifying the Lipidomic Effects of a Rare Loss-of-Function Deletion in ANGPTL3. Circ Genom Precis Med. 2021 Jun;14(3):e003232. doi: 10.1161/CIRCGEN.120.003232. Epub 2021 Apr 22.

Manusov EG, Gomez De Ziegler C, Diego VP, Munoz-Monaco G, Williams-Blangero S. Frailty Index in the Colonias on the US-Mexico Border: A Special Report. Front Med (Lausanne). 2021 Aug 18;8:650259. doi: 10.3389/fmed.2021.650259. PMID: 34485319; PMCID: PMC8416248.

Kumar S, Curran JE, DeLeon E, Leandro AC, Howard TE, Lehman DM, Williams-Blangero S, Glahn DC, Blangero J. Role of miRNA-mRNA interaction in neural stem cell differentiation of induced pluripotent stem cells.  Int J Mol Sci. 2020 Sep 23;21(19):6980. doi: 10.3390/ijms21196980. PMID: 32977388

Diego VP, Luu BW, Hofmann M, Dinh LV, Almeida M, Powell JS, Rajalingam R, Peralta JM, Kumar S, Curran JE, Sauna ZE, Kellerman R, Park Y, Key NS, Escobar MA, Huynh H, Verhagen AM, Williams-Blangero S, Lehmann PV, Maraskovsky E, Blangero J, Howard TE. Quantitative HLA-class-II/Factor VIII (FVIII) peptidomic variation in dendritic cells correlates with the immunogenic potential of therapeutic FVIII proteins in hemophilia A.  J Thromb Haemost. 2020 Jan;18(1):201-216. doi: 10.1111/jth.14647. PMID:31556206

Manusov EG, Diego VP, Smith J, Garza JR 2nd, Lowdermilk J, Blangero J, Williams-Blangero S, Fernandez F. UniMóvil: A mobile health clinic providing primary care to the colonias of the Rio Grande Valley, South Texas. Front Public Health. 2019 Aug 21; 7:215. doi: 10.3389/fpubh.2019.00215. eCollection 2019. PMID: 31497586

Johnson MP, Keyho R, Blackburn NB, Laston S, Kumar S, Peralta J, Thapa SS, Towne B, Subedi J, Blangero J, Williams-Blangero S. Glycated serum protein genetics and pleiotropy with cardiometabolic risk factors. J Diabetes Res. 2019 Apr 4;2019:2310235. doi: 10.1155/2019/2310235. eCollection 2019. PMID: 31089471

Blackburn NB, Michael LF, Meikle PJ, Peralta JM, Mosior M, McAhren S, Bui HH, Bellinger MA, Giles C, Kumar S, Leandro AC, Almeida M, Weir JM, Mahaney MC, Dyer TD, Almasy L, VandeBerg JL, Williams-Blangero S, Glahn DC, Duggirala R, Kowala M, Blangero J, Curran JE. Rare DEGS1 variant significantly alters de novo ceramide synthesis pathway. J Lipid Res. 2019 Sep;60(9):1630-1639. doi: 10.1194/jlr. P094433. Epub 2019 Jun 21. PMID:31227640

Cadby G, Melton PE, McCarthy NS, Almeida M, Williams-Blangero S, Curran JE, VandeBerg JL, Hui J, Beilby J, Musk AW, James AL, Hung J, Blangero J, Moses EK. Pleiotropy of cardiometabolic syndrome with obesity-related anthropometric traits determined using empirically derived kinships from the Busselton Health Study. Hum Genet. 2018 Jan;137(1):45-53. doi: 10.1007/s00439-017-1856-x. Epub 2017 Nov 27. PMID: 29181734

Baek M, Kim M, Lim JS, Morales LD, Hernandez J, Mummidi S, Williams-Blangero S, Jang IS, Tsin AT, Kim DJ. Epidermal-specific deletion of TC-PTP promotes UVB-induced epidermal cell survival through the regulation of Flk-1/JNK signaling. Cell Death Dis. 2018 Jun 28;9(7):730. doi: 10.1038/s41419-018-0781-9. PMID: 29955047

Almeida M, Peralta J, Garcia J, Diego V, Goring H, Williams-Blangero S, Blangero J. Modeling methylation data as an additional genetic variance component. BMC Proc. 2018 Sep 17;12(Suppl 9):29. doi: 10.1186/s12919-018-0128-7. eCollection 2018. PMID: 30263043
Collaborating Institutions
Tilganga Institute of Ophthalmology, Nepal

Fundação Oswaldo Cruz - FIOCRUZ, Belo Horizonte, Brazil

Wright State University, Dayton, OH

Caribbean Primate Research Center, Puerto Rico

Miami University, Oxford, OH

Chitwan Medical College, Nepal

UTHealth School of Public Health