Satish Kumar, Ph.D.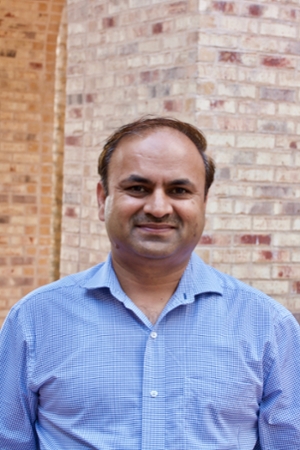 Associate Professor

Department of Human Genetics

South Texas Diabetes and Obesity Institute

School of Medicine

Office: McAllen Biomedical Research Facility (MBMRF) Room 2.219
5300 N. L St.
McAllen, TX.  78504
Phone: +1 (956)-665-6477
Email: satish.kumar@utrgv.edu


Education

2003 Ph.D. Anthropology, University of Delhi, New Delhi, India
1996 M.Sc. Anthropology (Specialization: Biological Anthropology), University of Delhi, New Delhi, India
1994 B.Sc. Botany (Honours), Zoology and Chemistry, University of Delhi, New Delhi, India


Research Focus
Dr. Kumar's research focuses on the development and application of induced pluripotent stem cell (iPSC) based methodologies and cell models to identify genetic and environmental determinants of human disease risk. He has developed an efficient iPSC reprogramming methodology for cryopreserved lymphoblastoid (immortalized B lymphocytes) cell lines (LCLs). This cost effective and highly successful reprogramming methodology has potential to have a significant impact in the field because numerous sample repositories worldwide have banked LCLs that could be used for iPSC generation. Dr. Kumar's laboratory has generated more than 300 validated iPSC lines using one such LCLs repository maintained in the Department of Human Genetics and at the STDOI for its longitudinal Mexican American Family Study. The generated iPSCs and the protocols that Dr. Kumar has developed are being used in in-vitro modeling of disease related phenotypes in genetic studies of neurodegenerative and neuropsychiatric disorders, metabolic disorders including type 2 diabetes, cardiovascular disease, obesity, and fatty liver disease and more recently in understanding individual variation in cellular response to SARS-CoV-2 infection.
In a recent NIH funded project, Dr. Kumar has developed iPSC reprogramming and differentiation methodologies for Monodelphis domestica. The generated iPSCs are the first integration free and the second ever reprogrammed from a marsupial species. M. domestica is a well-established laboratory animal that is used as an experimental model in many basic, comparative, and biomedical research applications.
Apart from his current endeavor in developing iPSC methodology, Dr. Kumar has had a major role in several large-scale, NIH and industry funded, human genetics projects, aimed at identifying genes influencing human complex diseases. He also has a strong interest in human phylogenetics, mitochondrial DNA variation and mitochondrial retrograde regulation - a process that is likely to have far-reaching implications in development, aging, disease, and environmental adaptation.
Intramural Appointments

Extramural Appointments

Member, Diversity Committee, UTRGV School of Medicine
Member, Diversity & CME CQI Committee, UTRGV School of Medicine

Member, editorial board, International Journal of Genetics and Genomics
Member, editorial board, Journal of Human and Clinical Genetics
Member, editorial board, Journal of Biosciences and Medicines
Publication Highlights
Kumar S, Blangero J, Curran JE. Induced Pluripotent Stem Cells in Disease Modeling and Gene Identification. Methods Mol Biol. 2018; 1706:17-38. doi: 10.1007/978-1-4939-7471-9_2. PMID: 29423791
Yao L, Liu Y, Qiu Z, Kumar S, Curran JE, Blangero J, Chen Y, Lehman DM.(2017) Molecular profiling of human iPS-derived hypothalamic neurons provides developmental insights to genetic loci for body weight regulation. Journal of Neuroendocrinology, 2017, 29. PMID: 28071834. doi: 10.1111/jne.12455
Kumar S, Curran JE, Glahn DC, Blangero J. Utility of Lymphoblastoid Cell Lines for Induced Pluripotent Stem Cell Generation. Stem Cells Int. 2016;2016:2349261. Epub 2016 Jun 7. PubMed PMID: 27375745; PubMed Central PMCID: PMC4914736. doi: 10.1155/2016/2349261
Kumar S, Bellis C, Zlojutro M, Melton P, Blangero J, and Curran JE (2011) Large-scale mitochondrial sequencing in Mexican Americans suggests a reappraisal of Native American origins. BMC Evol Biol., 11(1): 293. PMCID: PMC3217880. doi: 10.1186/1471-2148-11-293
Kumar S, Ravuri RR, Koneru P, Urade BP, Sarkar BN, Chandrasekar A and Rao VR (2009) Reconstructing Indian- Australian phylogenetic link. BMC Evolutionary Biology, 9:173. PMCID: PMC2720955.
Recent Publications
Morales LD, Cromack DT, Tripathy D, Fourcaudot M, Kumar S, Curran JE, Carless M, Göring HHH, Hu SL, Lopez-Alvarenga JC, Garske KM, Pajukanta P, Small KS, Glastonbury CA, Das SK, Langefeld C, Hanson RL, Hsueh WC, Norton L, Arya R, Mummidi S, Blangero J, DeFronzo RA, Duggirala R, Jenkinson CP. Further evidence supporting a potential role for ADH1B in obesity. Sci Rep. 2021 Jan 21;11(1):1932. doi: 10.1038/s41598-020-80563-z.PMID: 33479282 
Kumar S, Curran JE, Kumar K, DeLeon E, Leandro AC, Peralta J, Williams-Blangero S, Blangero J. Disease modeling and disease gene discovery in cardiomyopathies: A molecular study of induced pluripotent stem cell generated cardiomyocytes. Int J Mol Sci. 2021 Mar 24;22(7):3311. doi: 10.3390/ijms22073311.
Kumar S, Curran JE, Williams-Blangero S, Blangero J. Efficient generation of functional hepatocytes from human induced pluripotent stem cells for disease modeling and disease gene discovery. Methods Mol Biol. 2021 Mar 27. doi: 10.1007/7651_2021_375. Epub ahead of print
Blackburn NB, Meikle PJ, Peralta JM, Kumar S, Leandro AC, Bellinger MA, Giles C, Huynh K, Mahaney MC, Göring HHH, VandeBerg JL, Williams-Blangero S, Glahn DC, Duggirala R, Blangero J, Michael LF, Curran JE. Identifying the lipidomic effects of a rare loss-of-function deletion in ANGPTL3. Circ Genom Precis Med. 2021 Jun;14(3):e003232. doi: 10.1161/CIRCGEN.120.003232. Epub 2021 Apr 22.
Kumar S, Curran JE, DeLeon E, Leandro AC, Howard TE, Lehman DM, Williams-Blangero S, Glahn DC, Blangero J. Role of miRNA-mRNA interaction in neural stem cell differentiation of induced pluripotent stem cells. Int J Mol Sci. 2020 Sep 23;21(19):6980. doi: 10.3390/ijms21196980. PMID: 32977388
Kumar S, Curran JE, Espinosa EC, Glahn DC, Blangero J. Highly efficient induced pluripotent stem cell reprogramming of cryopreserved lymphoblastoid cell lines. J Biol Methods. 2020 Jan 8;7(1): e124. doi: 10.14440/jbm.2020.296. eCollection 2020. PMID: 31976351
Diego VP, Luu BW, Hofmann M, Dinh LV, Almeida M, Powell JS, Rajalingam R, Peralta JM, Kumar S, Curran JE, Sauna ZE, Kellerman R, Park Y, Key NS, Escobar MA, Huynh H, Verhagen AM, Williams-Blangero S, Lehmann PV, Maraskovsky E, Blangero J, Howard TE. Quantitative HLA-class-II/Factor VIII (FVIII) peptidomic variation in dendritic cells correlates with the immunogenic potential of therapeutic FVIII proteins in Hemophilia A. J Thromb Haemost. 2020 Jan;18(1):201-216. doi: 10.1111/jth.14647. PMID:31556206
Kumar S, Espinosa EC, Leandro AC, Curran JE, Blangero J. microRNA and mRNA interactions in induced pluripotent stem cell reprogramming of lymphoblastoid cell lines. Am J Stem Cells. 2019 Aug 15;8(2):28-37. eCollection 2019. PMID: 31523484
Johnson MP, Keyho R, Blackburn NB, Laston S, Kumar S, Peralta J, Thapa SS, Towne B, Subedi J, Blangero J, Williams-Blangero S. Glycated serum protein genetics and pleiotropy with cardiometabolic risk factors. J Diabetes Res. 2019 Apr 4;2019:2310235. doi: 10.1155/2019/2310235. eCollection 2019. PMID: 31089471
Hanson RL, Safabakhsh S, Curtis JM, Hsueh WC, Jones LI, Aflague TF, Duenas Sarmiento J, Kumar S, Blackburn NB, Curran JE, Mahkee D, Baier LJ, Knowler WC, Nelson RG. Association of CREBRF variants with obesity and diabetes in Pacific Islanders from Guam and Saipan. Diabetologia. 2019 Sep;62(9):1647-1652. doi: 10.1007/s00125-019-4932-z. Epub 2019 Jul 6. PMID:31280340
Blackburn NB, Michael LF, Meikle PJ, Peralta JM, Mosior M, McAhren S, Bui HH, Bellinger MA, Giles C, Kumar S, Leandro AC, Almeida M, Weir JM, Mahaney MC, Dyer TD, Almasy L, VandeBerg JL, Williams-Blangero S, Glahn DC, Duggirala R, Kowala M, Blangero J, Curran JE. Rare DEGS1 variant significantly alters de novo ceramide synthesis pathway. J Lipid Res. 2019 Sep;60(9):1630-1639. doi: 10.1194/jlr. P094433. Epub 2019 Jun 21. PMID:31227640
Kumar S, Blangero J, Curran JE. Induced Pluripotent Stem Cells in Disease Modeling and Gene Identification. Methods Mol Biol. 2018; 1706:17-38. doi: 10.1007/978-1-4939-7471-9_2. PMID: 29423791
Das NA, Carpenter AJ, Yoshida T, Kumar SA, Gautam S, Mostany R, Izadpanah R, Kumar A, Mummidi S, Siebenlist U, Chandrasekar B. TRAF3IP2 mediates TWEAK/TWEAKR-induced pro-fibrotic responses in cultured cardiac fibroblasts and the heart. J Mol Cell Cardiol. 2018 Aug; 121:107-123. doi: 10.1016/j.yjmcc.2018.07.003. Epub 2018 Jul 5. PMID: 29981796
Arya R, Escalante A, Farook VS, Restrepo JF, Battafarano DF, Almeida M, Kos MZ, Fourcaudot MJ, Mummidi S, Kumar S, Curran JE, Jenkinson CP, Blangero J, Duggirala R, Del Rincon I. Data on genetic associations of carotid atherosclerosis markers in Mexican American and European American rheumatoid arthritis subjects. Data Brief. 2018 Feb 8; 17:820-829. doi: 10.1016/j.dib.2018.02.006. eCollection 2018 Apr. PMID: 29527544
Arya R, Escalante A, Farook VS, Restrepo JF, Battafarano DF, Almeida M, Kos MZ, Fourcaudot MJ, Mummidi S, Kumar S, Curran JE, Jenkinson CP, Blangero J, Duggirala R, Del Rincon I. A genetic association study of carotid intima-media thickness (CIMT) and plaque in Mexican Americans and European Americans with rheumatoid arthritis. Atherosclerosis.. 2018 Apr; 271:92-101. doi: 10.1016/j.atherosclerosis.2017.11.024. Epub 2017 Nov 26. PMID: 29482039
Yao L, Liu Y, Qiu Z, Kumar S, Curran JE, Blangero J, Chen Y, Lehman DM. Molecular profiling of human induced pluripotent stem cell-derived hypothalamic neurones provides developmental insights into genetic loci for body weight regulation. J Neuroendocrinol. 2017 Feb;29(2). doi: 10.1111/jne.12455. PMID:28071834 
Manning A, Highland HM, Gasser J, Sim X, Tukiainen T, Fontanillas P, Grarup N, Rivas MA, Mahajan A, Locke AE, Cingolani P, Pers TH, Viñuela A, Brown AA, Wu Y, Flannick J, Fuchsberger C, Gamazon ER, Gaulton KJ, Im HK, Teslovich TM, Blackwell TW, Bork-Jensen J, Burtt NP, Chen Y, Green T, Hartl C, Kang HM, Kumar A, Ladenvall C, Ma C, Moutsianas L, Pearson RD, Perry JR, Rayner NW, Robertson NR, Scott LJ, van de Bunt M, Eriksson JG, Jula A, Koskinen S, Lehtimäki T, Palotie A, Raitakari OT, Jacobs SB, Wessel J, Chu AY, Scott RA, Goodarzi MO, Blancher C, Buck G, Buck D, Chines PS, Gabriel S, Gjesing AP, Groves CJ, Hollensted M, Huyghe JR, Jackson AU, Jun G, Justesen JM, Mangino M, Murphy J, Neville M, Onofrio R, Small KS, Stringham HM, Trakalo J, Banks E, Carey J, Carneiro MO, DePristo M, Farjoun Y, Fennell T, Goldstein JI, Grant G, Hrabé de Angelis M, Maguire J, Neale BM, Poplin R, Purcell S, Schwarzmayr T, Shakir K, Smith JD, Strom TM, Wieland T, Lindstrom J, Brandslund I, Christensen C, Surdulescu GL, Lakka TA, Doney AS, Nilsson P, Wareham NJ, Langenberg C, Varga TV, Franks PW, Rolandsson O, Rosengren AH, Farook VS, Thameem F, Puppala S, Kumar S, Lehman DM, Jenkinson CP, Curran JE, Hale DE, Fowler SP, Arya R, DeFronzo RA, Abboud HE, Syvänen AC, Hicks PJ, Palmer ND, Ng MC, Bowden DW, Freedman BI, Esko T, Mägi R, Milani L, Mihailov E, Metspalu A, Narisu N, Kinnunen L, Bonnycastle LL, Swift A, Pasko D, Wood AR, Fadista J, Pollin TI, Barzilai N, Atzmon G, Glaser B, Thorand B, Strauch K, Peters A, Roden M, Müller-Nurasyid M, Liang L, Kriebel J, Illig T, Grallert H, Gieger C, Meisinger C, Lannfelt L, Musani SK, Griswold M, Taylor HA Jr, Wilson G Sr, Correa A, Oksa H, Scott WR, Afzal U, Tan ST, Loh M, Chambers JC, Sehmi J, Kooner JS, Lehne B, Cho YS, Lee JY, Han BG, Käräjämäki A, Qi Q, Qi L, Huang J, Hu FB, Melander O, Orho-Melander M, Below JE, Aguilar D, Wong TY, Liu J, Khor CC, Chia KS, Lim WY, Cheng CY, Chan E, Tai ES, Aung T, Linneberg A, Isomaa B, Meitinger T, Tuomi T, Hakaste L, Kravic J, Jørgensen ME, Lauritzen T, Deloukas P, Stirrups KE, Owen KR, Farmer AJ, Frayling TM, O'Rahilly SP, Walker M, Levy JC, Hodgkiss D, Hattersley AT, Kuulasmaa T, Stančáková A, Barroso I, Bharadwaj D, Chan J, Chandak GR, Daly MJ, Donnelly PJ, Ebrahim SB, Elliott P, Fingerlin T, Froguel P, Hu C, Jia W, Ma RC, McVean G, Park T, Prabhakaran D, Sandhu M, Scott J, Sladek R, Tandon N, Teo YY, Zeggini E, Watanabe RM, Koistinen HA, Kesaniemi YA, Uusitupa M, Spector TD, Salomaa V, Rauramaa R, Palmer CN, Prokopenko I, Morris AD, Bergman RN, Collins FS, Lind L, Ingelsson E, Tuomilehto J, Karpe F, Groop L, Jørgensen T, Hansen T, Pedersen O, Kuusisto J, Abecasis G, Bell GI, Blangero J, Cox NJ, Duggirala R, Seielstad M, Wilson JG, Dupuis J, Ripatti S, Hanis CL, Florez JC, Mohlke KL, Meigs JB, Laakso M, Morris AP, Boehnke M, Altshuler D, McCarthy MI, Gloyn AL, Lindgren CM. A low-frequency inactivating Akt2variant enriched in the Finnish population is associated with fasting insulin levels and type 2 diabetes risk. Diabetes. 2017 Jul;66(7):2019-2032. doi: 10.2337/db16-1329. Epub 2017 Mar 24. PMID:28341696 
Flannick J, Fuchsberger C, Mahajan A, Teslovich TM, Agarwala V, Gaulton KJ, Caulkins L, Koesterer R, Ma C, Moutsianas L, McCarthy DJ, Rivas MA, Perry JRB, Sim X, Blackwell TW, Robertson NR, Rayner NW, Cingolani P, Locke AE, Tajes JF, Highland HM, Dupuis J, Chines PS, Lindgren CM, Hartl C, Jackson AU, Chen H, Huyghe JR, van de Bunt M, Pearson RD, Kumar A, Müller-Nurasyid M, Grarup N, Stringham HM, Gamazon ER, Lee J, Chen Y, Scott RA, Below JE, Chen P, Huang J, Go MJ, Stitzel ML, Pasko D, Parker SCJ, Varga TV, Green T, Beer NL, Day-Williams AG, Ferreira T, Fingerlin T, Horikoshi M, Hu C, Huh I, Ikram MK, Kim BJ, Kim Y, Kim YJ, Kwon MS, Lee J, Lee S, Lin KH, Maxwell TJ, Nagai Y, Wang X, Welch RP, Yoon J, Zhang W, Barzilai N, Voight BF, Han BG, Jenkinson CP, Kuulasmaa T, Kuusisto J, Manning A, Ng MCY, Palmer ND, Balkau B, Stančáková A, Abboud HE, Boeing H, Giedraitis V, Prabhakaran D, Gottesman O, Scott J, Carey J, Kwan P, Grant G, Smith JD, Neale BM, Purcell S, Butterworth AS, Howson JMM, Lee HM, Lu Y, Kwak SH, Zhao W, Danesh J, Lam VKL, Park KS, Saleheen D, So WY, Tam CHT, Afzal U, Aguilar D, Arya R, Aung T, Chan E, Navarro C, Cheng CY, Palli D, Correa A, Curran JE, Rybin D, Farook VS, Fowler SP, Freedman BI, Griswold M, Hale DE, Hicks PJ, Khor CC, Kumar S, Lehne B, Thuillier D, Lim WY, Liu J, Loh M, Musani SK, Puppala S, Scott WR, Yengo L, Tan ST, Taylor HA, Thameem F, Wilson G, Wong TY, Njølstad PR, Levy JC, Mangino M, Bonnycastle LL, Schwarzmayr T, Fadista J, Surdulescu GL, Herder C, Groves CJ, Wieland T, Bork-Jensen J, Brandslund I, Christensen C, Koistinen HA, Doney ASF, Kinnunen L, Esko T, Farmer AJ, Hakaste L, Hodgkiss D, Kravic J, Lyssenko V, Hollensted M, Jørgensen ME, Jørgensen T, Ladenvall C, Justesen JM, Käräjämäki A, Kriebel J, Rathmann W, Lannfelt L, Lauritzen T, Narisu N, Linneberg A, Melander O, Milani L, Neville M, Orho-Melander M, Qi L, Qi Q, Roden M, Rolandsson O, Swift A, Rosengren AH, Stirrups K, Wood AR, Mihailov E, Blancher C, Carneiro MO, Maguire J, Poplin R, Shakir K, Fennell T, DePristo M, de Angelis MH, Deloukas P, Gjesing AP, Jun G, Nilsson P, Murphy J, Onofrio R, Thorand B, Hansen T, Meisinger C, Hu FB, Isomaa B, Karpe F, Liang L, Peters A, Huth C, O'Rahilly SP, Palmer CNA, Pedersen O, Rauramaa R, Tuomilehto J, Salomaa V, Watanabe RM, Syvänen AC, Bergman RN, Bharadwaj D, Bottinger EP, Cho YS, Chandak GR, Chan JC, Chia KS, Daly MJ, Ebrahim SB, Langenberg C, Elliott P, Jablonski KA, Lehman DM, Jia W, Ma RCW, Pollin TI, Sandhu M, Tandon N, Froguel P, Barroso I, Teo YY, Zeggini E, Loos RJF, Small KS, Ried JS, DeFronzo RA, Grallert H, Glaser B, Metspalu A, Wareham NJ, Walker M, Banks E, Gieger C, Ingelsson E, Im HK, Illig T, Franks PW, Buck G, Trakalo J, Buck D, Prokopenko I, Mägi R, Lind L, Farjoun Y, Owen KR, Gloyn AL, Strauch K, Tuomi T, Kooner JS, Lee JY, Park T, Donnelly P, Morris AD, Hattersley AT, Bowden DW, Collins FS, Atzmon G, Chambers JC, Spector TD, Laakso M, Strom TM, Bell GI, Blangero J, Duggirala R, Tai ES, McVean G, Hanis CL, Wilson JG, Seielstad M, Frayling TM, Meigs JB, Cox NJ, Sladek R, Lander ES, Gabriel S, Mohlke KL, Meitinger T, Groop L, Abecasis G, Scott LJ, Morris AP, Kang HM, Altshuler D, Burtt NP, Florez JC, Boehnke M, McCarthy MI. Sequence data and association statistics from 12,940 type 2 diabetes cases and controls. Sci Data. 2017 Dec 19; 4:170179. doi: 10.1038/sdata.2017.179.PMID: 29257133
Manuscript Review

PLoS One
International Journal of Human Genetics
Universitas Scientiarum
International Journal of Genomics
Collaborating Institutions
University of Texas Health Science Center at San Antonio
UT Health Science Center at Houston School of Public Health
Harvard Medical School
University of Delhi
Punjabi University Patiala
Anthropological Survey of India