Mark Kos Ph.D.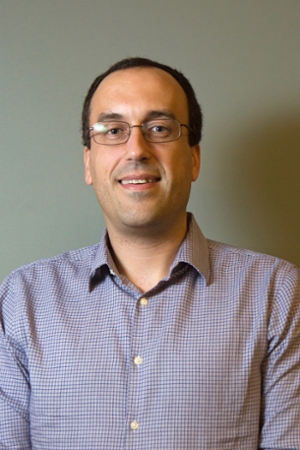 Assistant Professor of Research
South Texas Diabetes and Obesity Institute
School of Medicine
Office: San Antonio Technology Center, Room 320.07
3463 Magic Drive
San Antonio, TX  78229
Phone: +1 (210)-585-9772
Email: mark.kos@utrgv.edu
Education

2008 Ph.D. Biological Anthropology, University of Kansas, Kansas, USA
2006 M.A. Anthropology, University of Kansas, Kansas, USA


Research Focus
Dr. Kos' research interests are predominantly in statistical genetics, epidemiology, and the genetics of complex traits. Dr. Kos has been investigating the genetic underpinnings of schizophrenia (SZ) and neurocognitive correlates in multiplex families and case-control subjects, with particular interest in the dopamine (DA) hypothesis that attributes SZ symptoms to hyperactive dopaminergic neurotransmission. Based on whole transcriptome sequence data, the effects of DA on gene expression is being examined in ex vivo models of lymphoblastoid cell lines from the Molecular Genetics of Schizophrenia (MGS) collaboration. DA-stimulated responses have been detected in gene expression levels, including significant changes in genome-wide co-expression networks related to translational machinery and mitochondrial energy production that exhibit heightened risk for SZ upon cellular perturbation. These findings demonstrate the utility of this novel study design for revealing latent pathological mechanisms that may be undetectable using more traditional approaches.

In addition, Dr. Kos has begun a new collaborative research project with Dr. Melanie Carless at Texas Biomedical Research Institute in San Antonio examining the epigenetics of energy homeostasis, body composition, and obesity in high-risk Hispanic children through next generation sequencing of DNA methylation sites in peripheral blood samples from the Viva la Familia cohort. DNA methylation signatures that are found to be associated with energy homeostasis and obesity will be further assessed for their potential effects on cellular respiration, glycolysis, and fatty acid oxidation through CRISPR-based epigenetic editing of induced pluripotent stem cells.
| | | |
| --- | --- | --- |
| Extramural Appointments |      | |
| Review Editor, Frontiers in Applied Genetic Epidemiology Journal | | |
Publication Highlights
Duan J, Göring HHH, Sanders AR, Moy W, Freda J, Drigalenko EI, Kos M, He D, and Gejman PV; MGS. Transcriptomic signatures of schizophrenia revealed by dopamine perturbation in an ex vivo model. 

Transl Psychiatry

. 2018 Aug 16;8(1):158. doi: 10.1038/s41398-018-0216-5.

Kos MZ, Carless MA, Peralta J, Curran JE, Quillen EE, Almeida M, Blackburn A, Blondell L, Roalf DR, Pogue-Geile MF, Gur RC, Göring HHH, Nimgaonkar VL, Gur RE, Almasy L. Exome sequences of multiplex, multigenerational families reveal schizophrenia risk loci with potential implications for neurocognitive performance. Am J Med Genet B Neuropsychiatr Genet. 2017 Dec;174(8):817-827. doi: 10.1002/ajmg.b.32597. Epub 2017 Sep 13. PMID: 28902459 (South Texas Diabetes and Obesity Institute)

Kulkarni H, Kos MZ, Neary J, Dyer TD, Kent JW Jr, Göring HH, Cole SA, Comuzzie AG, Almasy L, Mahaney MC, Curran JE, Blangero J, Carless MA. Novel epigenetic determinants of type 2 diabetes in Mexican-American families. Hum Mol Genet. 2015 Sep 15;24(18):5330-44. doi: 10.1093/hmg/ddv232. Epub 2015 Jun 22. PMID:26101197 (South Texas Diabetes and Obesity Institute)
Recent Publications
Book Chapters
Almasy L, Kos MZ, Blangero J. Linkage mapping: Localizing the genes that shape human variation. Pp. 33-52. In: Genome Mapping and Genomics in Human and Non-Human Primates. R Duggirala, L Almasy, S Williams-Blangero, S Paul, C Kole (eds), Springer-Verlag Berlin Heidelberg. 2015.
Journal Articles
Kos MZ, Duan J, Sanders AR, Blondell L, Drigalenko EI, Carless MA, Gejman PV, Göring HHH; MGS. Dopamine perturbation of gene co-expression networks reveals differential response in schizophrenia for translational machinery. Transl Psychiatry. 2018 Dec 13;8(1):278. doi: 10.1038/s41398-018-0325-1. PMID: 30546022
Blondell L, Blackburn A, Kos MZ, Blangero J, Göring HHH. Contribution of Inbred Singletons to Variance Component Estimation of Heritability and Linkage. Hum Hered. 2018;83(2):92-99. doi: 10.1159/000492830. Epub 2018 Nov 2. PMID: 30391948
Arya R, Escalante A, Farook VS, Restrepo JF, Battafarano DF, Almeida M, Kos MZ, Fourcaudot MJ, Mummidi S, Kumar S, Curran JE, Jenkinson CP, Blangero J, Duggirala R, Del Rincon I. Data on genetic associations of carotid atherosclerosis markers in Mexican American and European American rheumatoid arthritis subjects. Data Brief. 2018 Feb 8; 17:820-829. doi: 10.1016/j.dib.2018.02.006. eCollection 2018 Apr. PMID: 29527544 (South Texas Diabetes and Obesity Institute)
Duan J, Göring HHH, Sanders AR, Moy W, Freda J, Drigalenko EI, Kos M, He D, Gejman PV. Transcriptomic signatures of schizophrenia revealed by dopamine perturbation in an ex vivo model. Translational Psychiatry. 2018; 8(1):158.
Arya R, Escalante A, Farook VS, Restrepo JF, Battafarano DF, Almeida M, Kos MZ, Fourcaudot MJ, Mummidi S, Kumar S, Curran JE, Jenkinson CP, Blangero J, Duggirala R, Del Rincon I. A genetic association study of carotid intima-media thickness (CIMT) and plaque in Mexican Americans and European Americans with rheumatoid arthritis. Atherosclerosis. 2017 Nov 26; 271:92-101. doi: 10.1016/j.atherosclerosis.2017.11.024. [Epub ahead of print] PMID: 29482039
Kos MZ, Carless MA, Peralta J, Curran JE, Quillen EE, Almeida M, Blackburn A, Blondell L, Roalf DR, Pogue-Geile MF, Gur RC, Göring HHH, Nimgaonkar VL, Gur RE, Almasy L. Exome sequences of multiplex, multigenerational families reveal schizophrenia risk loci with potential implications for neurocognitive performance. Am J Med Genet B Neuropsychiatr Genet. 2017 Dec;174(8):817-827. doi: 10.1002/ajmg.b.32597. Epub 2017 Sep 13. PMID: 28902459 (South Texas Diabetes and Obesity Institute)
Mathies LD, Aliev F, Porjesz B, Hesselbrock V, Edenberg H, Bierut L, Nurnberger J Jr, Foroud T, Kuperman S, Kramer J, Porjesz B, Bierut L, Rice J, Bucholz K, Agrawal A, Schuckit M, Tischfield J, Brooks A, Almasy L, Goate A, Taylor R, Bauer L, McClintick J, Wetherill L, Xuei X, Liu Y, Lai D, O'Connor S, Plawecki M, Lourens S, Chan G, Meyers J, Chorlian D, Kamarajan C, Pandey A, Zhang J, Wang JC, Kapoor M, Bertelsen S, Anokhin A, McCutcheon V, Saccone S, Salvatore J, Cho B, Kos M, Parsian A, Reilly M, Davies AG, Dick DM, Bettinger JC. Variation in SWI/SNF chromatin remodeling complex proteins is associated with alcohol dependence and antisocial behavior in human populations. Alcoholism: Clinical and Experimental Research. 2017;41(12):2033-2040.
Kos MZ, Carless MA, Peralta J, Blackburn A, Almeida M, Roalf D, Pogue-Geile MF, Prasad K, Gur RC, Nimgaonkar V, Curran JE, Duggirala R, Glahn DC, Blangero J, Gur RE, Almasy L. Exome sequence data from multigenerational families implicate AMPA receptor trafficking in neurocognitive impairment and schizophrenia risk. Schizophr Bull. 2016 Mar;42(2):288-300. doi: 10.1093/schbul/sbv135. Epub 2015 Sep 24. PMID:26405221 (South Texas Diabetes and Obesity Institute)
Kulkarni H, Kos MZ, Neary J, Dyer TD, Kent JW Jr, Göring HH, Cole SA, Comuzzie AG, Almasy L, Mahaney MC, Curran JE, Blangero J, Carless MA. Novel epigenetic determinants of type 2 diabetes in Mexican-American families. Hum Mol Genet. 2015 Sep 15;24(18):5330-44. doi: 10.1093/hmg/ddv232. Epub 2015 Jun 22. PMID:26101197 (South Texas Diabetes and Obesity Institute)
Manuscript Review

Frontiers in Genetics

Genetic Analysis Workshop 20

Journal of the American Medical Association (JAMA)

Schizophrenia Bulletin
Collaborating Institutions
Indiana University School of Medicine

Texas Biomedical Research Institute

Washington University School of Medicine

Rutgers University    

University of Pennsylvania

Yale University School of Medicine

State University of New York

University of Pittsburgh

University of Chicago