Vincent P. Diego, Ph.D.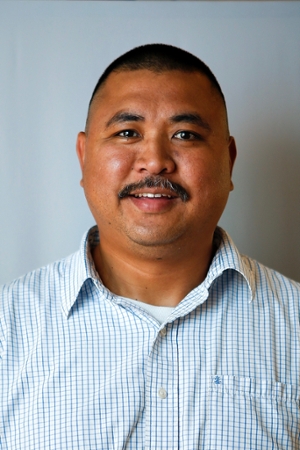 Assistant Professor of Research

South Texas Diabetes and Obesity Institute

School of Medicine

Office: Brownsville Campus, BBRHB, Room 2.233
1 West University Blvd
Brownsville, TX.  78520
Phone: +1 (956)-882-7518
Email: vincent.diego@utrgv.edu


Education
2005 Ph.D. Anthropology, Human Statistical Genetics, State University of New York at Binghamton
2001 M.A. Anthropology, Human Population Biology, State University of New York at Binghamton
Research Focus
Dr. Diego's research has been in two general areas: 1) aging in humans and 2) gene-environment interaction (GEI) analysis and theoretical development. Dr. Diego performs research on biological aging in participants of the San Antonio Family Heart Study and is currently developing approaches to study the role of entropy computed over DNA sequences and gene networks in aging and senescence. Dr. Diego also developed novel methods for the analysis of GEI in relation to multivariate environments. Using these methods to analyze data from a large study of risk for obesity in children, Dr. Diego found significant GEI in relation to dietary multivariate environments. Dr. Diego continues to work on the theoretical development of a novel approach to modeling GEI for gene networks.
Recent Publications
Gil M, Alliey-Rodriguez N, Lopez-Alvarenga JC, Diego V, Gaona CA, Mata L, Pirela RV, Chavez CA, de Erausquin GA, Melgarejo JD, Maestre GE. Neuropsychiatric symptoms among Hispanics: Results of the Maracaibo Aging Study. J Alzheimers Dis. 2021 Feb 19. doi: 10.3233/JAD-201144. Online ahead of print.PMID: 33612541
Manusov EG, Gomez De Ziegler C, Diego VP, Munoz-Monaco G, Williams-Blangero S. Frailty index in the colonias on the US-Mexico Border: A Special Report. Front Med (Lausanne). 2021 Aug 18;8:650259. doi: 10.3389/fmed.2021.650259. PMID: 34485319; PMCID: PMC8416248.
Diego VP, Luu BW, Hofmann M, Dinh LV, Almeida M, Powell JS, Rajalingam R, Peralta JM, Kumar S, Curran JE, Sauna ZE, Kellerman R, Park Y, Key NS, Escobar MA, Huynh H, Verhagen AM, Williams-Blangero S, Lehmann PV, Maraskovsky E, Blangero J, Howard TE. Quantitative HLA-class-II/Factor VIII (FVIII) peptidomic variation in dendritic cells correlates with the immunogenic potential of therapeutic FVIII proteins in Hemophilia A. J Thromb Haemost. 2020 Jan;18(1):201-216. doi: 10.1111/jth.14647. PMID:31556206
Pittner K, Bakermans-Kranenburg MJ, Alink LRA, Buisman RSM, van den Berg LJM, Compier-de Block LHCGC, Voorthuis A, Elzinga BM, Lindenberg J, Tollenaar MS, Linting M, Diego VP, van IJzendoorn MH. Estimating the heritability of experiencing child maltreatment in an extended family design. Child Maltreat. 2020 Aug;25(3):289-299. doi: 10.1177/1077559519888587. Epub 2019 Nov 27. PMID: 31773993
Jankowski W, Park Y, McGill J, Maraskovsky E, Hofmann M, Diego VP, Luu BW, Howard TE, Kellerman R, Key NS, Sauna ZE. Peptides identified on monocyte-derived dendritic cells: a marker for clinical immunogenicity to FVIII products. Blood Adv. 2019 May 14;3(9):1429-1440. doi: 10.1182/bloodadvances.2018030452. PMID: 31053570
Manusov EG, Diego VP, Smith J, Garza JR 2nd, Lowdermilk J, Blangero J, Williams-Blangero S, Fernandez F. UniMóvil: A mobile health clinic providing primary care to the colonias of the Rio Grande Valley, South Texas. Front Public Health. 2019 Aug 21; 7:215. doi: 10.3389/fpubh.2019.00215. eCollection 2019. PMID: 31497586
Pittner K, van Ijzendoorn MH, Alink LRA, Buisman RSM, Compier-de Block LHCGC, van den Berg LJM, Elzinga BM, Lindenberg J, Tollenaar MS, Diego VP, Bakermans-Kranenburg MJ. The genetic and environmental etiology of child maltreatment in a parent-based extended family design. Dev Psychopathol. 2019 Feb;31(1):157-172. doi: 10.1017/S0954579418001608. PMID: 30757990
Almeida M, Peralta J, Garcia J, Diego V, Goring H, Williams-Blangero S, Blangero J. Modeling methylation data as an additional genetic variance component. BMC Proc. 2018 Sep 17;12(Suppl 9):29. doi: 10.1186/s12919-018-0128-7. eCollection 2018. PMID: 30263043
Arya R, Farook VS, Fowler SP, Puppala S, Chittoor G, Resendez RG, Mummidi S, Vanamala J, Almasy L, Curran JE, Comuzzie AG, Lehman DM, Jenkinson CP, Lynch JL, DeFronzo RA, Blangero J, Hale DE, Duggirala R, Diego VP. Genetic and environmental (physical fitness and sedentary activity) interaction effects on cardiometabolic risk factors in Mexican American children and adolescents. Genet Epidemiol. 2018 Feb 20. doi: 10.1002/gepi.22114. PMID: 29460292
Collaborating Institutions
University of Porto, Portugal