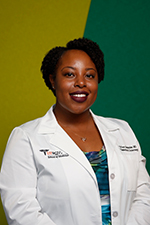 Tiffany Alexander-Rawlins, MD

PGY4

Dr. Tiffany Alexander was born in Montreal, Quebec, Canada. She grew up the second of four daughters in a strong, West Indian household. She was instilled with values of respect, ambition, humility, and faith, which led her to graduating with a Bachelor's of Science Nursing Degree from McGill University.

Multiple years of experience as a Labor & Delivery Nurse within Quebec, Yukon, British Columbia, and Alberta, Canada allowed for her medical skills to grow. Tiffany's desire to help pregnant mothers and other women led her to Meharry Medical College in Nashville, Tennessee. In 2017, she graduated with honors and also obtained a Health Policy Certificate from Robert Wood Johnson Foundation Center. By July 2017, Tiffany was happy to move to Rio Grande Valley to the attend the UT-RGV OB/GYN Residency program.

Tiffany is a strong advocate for women's rights, maternal-child health & well being, and breastfeeding. Her hobbies include spending time with loved ones, yoga, and traveling abroad. Now known as Dr. Tiffany Rawlins, she has plans to build a family -- plus a dog or two! -- with her husband, Sekou Rawlins.