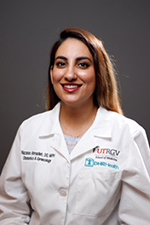 Nazanin Ahmadieh, DO, MPH

PGY3

Dr. Nazanin Ahmadieh completed her undergraduate training at the University of California-Los Angeles, where she earned her B.S. in biochemistry. She graduated from Touro University, CA with DO/MPH degree in 2018. She grew up in the southern villages of Iran, where her father practiced medicine, and moved to the states when she was 17 years old.  She is excited to explore Texas for her residency training with her twin sister who also just started her pediatric residency at Dell Children's Medical Center in Austin, TX. She wants to get involved in advocacy for family planning while serving amazing valley communities and improve her Spanish during her residency training in Rio Grande Valley. She is interested in practicing as a general OBGYN with a focus on mental health and getting involved in resident/medical student training in the future. She hopes to practice with her twin sister and younger sister, who is studying to be a nurse practitioner, in the same hospital.

Aside from medicine, she loves napping, Aerial yoga, listening to audiobooks, exploring wineries and breweries.