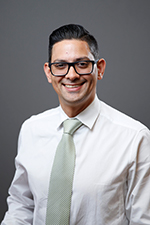 Gerardo Munoz-Monaco, MD

Program Director / Assistant Professor

Dr. Gerardo Munoz Monaco obtained his Medical Degree from the Universidad de Carabobo in Venezuela, and completed his training at Indiana University.

He has practiced as a family medicine physician for five years, with a focus on Preventative Care and Quality/Coding.

In addition to his medical practice, Dr. Munoz is a member of American Academy of Family Medicine, Board Certified by the American Academy of Family Physicians, member of the National Hispanic Medical Association (NHMA), and member of the NHMA Board Development Committee. He resides in McAllen, TX with his wife and two kids.