Curriculum
FM-NICCE
Our program is involved in a national 5-year pilot project (Family Medicine - National Innovations in Continuity Clinic Experience (FM-NICCE)) approved by both the American Board of Family Medicine and the ACGME RC-FM which allows us to be innovative in the design of our schedules to enhance the residents' experiences in the office and inpatient service and their wellness. We follow a "two by two" rotation pattern. During the PG2 and PG3 years the residents are in their outpatient continuity clinic for two weeks at a time during which they have an uninterrupted, outpatient experience allowing them more ownership of and accessibility to their patients. The next two weeks are spent on rotations away from the continuity clinic learning inpatient, OB, pediatric, surgical and other specialty skills.
---
Block Schedule
---
2021-2022 UTRGV-DHR Family Medicine Block Schedule
2021-2022 UTRGV-DHR Family Medicine Block Schedule (Updated 08/06/2021)
Program Year 1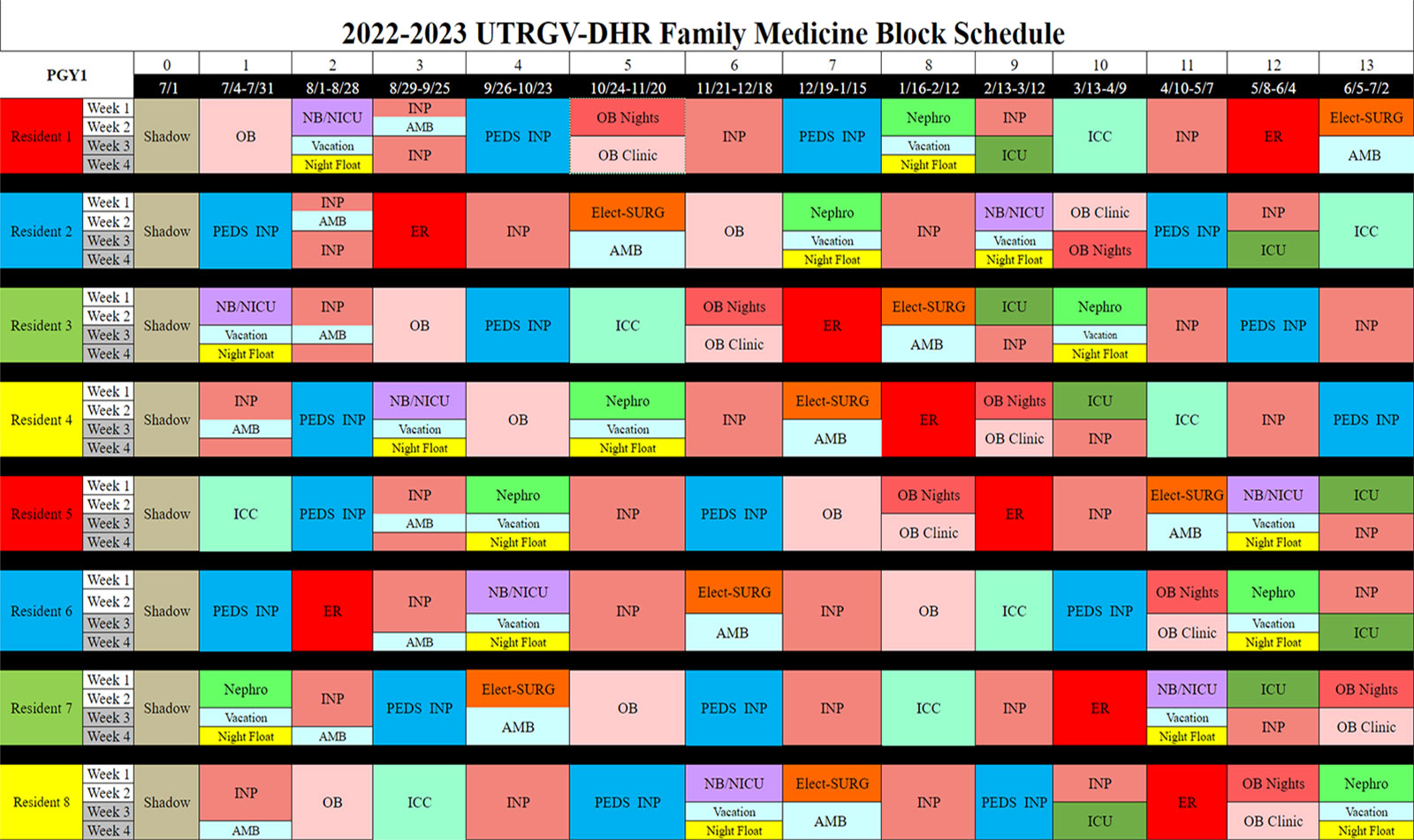 ---
Program Year 2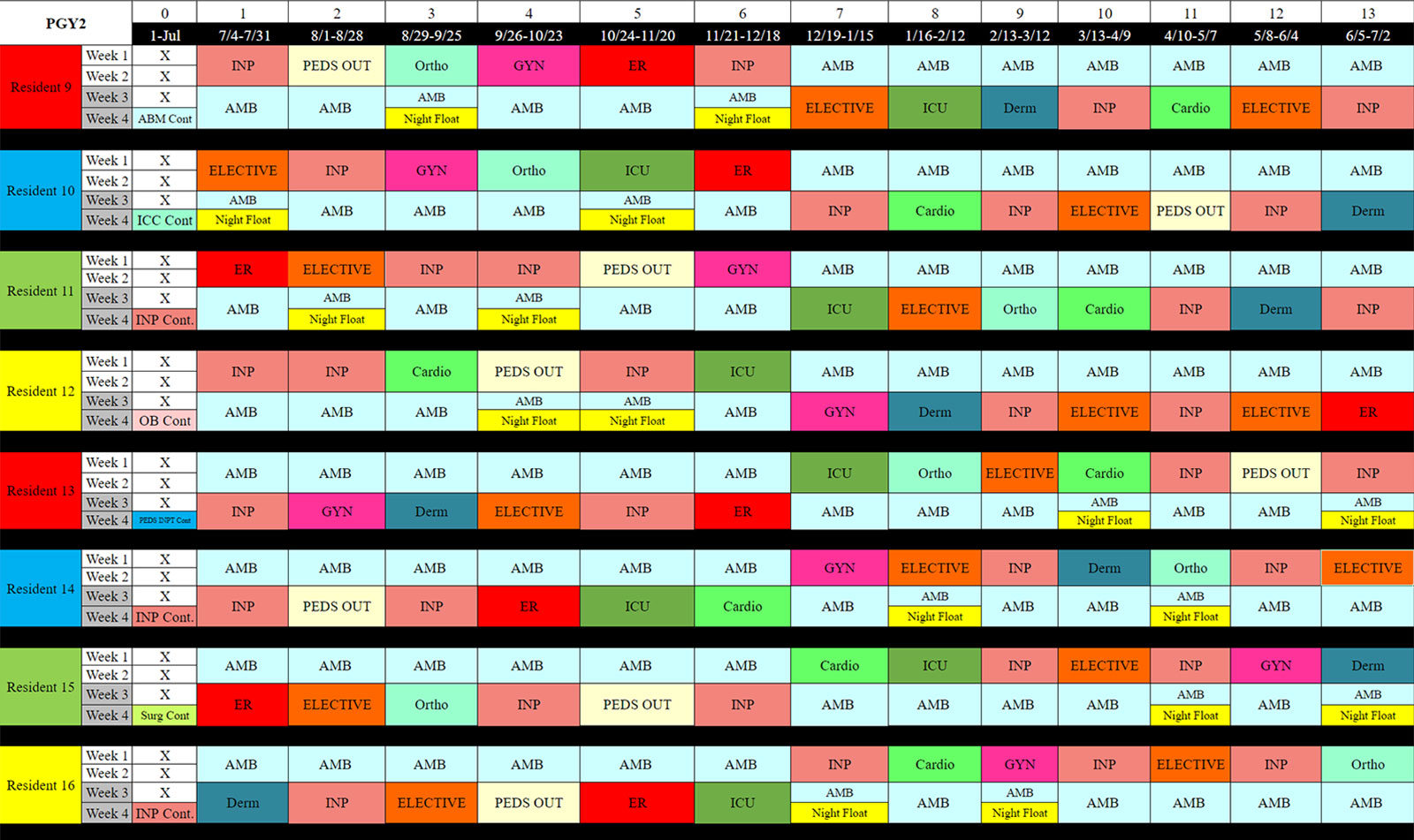 ---
Program Year 3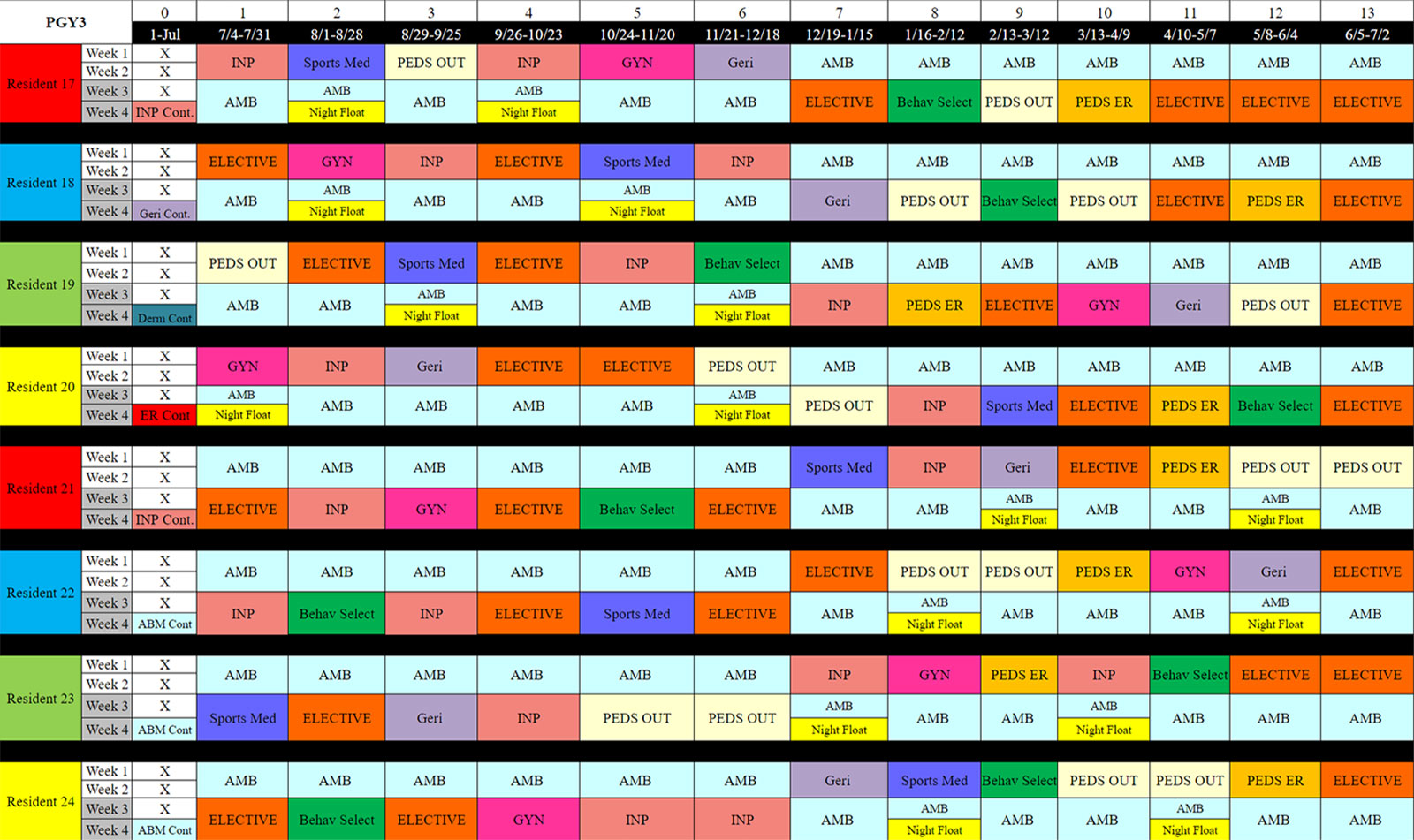 ---
Longitudinal Curriculum
Health Systems Management: AMB (1 half day clinic per week), ICC, Didactics, and assigned Hospital Committee Meetings
Procedures training: Procedure clinic (1 half day clinic twice a month)
Imaging: Med Challenger (PGY2) and SonoSim (All years)
Sports Medicine: structured experience participating at multiple high school and college sporting events in addition to a block rotation.
Nursing Home: Retama Manor on hold secondary to COVID restrictions
Integrated Care Curriculum (ICC)- PGY2 & PGY3 structured longitudinal experience with 1 half day behavioral clinic per week during AMB rotation
---
Conferences
The UTRGV Family Medicine Residency Program at DHR holds many conferences. On Friday afternoons, all residents gather for didactic training which includes lectures, workshops, and other scholarly sessions. The series is designed to present the "Core Curriculum" for the Residency Program over the three years and to prepare the residents for practice and to pass the board exam. The residency uses novel, state of the art modalities to include Blackboard, asynchronous learning, and audience response systems. The didactic sessions are experiential and problem based throughout the longitudinal and developmental curriculum. The focus of these sessions during the first six months of the intern year is to prepare the resident for the in-training examination. Additional topics are drawn largely from the major specialty disciplines and repeat in an 18-month cycle to ensure access for all residents to include pediatrics, general and specialty internal medicine, sports medicine, obstetrics and gynecology, practice management, geriatrics, global and community medicine, surgery, LGBT medicine, professionalism, PCMH and systems-based medicine. Increasing autonomy is emphasized in all areas of education. In addition, many other conferences are available which include:
Family Medicine Grand Rounds
Case Conferences: Primarily focused on practice-based learning and improvement
Behavioral Medicine Conference
Journal Club
Evidence-based medicine and critical appraisal
Monthly Professionalism Rounds use an experiential model, discussion, and an ethics curriculum to address professionalism in medicine
Performance Improvement and Patient Safety (PIPS) Conference, formerly known as M&M Conference
Practice Management Seminars
Pharmacology

QI Conferences: Monthly conferences address various patient safety principles and goals, review relevant journal articles, and discuss a relevant resident managed case
Monthly Didactic Topics
| Month | Topic |
| --- | --- |
| July | Gastrointestinal Medicine |
| August | Infectious Disease |
| September | Nephrology/Urology |
| October | Hematology/Oncology |
| November | ER/Urgent Care Medicine |
| December | Professional Development |
| January | Cardiovascular Medicine |
| February | Pulmonary Medicine |
| March | Dermatology |
| April | Endocrine |
| May | Preventive Medicine |
| June | Women's Health - GYN |
---
Elective
Specialty rotations can consist of one of the areas listed below, depending on the interest or perceived need of the resident. The percentage of time devoted to outpatient activities in these specialties varies from zero (in clinical informatics) to 50 percent in most others. These rotations are clinical in nature both inpatient and outpatient based. Therefore, there is no scheduled research time.
PGY 1: Can choose from following: Nephrology or Cardiology
PGY 2 & PGY 3: Can choose from following: ENT, Ophthalmology, Nephrology, Ophthalmology, Cardiology, GI, Pulmonology, Rheumatology, Endocrine, Interventional Radiology
Elective rotations can consist of any of the "Specialty" rotations (listed above) or can create either a clinical or research focused elective that is approved by the Program Director. Time devoted to outpatient activities is varied.
---