Mentors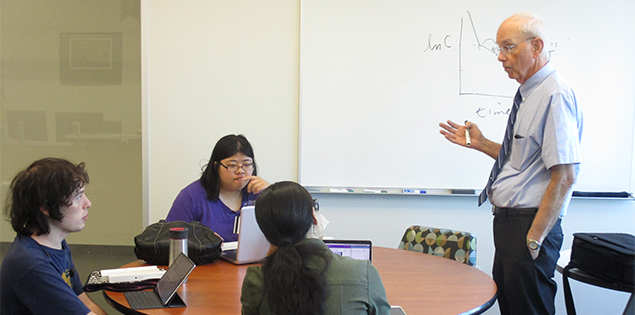 A mentor is someone who takes an interest in the professional development of a mentee by providing guidance and support. Genuine commitment on the part of both the mentor and mentee is required for a successful mentoring relationship. There are no strict rules on how to mentor. It is the responsibility of the mentor to determine the best approaches for each individual mentoring relationship based on the mentee's needs.
Note: Mentors are NOT academic advisors.
Responsibilities:
Provides ongoing guidance on life skills, and survival skills to mentees, including, practicing wellness and a healthy- living lifestyle.
Provides guidance on traits needed to succeed in the medical school- discipline, being a team player, humility, intelligent, persistence/drive, good attitude, enthusiasm/motivation, sense of humor, empathy, adaptability, and confidence.
Assists mentees with transitioning to UTRGV and the School of Medicine
Serves as a model to mentees.
Be available to your mentee when needed.
Guides students on expected professional behavior during and after mentee's medical education
Follows up with mentees for personal guidance on areas that they may not wish to discuss with other SOM personnel
Refers mentees to appropriate resources as needed including, but not limited to tutoring, counseling, and to seek help early as needed
Informs mentees of the UTRGV policies, rules and regulations, and referral to the SOM Handbook. Reminds mentees about their responsibility to abide by UTRGV and SOM rules and regulations and to seek help early as needed.
Encourages mentees to be familiar with, and use the SOM Webpage, Student Handbook, Blackboard for important information, instructions and updates.
Meets regularly with assigned mentees, to ensure that their needs are being addressed or brought to the attention of appropriate authority. It is highly recommended that you meet with your mentees at least two times per semester
Reaches out to the Director of Academic Advising & Support Services, Clerkship Directors, Module Directors/ Clinical Directors with any problems that mentor and mentee cannot solve.
Encourages your mentee to use all School of Medicine (SOM) academic support services and resources including tutoring, academic skill presentations, and module review sessions.
Refers mentees to other UTRGV, School of Medicine and Office of Student Affairs services and resources.
Additional Responsibilities:
Be an active listener.
Be a compassionate supporter.
Be a good role model.
Be a good coach.
Be an advocate.
Be a sponsor.
Be a network agent.
Be a constructive feedback provider.