UTRGV Receives Historic $40 Million Gift!
June 15, 2021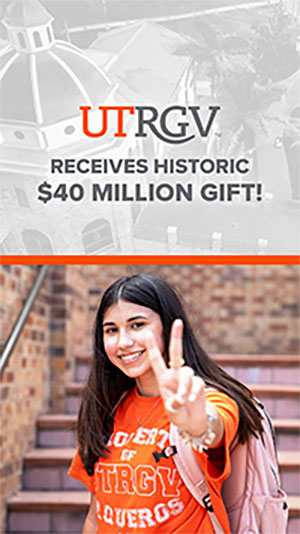 Dear UTRGV Family:
Today is a momentous day in the history of UTRGV.
We are happy to announce that we have received a transformative $40 million gift from philanthropists MacKenzie Scott and Dan Jewett to enhance our mission of student success and expanded educational opportunities. The grant will provide much-needed scholarship money for our students not just as they enter college, but throughout their educational journey.
Ms. Scott and Mr. Jewett chose UTRGV based on our success as the second-largest Hispanic Serving Institution in the country and our proven ability to transform the lives of underserved students through higher education. Recently, UTRGV ranked first in Texas and fifth nationally in the performance of Pell-eligible students; first in Texas and 11th nationally in the performance of first-generation students; and second in Texas and 29th nationally in the social mobility of our students. UTRGV is also the first among national public universities with the lowest student debt.
To read more about the donors and their gift, click here
Again, this is truly a significant day for UTRGV that should be celebrated by all of us. We are extremely grateful to Ms. Scott and Mr. Jewett for their incredible generosity. This gift, and the support we continue to receive from many others, will help UTRGV continue to transform the Rio Grande Valley and beyond. We are the Future of Texas!
Sincerely,

Dr. Guy Bailey
President
Dr. Kelly Nassour
Executive Vice President for Institutional Advancement