2019 Spring Commencement - Thank You!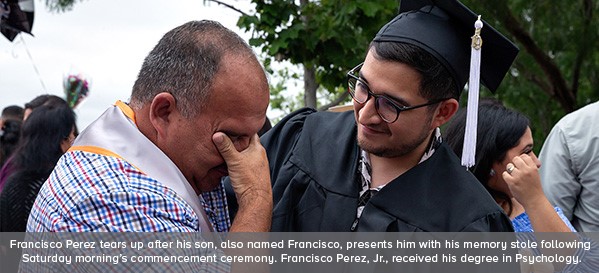 Dear Campus Community:
Thank you and congratulations!
Last weekend we graduated 3,400 students in seven ceremonies over two days. This amazing accomplishment would not have been possible without the hard work and dedication of our faculty and staff members. Each of you plays a role, big or small, in helping our students complete their academic journey, and I hope you take pride in that responsibility. You can learn more about some of our amazing graduates from the stories and photo galleries below.
As for the ceremonies, seven is the most that we have ever had at UTRGV, and they were all planned and executed beautifully. That also deserves a huge thank you to everyone who helped ensure our ceremonies were a success.
I truly appreciate everyone's hard work in helping UTRGV experience another successful semester. Have a great summer, and thanks for your continued dedication to our students.
Sincerely,
Guy Bailey
---
---
Visit the Commencement Photo Galleries: