Please Welcome Our New Provost and Senior Vice President for Academic Affairs
March 20, 2023
Dear UTRGV Family,
I am pleased to announce that Dr. Luis H. Zayas will be joining us as Provost and Senior Vice President for Academic Affairs, effective June 1, 2023.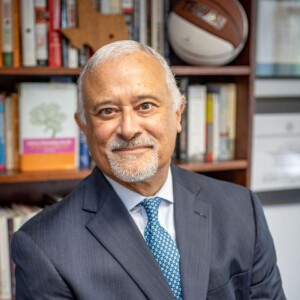 Dr. Zayas joins us from The University of Texas at Austin, where he served as dean of the Steve Hicks School of Social Work from 2012-2022. He currently is the Robert Lee Sutherland Chair in Mental Health and Social Policy and holds an appointment as professor of psychiatry and behavioral sciences at UT Austin's Dell Medical School.
In his new role at UTRGV, Dr. Zayas will oversee academic affairs with a focus on student success as our core priority. Under his leadership, academic affairs will continue striving to identify, recruit, and retain highly qualified, talented, and diverse faculty members committed to UTRGV's vision, mission, values, and strategic priorities.
A native of Coamo, Puerto Rico, Dr. Zayas received his BA from Manhattan College in economics and liberal arts. He received a master's degree in social work and a PhD in developmental psychology, all from Columbia University.
He began his social work career in New York City as a clinician in social service agencies, general and pediatric rehabilitation hospitals, and mental health and primary care clinics in the boroughs of Manhattan and the Bronx. Dr. Zayas went on to teach at Columbia University, Fordham University, Albert Einstein College of Medicine, and Washington University in St. Louis. He is the author of three books and over 130 scientific papers and chapters. Dr. Zayas has lectured nationally and internationally, and is a frequent commentator on issues of children's mental health, appearing in a popular TED talk, The New York Times, TIME Magazine, CNN.com, Washington Post, Telemundo, Univision, NPR, and BBC Radio.
Just prior to joining UT Austin, Dr. Zayas was the inaugural Shanti K. Khinduka Distinguished Professor of Social Work and Professor of Psychiatry at Washington University in St. Louis. He has lectured to university audiences in Chile, Dominican Republic, Brazil, Honduras, Mexico, Mongolia, Nicaragua, Puerto Rico, and the United States. Dr. Zayas remains an active practitioner today through his evaluations of immigrant children and families facing deportation, and refugee and asylum-seeking mothers and children held in immigration detention centers.
Please join me in welcoming Dr. Zayas to the UTRGV family.
Additionally, please join me in thanking Dr. Janna Arney, who since 2020 served as Interim Provost and then Executive Vice President and Provost. As I announced earlier, Dr. Arney will retire later this summer.
I also want to thank everyone who was involved with Dr. Zayas's hiring process and provided feedback, including the search committee, which was comprised of:
Luis Torres-Hostos (Chair)
David Granado
Michael James
Karen Lozano
Colin Charlton
Volker Quetschke
Yadira Mejia
Kip Austin Hinton
Can Saygin
Ruth Crutchfield
Maggie Hinojosa
Daniel Hunter-Holly
Michael Abebe
Lilia Fuentes
Veronica Gonzales
Sincerely,
Guy Bailey
President