Virtual Home Activities

The Planetarium Staff is happy to announce that we can now bring the sky to you with our series of DIY Projects for the family and kids to do at home.
---
The Unique and Interesting Moons of Our Solar System
---
Moon Phase Plate Activity
Materials
Paper Plate
Pencil
Crayons/Markers/Color Pencils
Empty Roll of Toiler Paper or Paper Towel
---
How to Make a Moon Crater
Materials
8" x 8" Foil Pan (Any cooking pan will work)
1 Cup of All Purpose Flour
Ball or Large Marble
---
How to Create a Constellation Kaleidoscope
Materials
Paper Towel Roll
4" x 4" Piece of Aluminum Foil
Sharp Pencil
---
Pocket Solar System
Materials
Paper
Scissors
Glue or Double Sided Tape
Pencil, black pen or marker
---
Make a Moon Phases Calendar and Calculator
Materials
Hole Punch
Brass Fastener
Scissors
Tape
Pencil, black pen or marker
Have you ever wondered when the next full moon will be? How about the first quarter moon? Now you can have all the dates and times for all the moon phases for the year at your fingertips by building your own moon phases calendar and calculator! For more detailed information on how to build your on Moon Phases Calendar and Calculator be sure to checkout NASA's website
---
Bear's Shadow
Bear's Shadow allows children to re create scenes from the given picture book, with only simple materials children will have the power of the sun (flashlight) in their hands and allow them to change the scene. Click here for a full description of the activity. If you want to browse through more activities make sure to check out NSF's Supported STEM Education Resources.
---
Astronomy Umbrella
Materials
You don't have a telescope? No problem, with the Astronomy Umbrella we bring the constellations to you, check out the video for more instructions.
Star Wheel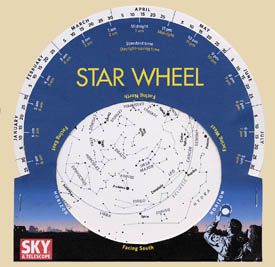 Materials
Computer that allows you to view PDF files
Ever been outside looking at the wonders of the universe but you can't tell constellations apart from each other? No problem! Using this simple, easy-to-make Star Wheel, you'll be navigating the night sky with confidence in no time.
---
DIY Inflatable Planetarium
Materials
Black Plastic Bag
Utility Tape
Scissors
Box Fan
Ball Point Pen
Bring the Planetarium to you with the DIY Inflatable Planetarium, check out the video to see how you can do this project right at the comfort of your own home!
---
Making a Telescope
Materials
Two Paper Towel Tubes
Scissors
Clear Tape
Decorative stuff i.e., colors, markers (optional)
2 convex lenses from any reading glasses
This is a refracting telescope because it gathers more light than your eye could do. The two lenses bend light to make an object appear closer than it really is.
---
Making a Prism
---
Making a Moon Journal
Materials
The Moon is the most visible object in our night sky, and it's even sometimes visible in daylight. Have you noticed the patterns of the different Moon shapes, or phases, you can see? Keeping a Moon Journal for a month is a great way to see those patterns and be able to predict the phase that will appear the next night and next week.
---