Pre-APSI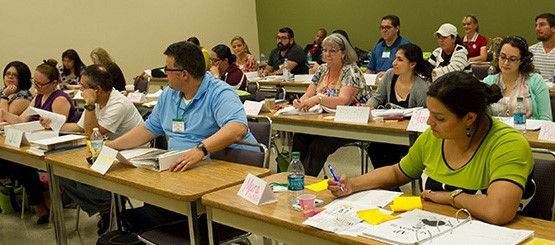 New Pre-AP educators can attend an official Pre-AP Summer Institute, a four-day collaborative experience that facilitates participants' preparation and planning for their Pre-AP classes. Content allows teachers exploration of course materials and experience with model lessons from the student's point of view. There will be opportunities to collaborate and network with peers to plan and build their course materials.
Pre-AP Summer Institute Objectives
Examine the course framework, assessments, teacher materials, and student learning supports
Analyze how Pre-AP instructional design supports all students in achieving success toward the SAT, AP, and college and career readiness
Apply the course areas of focus and Pre-AP shared principles to yearlong plan and classroom instruction
Pre-AP Summer courses available in Summer 2022:
Pre-AP English 1
Pre-AP English 2
Pre-AP Algebra 1
Pre-AP Geometry
Pre-AP Biology
Pre-AP Chemistry
Pre-AP World History and Geography
Pre-AP Visual and Performing Arts (includes Dance, Music, Theater, and Visual Arts)
Pre-AP Summer Institutes Calendar and Registration
Registration is now open for the 2022 Pre-APSI. Please click on the link below and use the search tool to find a specific location, date, and available course. The deadline to register is four weeks before the event's start date. Please review the calendar and plan accordingly. Attendance is limited to districts with a signed agreement with CollegeBoard; UTRGV does not facilitate Pre-AP agreements.
https://eventreg.collegeboard.org/c/calendar/0f06a37d-df31-4e9b-9f24-6208ce65c150